Northern Lights could be visible in N.J. areas away from light pollution tonight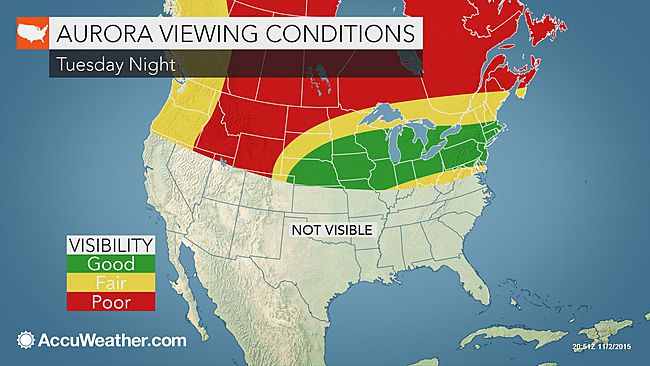 Households in areas away from light pollution could be abuzz with excited shouts this evening like, "Hurry up, get outside — you gotta see this!"
No, it will not be Orson Welles' "The War of the Worlds" becoming a reality, so there is no need to panic.
It is because an awe-inspiring show of Northern Lights, also known as aurora borealis, is possible tonight, courtesy of an influx of sun charge particles interacting with the earth's atmosphere, according to a report on AccuWeather.com.
AccuWeather.com describes the science behind the phenomenon:
Solar flares create auroras when radiation from the sun reaches Earth and interacts with charged protons in our atmosphere. The effects are greater at the magnetic poles and weaken as they move south from the Arctic or north of the Antarctic. In the northern hemisphere the results are called the aurora borealis, with the aurora australis being its southern counterpart. The result is a spectacular display of light and color for areas with clear enough views.
The key to observing the aurora is finding a dark area away from light pollution with a clear view of the northern horizon, according to the report.
Follow NOAA's Space Weather Prediction Center for the latest information tonight.