New loans for home repair may be lifeline for Philly 'small landlords' — and their tenants
It's hard to force landlords to fix plumbing problems, even when they're legally obligated. Which is why Philadelphia is getting ready to roll out a potential remedy
Listen
4:49
Sherri Lee's toilet started flooding in late September. Less than a month later, the unfinished basement in her South Philadelphia apartment was a full-blown health hazard.
"It actually ended up pushing out feces," said Lee during a recent visit to the Snyder Avenue row home she shares with her family.
A white utility sink on the opposite end of the room backed up too, sending raw sewage onto the floor and all over Lee's clothes.
Mold quickly followed.
"It's grown so rapidly that my fiance's jacket, my kids' jackets, they were sitting at the top of the stairs on hooks, all have mold growing on them," said Lee.
A batch of backpacks met the same fate.
Lee said she complained to her landlords — a husband and wife duo. They cleaned up the mess, But instead of fixing anything, Lee said, they tried to evict her family by claiming they owed nearly $4,000 in unpaid rent.
They didn't.
There's now just one usable toilet for seven people. And it has its own problem.
"Even if it's regular urine and a little bit of tissue, you have to plunge it," said Lee.
The family is moving out at the end of December. In the meantime, Lee will continue burning long, thick sticks of incense to mask the smell wafting up from the basement.
Costly episode
Lee's also preparing to go to court again — this time to try to recoup damages for all those moldy, sewage-soaked items that must be replaced.
She is still adding it all up but estimated the total will easily eclipse $12,000, the equivalent of eight rent checks.
Reached at her Chinese takeout restaurant on Snyder Avenue, Shao Yan Yun, one of Lee's landlords, said all the plumbing in the basement is now fixed, and that she isn't responsible for replacing any of the belongings the family lost.
The lawyer who represented Yun and her husband in the eviction case declined comment.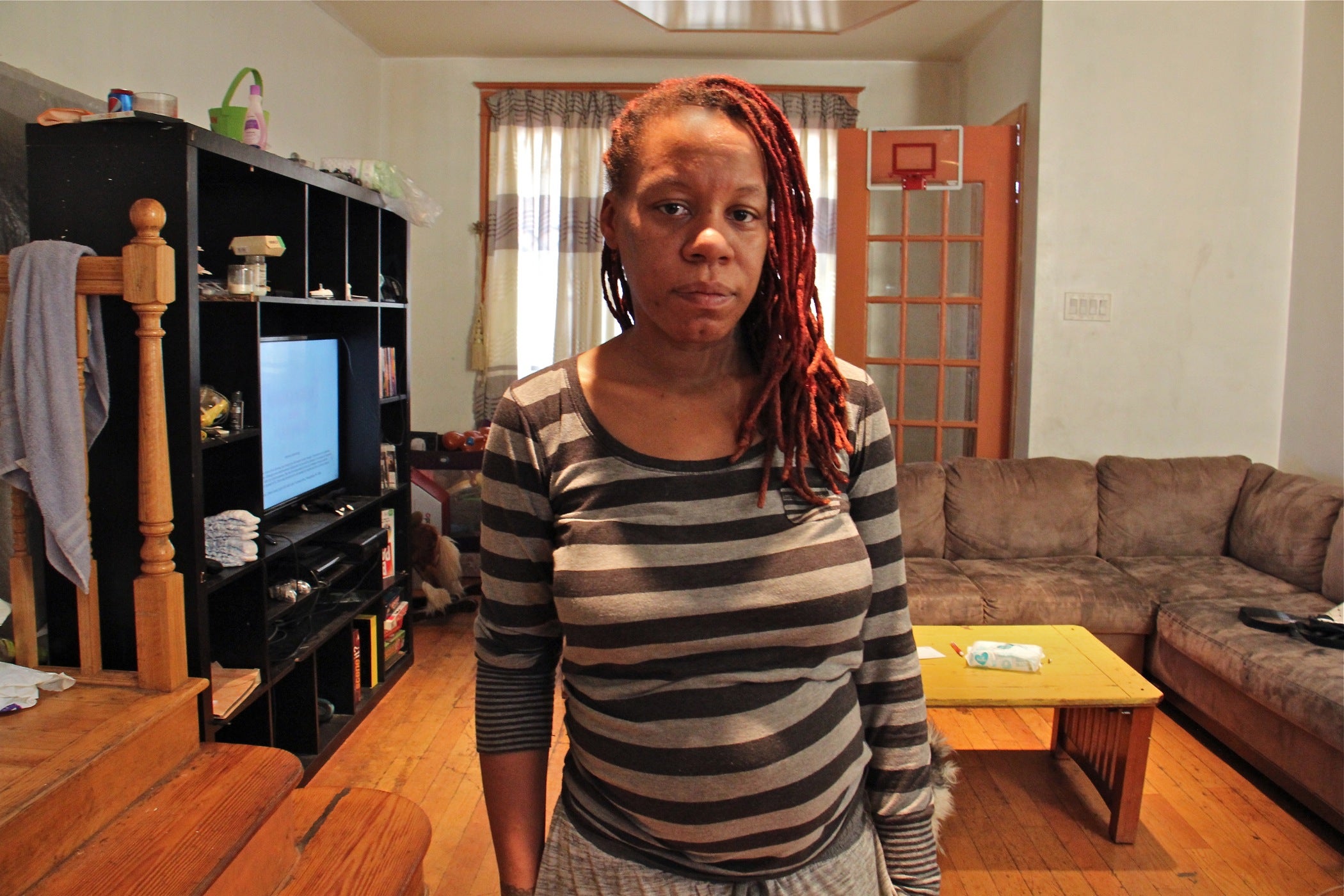 In an old city with old plumbing, Lee's experience isn't unusual, particularly among low-income residents.
The problem: It's hard to force landlords to fix plumbing problems, even when they're legally obligated.
Which is why Philadelphia is getting ready to roll out a potential remedy — a lifeline designed to help landlords make repairs they may well be unable to afford and save tenants from going through a disruptive move.
Early next year, with the help of some state funding, the city is expected to launch a pilot program that will hand out loans to "small landlords" — those who own four or fewer units.
Through the Philadelphia Redevelopment Authority, participants will each receive roughly $25,000 to make repairs.
Other details — including the total amount of money that will be made available, and who will qualify for a loan — are still being decided.
Melissa Long, who directs the Division of Housing and Community Development, said the new program should help cut the number of residents living without plumbing as long as there is buy-in from landlords.
"We can't make them do it. We can offer it," said Long.
Complicated process
An estimated 220,000 licensed landlords hold property in Philadelphia. Forty percent of them are considered small landlords, but all of them are required to provide renters with clean water and "sanitation services," including a working toilet.
Landlords renting an apartment missing one or both of those amenities is breaking the law, but the remedies aren't simple or quick.
"Unfortunately in Philadelphia, there's no repair court. There's nowhere for the tenant to go to just demand that the repairs be made and have a court order that the repairs be made," said David Wengert, a social worker with the nonprofit Community Legal Services, which works with low-income clients like Lee to settle disputes with landlords.
The city, through the Department of Licenses and Inspections, can block landlords with code violations from collecting rent from the people living in the problem property, as well as bar them from renewing a mandatory renter's license.
"For some landlords, that is very persuasive, and they do fix the violations. However, if a landlord still doesn't want to fix the violations, the code enforcement process can be very slow," said spokeswoman Karen Guss.
For example, getting an inspector into an apartment to check out a plumbing issue — and do follow up inspections — can be headache, said Guss.
Sometimes a complaint is made anonymously. Sometimes a tenant gets fed up and moves out part way through the process. Sometimes a landlord refuses to let an inspector inside.
"If L&I can't get into the property, we can't pursue the case," said Guss. "It happens a lot."
Without a recent inspection, the city's Law Department also can't file a lawsuit against a landlord, which means a court can't impose any fines tied to a code violation, which can cost a few hundred dollars a day.
For Sherri Lee, having to move before her lease is up is bittersweet.
She's happy her family has the opportunity to live in an apartment where the toilets flush, where the smell of sewage doesn't hang in the air. But a part of Lee is sad to leave the house she's called home the last two years.
The apartment is walking distance from her children's school and the subway. Lee and her fiance also planned to move from Snyder Avenue into their "forever home." Now that will have to wait.
"We're just trying to count our blessings," said Lee.

WHYY is one of 19 news organizations producing Broke in Philly, a collaborative reporting project on solutions to poverty and the city's push towards economic justice. Follow us at @BrokeInPhilly
WHYY is your source for fact-based, in-depth journalism and information. As a nonprofit organization, we rely on financial support from readers like you. Please give today.