New Jersey to sell its public TV broadcast spectrum in auction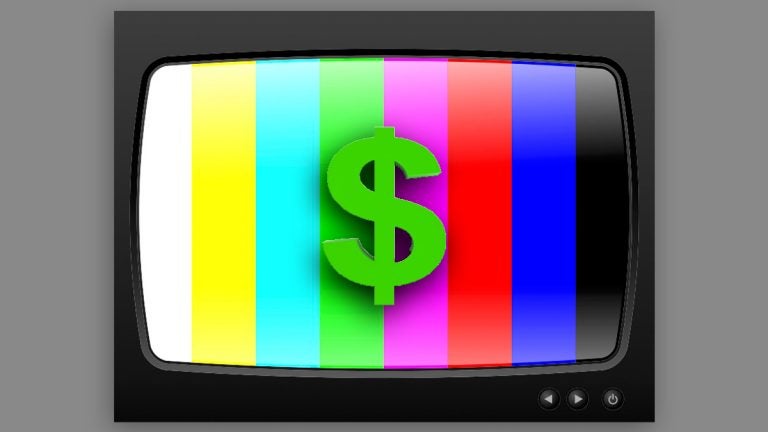 Cash-strapped New Jersey is in the running for a staggering windfall — as much as $2.3 billion, according to federal analysts — after state officials decided this week to put airwaves used by the state's public-television stations into an upcoming nationwide auction.
Such a jackpot, if the auction can yield anything close to the highest values placed on the state-owned airwaves, or broadcast spectrum, would provide a significant financial boost for a state that has struggled to pay all of its bills in recent years.
Still, several questions remain unanswered as the state awaits the March 29 auction.
How much money could New Jersey ultimately net from the sale of its airwaves? And would that cash make it into the state's strained coffers before or after Gov. Chris Christie leaves office in early 2018?
Also up in the air: Deciding the best use of the potential new revenue for a state dealing with a host of daunting fiscal challenges, including significant debt, a grossly underfunded public-employee pension system and a state Transportation Trust Fund that's on course to go broke by the middle of the year.
Advocates for public media, meanwhile, have also been pressing for at least some of the revenue to be redirected back toward that mission.
The final decision to enter into the auction — which is being organized by the Federal Communications Commission in an effort to free up more broadcast spectrum for providers of wireless Internet – was made earlier this week by the New Jersey Broadcasting Authority.
The authority for decades has owned four public television stations in the highly desirable broadcast market sandwiched between New York and Philadelphia: WNJN in Montclair, WNJB in New Brunswick, WNJT in Trenton and WNJS in Camden. Those stations are currently used to provide public-television programming by NJTV under a five-year deal with the nonprofit Public Media NJ, an affiliate of WNET.
The ultimate goal of the FCC's nationwide auction is to redistribute broadcast spectrum previously dedicated to broadcast TV stations in order to send programming signals. Most people now get their television from cable TV, and wireless providers are clamoring for more spectrum in order to meet rising consumer demand for streaming video and other services that take up huge amounts of bandwidth.
Officials from the state broadcasting authority offered few comments this week on their decision to join the auction, citing tight restrictions that the FCC has issued in an effort to prevent collusion among broadcasters.
A news release issued by the authority said an application to join the auction was filed on Tuesday following a close review of the auction issue that was launched in November.
Public-television viewers in New Jersey would still have wide access to programming if the broadcast airwaves are sold, the release said, thanks to digital-broadcasting technology, the availability of cable, and satellite-signal reception. It also cautioned that there's a chance the auction won't succeed and that the state will not generate any proceeds when the process is ultimately completed.
A statement by John Blair, the authority's executive director, said the state has no intention of "exiting public television" no matter how the auction turns out.
"We provide a valuable service for New Jersey TV viewers," Blair said. "We have an obligation to provide robust New Jersey-centric programming to our residents, and we will continue to do so. However, the FCC has afforded broadcasters around the nation an opportunity to repurpose television spectrum in response to consumer demand to improve the wireless broadband experience."
The uncertainty about how much money, if any, New Jersey could earn from the auction stems from the format the FCC plans to use to conduct the airwave sales. Opening bids set by the FCC for the airwaves controlled by New Jersey's four television stations range from $775.7 million for the Montclair station to $501.6 million for the Camden station.
But New Jersey will be competing against other broadcast-spectrum owners seeking similar windfalls across the country under a "reverse" auction format expected to ultimately drive down the value of the winning bids.
On the other hand, the spectrum in New Jersey is considered the most valuable in the country, given its location in the New York-Philadelphia corridor.
New Jersey could also choose other, less-lucrative options to help the FCC free up bandwidth. They include moving to a less-powerful frequency or entering into a channel-sharing arrangement with other broadcasters.
Under the FCC's current plans, any broadcast spectrum freed up in the March auction will be offered up to wireless-broadband providers in another auction, this one using a more traditional format.
The auction process is being closely monitored by U.S. Rep. Frank Pallone (D-NJ), who has also introduced legislation in Congress to maintain consumer protections both in New Jersey and across the country as the FCC's spectrum redistribution moves forward.
"That way, TV viewers do not face interruptions in their service and mobile users can reap the benefits of this auction as soon as possible," Pallone said.
Right now, New Jersey officials aren't expecting any of the revenue that could be generated for the state from the first auction to make it into state coffers until at least the start of the 2018 fiscal year.
The timing is important. If the revenue comes in during that fiscal year, Christie, a second-term Republican, would be able to determine how to use it in the final months of his eight-year tenure. But a delay could mean the next governor would determine how best to use the income from the auction.
And Democrats are expected to make a big push next year to reclaim the governor's office after Christie's two consecutive terms.
The state's arrangement with NJTV was established in 2011 after Christie's administration decided to shut down New Jersey Network, a state-run station that had been broadcasting since the 1970s. (Full disclosure: NJ Spotlight is also a nonprofit media entity focused on New Jersey and is a content partner of NJTV. The author of this article also frequently appears as an unpaid guest on NJTV.)
A spokeswoman for NJTV and a spokesman for the state Department of Treasury both declined comment, citing the FCC's anti-collusion restrictions.
WHYY, which is operates NewsWorks.org, is the major public television provider for the greater Philadelphia region, which includes Southeastern Pennsylvania, Delaware and Southern New Jersey.
Art Ellis, a spokesman for WHYY, did not disclose whether WHYY plans to participate in the March FCC auction. Ellis said WHYY is honoring the FCC requested "quiet period" ahead of the auction.
But in a statement indicated that he doesn't expect any changes for viewers.
"WHYY has served public television audiences in Pennsylvania, New Jersey and Delaware for more than 60 years and we fully expect to continue providing local and national programming on multiple media platforms well into the future," he said.
(Updated: Includes statement from WHYY)
___________________________________________________
NJ Spotlight, an independent online news service on issues critical to New Jersey, makes its in-depth reporting available to NewsWorks.