Nearly half of New Jerseyans want legal recreational marijuana, new poll finds
If state legislators decide to put the issue to voters via a ballot initiative, the recent Stockton poll may indicate how much of a nail-biter a potential referendum could be.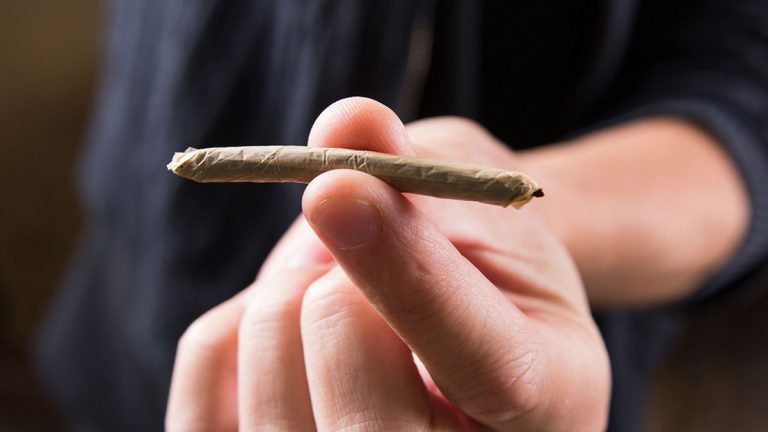 Nearly half of New Jerseyans want the state to legalize the use of recreational marijuana — while a slightly smaller number say Trenton should stay away from legalizing weed — as lawmakers consider a variety of proposals that would make it easier to use the drug in the Garden State.
According to a new poll by the Stockton Polling Institute of the William J. Hughes Center for Public Policy, 49 percent of respondents backed legalizing recreational marijuana while 44 percent opposed such a move. Five percent of respondents were unsure.
The survey comes just months after the inauguration of Gov. Phil Murphy, a progressive Democrat who made a campaign promise to legalize recreational marijuana, saying it was the right thing to do from a social justice perspective and that it would generate tax revenue.
But legalization of recreational marijuana has gotten off to a rocky start under Murphy, with factions of lawmakers introducing differing proposals and the Legislature failing to unite around a single bill.
If state legislators decide to put the decision in the hands of voters via a ballot initiative, the recent Stockton poll may indicate how much of a nail-biter a potential referendum could be.
"The issue really has the New Jersey electorate split — almost down the middle," said Michael Klein, interim executive director of the Hughes Center. "There's a lot of advocacy that needs to be done on both sides to win the day."
The poll of 728 New Jersey adults found fault lines around age and gender when it came to the question of legalizing recreational marijuana. Sixty-four percent of respondents under age 50 backed it, while only 41 percent of people above that age did. Also, a majority of men supported legalization while only a minority of women did.
Only 15 percent of respondents said they do not use marijuana now but would if it were legalized for recreational use. Seventy-five percent of people who responded said they don't touch the stuff and wouldn't even if it were legal.
According to Stockton, the main reasons backers offered for their support of legalization were the potential increase in tax revenue and the idea that it is safer than other illicit drugs, alcohol, and tobacco.
More than half of opponents said legal recreational marijuana would lead to addiction or other health problems, while a smaller group of critics suggested it would nudge users toward harder drugs.
Medical marijuana is already legal in New Jersey.
WHYY is your source for fact-based, in-depth journalism and information. As a nonprofit organization, we rely on financial support from readers like you. Please give today.