N.J. considering supervised injection sites to blunt impact of opioid epidemic
Opposition is expected, but proponents see an effective antidote to the 'staggering' toll taken by illegal use of narcotics.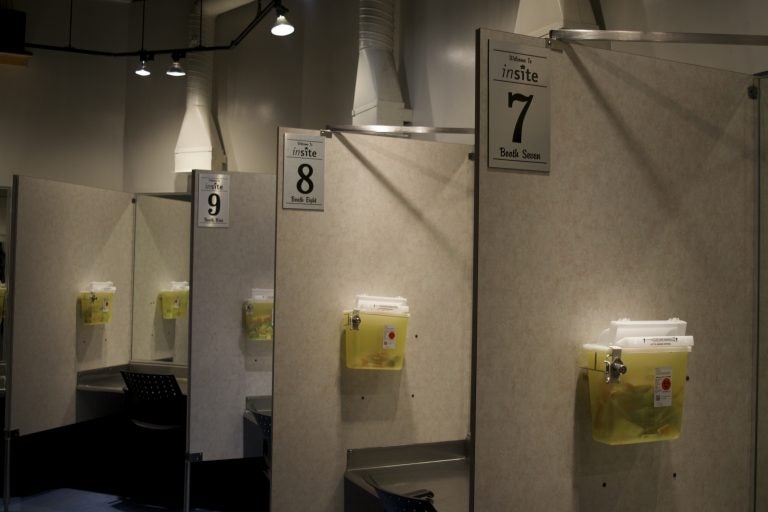 This article originally appeared on NJ Spotlight.
—
State lawmakers have proposed a yearlong pilot program that would allow for the development of four supervised injection sites in New Jersey, facilities where intravenous drug use would be allowed and supervised in an effort to reduce the risk of death and disease.
First introduced by Assemblywoman Valerie Vainieri Huttle in October, the legislation to create overdose-prevention centers, as the sites are also known, calls for indoor facilities with trained staff who would provide clean needles, education on infection control, and a connection to medical care or drug treatment.
Each facility would also be stocked with naloxone, the overdose-reversal agent often sold as Narcan, and staffers would be trained in its use. The centers, designed to reduce the death and disease associated with intravenous drug use, would not provide the illegal substances themselves.
Programs would be developed by the state Department of Health, in conjunction with local officials, and would be open to counties or municipalities throughout the state. Local governments could operate the programs as fixed or mobile sites, or subcontract with certain healthcare providers; all staff would have criminal immunity under the bill.
The legislation, which has yet to have a hearing, would put the Garden State at the forefront of a public-health model that advocates said has worked well for nearly three decades in programs around the world. There are now 120 overdose-prevention centers globally, including 30 in Canada. A number of U.S. states and cities — including New York and Philadelphia — have also proposed supervised injection sites, but these efforts have yet to take root in the United States.
'Staggering' toll of opioid epidemic
Still, the proponents anticipate that there will be opposition to the proposal, which has drawn fire from both sides of the political spectrum elsewhere in the country over concerns that the centers facilitate drug use. But Vainieri Huttle says the numbers speak for themselves in terms of the harm the centers avoid.
"When you look at the data, when you look at the statistics, it works," Vainieri Huttle (D-Bergen) said. "This bill is really about saving lives," she added. "Addiction is a disease. And we learned from the War on Drugs that punishment is not effective."
According to a European study of 78 facilities in seven countries, published last year, these programs had an overall positive effect on public health, reducing risky behaviors like needle sharing, and on increasing access to medical care, including drug treatment. Researchers did not find an increase in drug use in these areas, or higher levels of property crime — two concerns frequently raised by opponents.
"You get an increase in public safety and a decrease in public disorder" with these programs, said Roseanne Scotti, New Jersey director for the national Drug Policy Alliance, which is supporting the proposal. No one has ever died at a supervised injection site, she noted, and these facilities are even more important now that fentanyl, a deadly synthetic opioid, is frequently mixed in with the heroin that users buy on the street.
Vainieri Huttle said she was motivated by the "staggering" toll of the opioid epidemic nationwide and in New Jersey, where more than 3,000 people were killed as a result of overdoses and other drug-related issues last year, and by reports of plans for supervised injection sites in New York City. "Most of those deaths go unobserved," she said, "meaning people are dying alone. In alleyways, in apartments, in cars."
Complement to needle-exchange programs
A companion version of the bill was introduced in January by Sens. Linda Greenstein (D-Mercer) and Joseph Vitale (D-Middlesex), the longtime health committee chairman. Vitale has also led a push to expand New Jersey's syringe-access initiative, which existed as a largely unfunded pilot program for more than a decade before it was made permanent by former Gov. Chris Christie, a Republican.
Syringe-access programs, or needle exchanges, provide clean needles, healthcare and social services to intravenous drug users, but — unlike overdose-prevention centers — they do not permit people to inject their drugs onsite. (Neither model allows staffers to dispense or sell illegal drugs, or to help users shoot up.)
The administration of Gov. Phil Murphy, a Democrat, has also embraced syringe access, investing $2.7 million in the initiative and promising to expand services at the seven existing sites and create new programs in willing municipalities.
Department of Health Commissioner Dr. Shereef Elnahal also said at an NJ Spotlight roundtable on opioids last year that adding supervised injection sites would make for a more effective risk-reduction strategy. But while the issue has come up among public-health experts on his staff, he said it is likely to trigger some public and political opposition.
Vaineiri Huttle also acknowledges she will need to educate some of her legislative colleagues about the program's benefits, and she is arming herself with facts. For example, she said a robust program in Vancouver helped drive down overdose rates by 35 percent in communities near the injection sites, compared with 9 percent citywide.
Opposition from the left and the right
The data is powerful, said Scotti of the Drug Police Alliance, and so is the widespread impact of the opioid epidemic — which now drives tens of thousands of state residents into treatment annually and touches millions of lives.
"There are still a lot of stigmas and misunderstandings around opioid use," she said. "You also have many more people who get that this could be them, or this could be their loved one."
According to the alliance, more than half a dozen states, including Maryland and New York, have considered creating statewide initiatives to support supervised injection sites. Lawmakers in California approved a program but then-Gov. Jerry Brown vetoed the legislation last year. It is up for consideration again, Scotti said, and advocates hope that current Gov. Gavin Newsom will sign it into law.
In his veto, Brown raised concerns about enabling illegal drug use and suggested the bill might conflict with a federal law adopted decades ago to curb the growth of crack houses, according to a story published in October by Vox, the news website. The Trump administration has also used this law — which makes it a crime to manage or maintain sites where drugs are used or distributed — to threaten other cities considering supervised injection policies, Vox said, and has filed a lawsuit against Philadelphia.
Four facilities proposed
But federal threats should not necessarily scare off lawmakers in New Jersey, Scotti suggested. The "federal crack house statute," as it is known, is designed to keep people from profiting off drugs, she said, not to prevent public-health initiatives; public entities make no money from supervised injection sites, but they do save lives. In addition, states have a legal standing beyond that of individual cities, she noted, and federal courts have often opted to protect states rights.
Vainieri Huttle's bill (A-4638) calls for the health department to establish a total of four facilities, with at least one in each of three regions of the state — north, central and south. The DOH would need to develop the program and an application system for counties or municipalities, and must work for six to 12 months with an interested community before launching a program. State officials also must collect input from local residents and businesses.
Once up and running, these centers would be staffed by a health professional and other employees, as needed, possibly including volunteers, the bill notes. Programs would need to stock sterile syringes and other equipment, along with naloxone or Narcan. Staff would be trained in harm-reduction protocols and would be responsible for sharing information on blood-borne diseases like HIV and hepatitis-C. They would also need to refer interested drug users for testing or treatment, including detox programs.
The pilot program would expire after a year, but the bill also permits county or municipal governments to adopt an ordinance to close their local facility earlier, if they chose to do so.
WHYY is your source for fact-based, in-depth journalism and information. As a nonprofit organization, we rely on financial support from readers like you. Please give today.