Morrell Park crash sends driver to hospital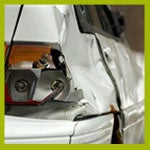 A 50-year-old woman was rushed to Aria Health-Torresdale Thursday night after she crashed her car in Morrell Park.
According to reports, the woman lost control of the vehicle around 8 p.m. along the 3500-block of Churchill Lane, driving through a fence and landing in an embankment. Medics pulled the woman from the car, where she was trapped.
She was treated for non-life threatening injuries, and the cause of the crash is unknown.