Monmouth County beach replenishment marches on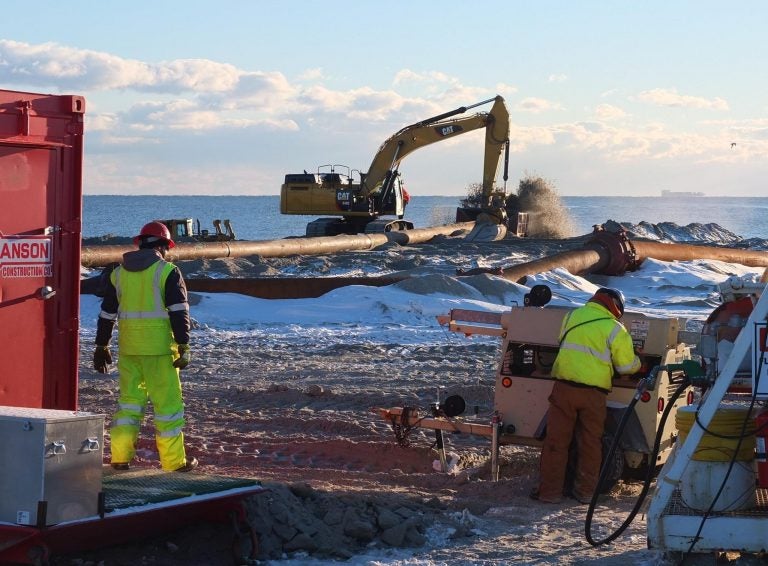 You'll have to walk a bit farther from your beach chair to the ocean in Monmouth County this summer.
That's because roughly 8.2 million cubic yards of sand will be pumped onshore by then, according to Chris Gardner, Public Affairs Specialist for the Army Corps of Engineers New York District.
The Army Corps completed a beach replenishment project in Sea Bright and Monmouth Beach last fall, while work continues in three separate contract areas: Long Branch, Belmar to Manasquan, and Asbury to Avon, Gardner said. Crews are also repairing and restoring a coastal storm risk reduction project along the Bayshore in Keansburg, which includes sand placement as well as levee and wing wall repairs.
Funds granted through the federal Disaster Relief Appropriations Act of 2013 permit the Army Corps to restore beaches to their original design conditions.
"Under normal circumstances, we would only have the authority to replace sand lost during Sandy, but since we're now able to 'restore' the project to its original design conditions as well, that means we're able to place even more sand and that when we're done the beach may be bigger in some areas than folks may have seen in years," Gardner said.
So while the walk from your beach chair to the ocean will be a bit longer (and will likely be a sprint on steamy days), the Army Corps says it's for a good cause.
"As work progresses and we complete sand placement along the beach, people will definitely be able to notice a dramatic difference in the width of the beach berm and in some areas the height of the beach berm as well," said Gardner. "Both the width and height of the beach berm are important factors in how the berm helps to reduce risks from coastal storms."