Modernist Hillman Medical Center demolition underway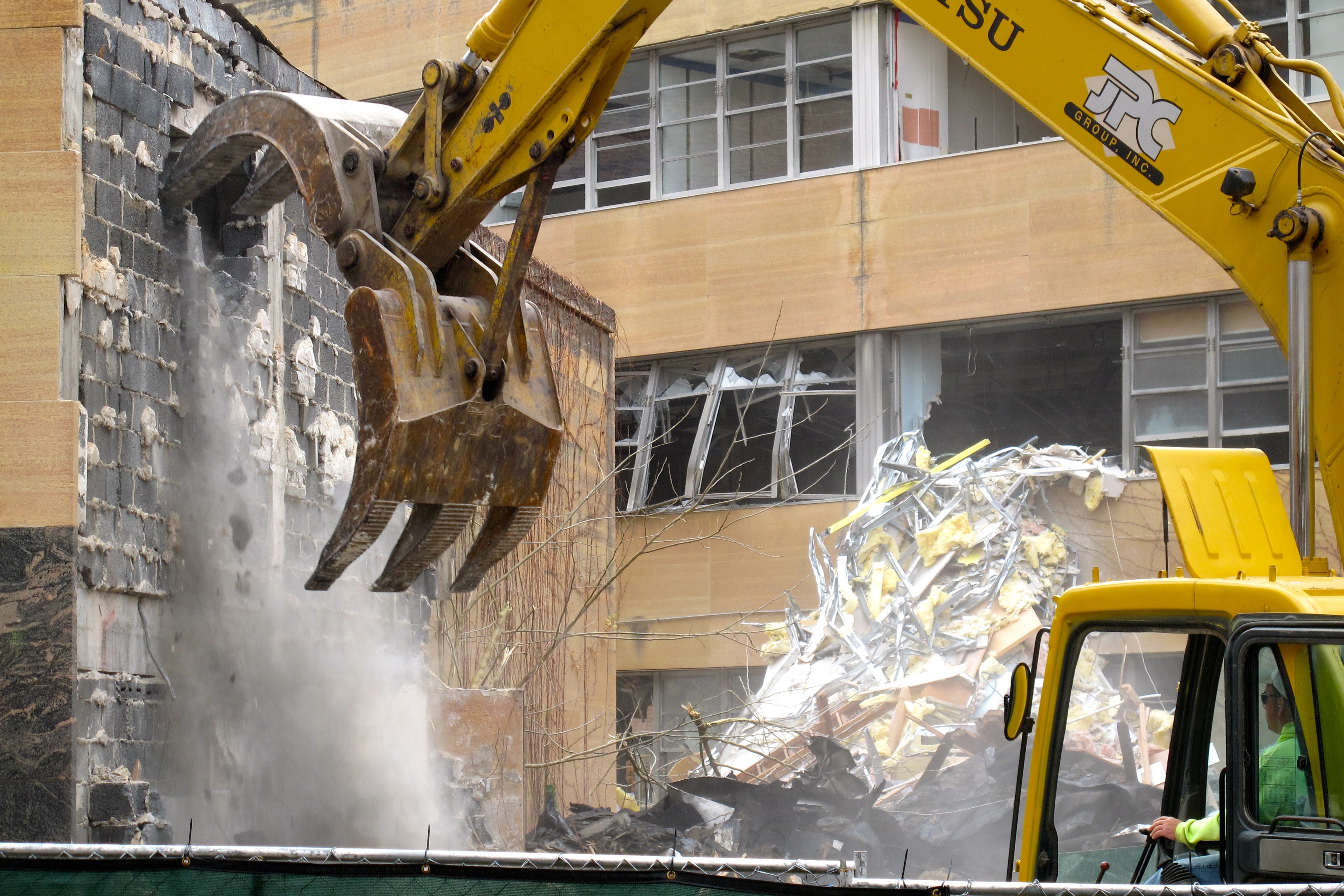 Crews started demolishing the Sidney Hillman Medical Center at 22nd and Chestnut today to make way for a new high-rise residential tower built by Chicago's John Buck Company.
I watched the demolition with some neighbors who recalled the building as full of concrete and rebar, saying it would take a long while to tear apart.
The medical center was designed by Magaziner & Ploss and built in 1950 as a clinic to provide free healthcare to members of a garment workers union. Although the building was a designated as a contributing building in the Rittenhouse-Fitler Historic District, the developers were granted permission to demolish the building because they claimed its reuse was not financially viable. Zoning variances were also granted because of a "hardship."
Among preservationists, the demolition is a bitter pill. As the Hillman Medical Center falls, there are some benefits to historic buildings in Philadelphia, negotiated as "mitigation" by the Preservation Alliance for Greater Philadelphia after appealing the hardship decisions by the Historical Commission and Zoning Board of Adjustment. Among the offsets:
Buck Co. will contribute $125,000 to Preservation Pennsylvania to sponsor surveys and historic property nominations for modern architecture in Philadelphia.
The Historical Commission will hire an independent real estate consultant to help evaluate financial hardship applications.
Buck Co. will support preservation projects at two neighboring historic churches, Frank Furness's First Unitarian Church of Philadelphia across the street and the Evangelical Lutheran Church next door. The new tower will darken stained glass windows in both churches.
Philadelphia's 20th Century modern architecture is largely under-researched and under-appreciated, and demolitions like this one raise the profile of other modern buildings that are worthy of documentation and designation. In a 2009 PlanPhilly opinion piece, Frank Matero, a professor in PennDesign's Historic Preservation program, wrote: Were the building to be re-evaluated today, it would clearly qualify for full protection as a significant example of mid century Modernist architectural design and social program that so well defined the movement.
The new tower will be set back from the building's base built out to the lot line, with retail at street level. Unfortunately the glassy tower's design leaves much to be desired. Maybe if this part of the city were much denser and taller, the new Buck tower could recede into the background. As planned, the new tower will be a bore to behold.
Want more?
WHYY is your source for fact-based, in-depth journalism and information. As a nonprofit organization, we rely on financial support from readers like you. Please give today.