Mayfair's first Chinese New Year festival honors tradition, welcomes new neighbors
Listen
1:02
The lion dance is a chinese cultural tradition, typically performed at Chinese New Year festivities. It is thought to bring good luck and fortune. (Natalie Piserchio for WHYY)

Rows of firecrackers are lit simultaneously at the 2019 Chinese New Year Festival in Northeast Philadelphia. (Natalie Piserchio for WHYY)

The lion dance is a chinese cultural tradition, typically performed at Chinese New Year festivities. It is thought to bring good luck and fortune. (Natalie Piserchio for WHYY)

The 2019 Chinese New Year Festival was held in Northeast Philadelphia at the corner of Frankford and Cottman avenues. (Natalie Piserchio for WHYY)

The 2019 Chinese New Year Festival was held in Mayfair for the first time Sunday. (Natalie Piserchio for WHYY)

Amy Lee, 21, of Northeast Philadelphia, volunteers at the 2019 Chinese New Year Festival serving cheese wonton and other traditional Chinese foods. (Natalie Piserchio for WHYY)

Performers take photos and play with children at the 2019 Chinese New Year Festival in Northeast Philadelphia. (Natalie Piserchio for WHYY)

Hundreds of people attended the 2019 Chinese New Year Festival, the first of its kind in Northeast Philadelphia. (Natalie Piserchio for WHYY)

The lion dance is a chinese cultural tradition, typically performed at Chinese New Year festivities. It is thought to bring good luck and fortune. (Natalie Piserchio for WHYY)

Rows of firecrackers are lit simultaneously at the 2019 Chinese New Year Festival in Northeast Philadelphia. (Natalie Piserchio for WHYY)
Red and gold firecrackers sent plumes of gunpowder into the air and dancing "lions" gyrated to the sound of live percussion on the corner of Cottman and Frankford avenues in Philadelphia Sunday afternoon — all in celebration of the Lunar New Year, which begins on Tuesday.
The festival ushering in the Year of the Pig was the first of its kind in the city's Mayfair neighborhood, honoring not only Chinese tradition, but also the surging Asian population in Northeast Philadelphia.
"Recently there's a lot of new immigrants coming in moving from New York, Brooklyn, so we want to make sure… local residents here and the new residents can get together and unite," said Keith Xiao, executive director of the Northeast Philadelphia Development Corporation.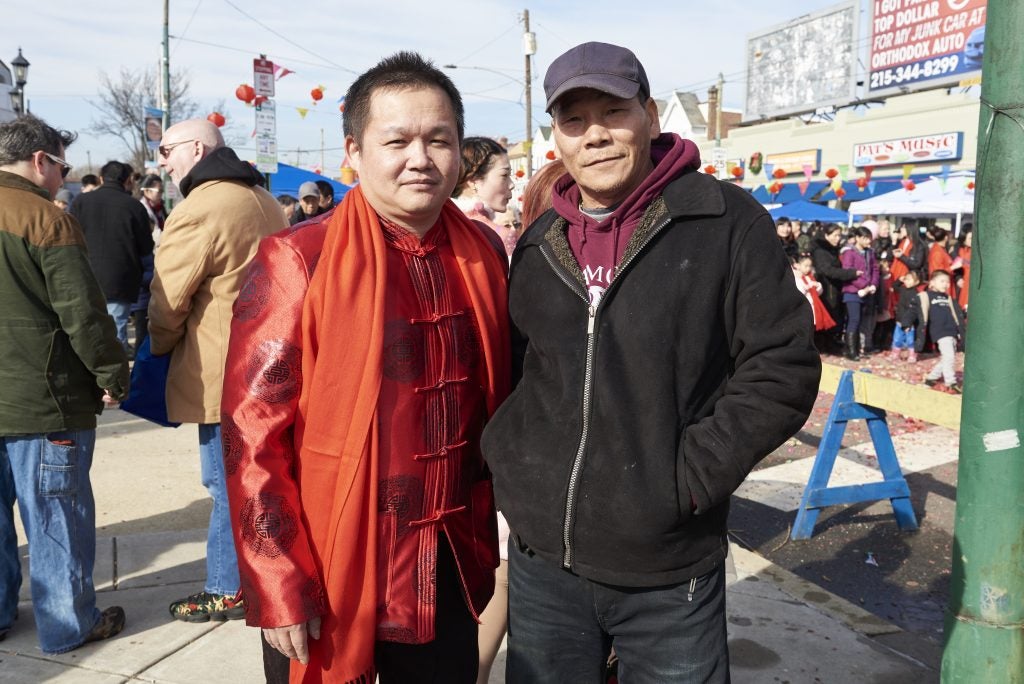 The 19149 zip code, which includes Mayfair, saw its Asian population increase by nearly 600 percent between 1990 and 2010, according to the Pew Charitable Trusts. Nearby Fox Chase saw an increase of more than 540 percent. Most of Philadelphia's Asian residents are Chinese, according to 2017 U.S. Census data.
Xiao, who moved to the neighborhood from New York City more than 10 years ago, said Chinese New Year is a time when friends and family reunite, and wish for a year better than the last.
Xiao said the festival was inspired by similar events in New York's Chinatown in hopes it would help welcome Northeast Philadelphia's new transplants. The Northeast Philadelphia Development Corporation also organized Mayfair's first Mid-Autumn Festival in September.
Joan Xie moved to Mayfair about "seven or eight years" ago from New Jersey, and says she was attracted to the diversity and convenience of the neighborhood.
"I saw it's a variety of people," she said. "And everyone is friendly and then it's very convenient for food and transportation."
Colleen Lyons has lived in Mayfair off and on since 1986 and bought a house here nearly a decade ago.
"I couldn't ask for a better place to live as far as community goes," she said.