Maria Quiñones-Sánchez vs. Philadelphia ward leaders … again
Philly City Councilwoman Maria Quiñones-Sánchez again faces a re-election battle without support from Democratic Party leaders.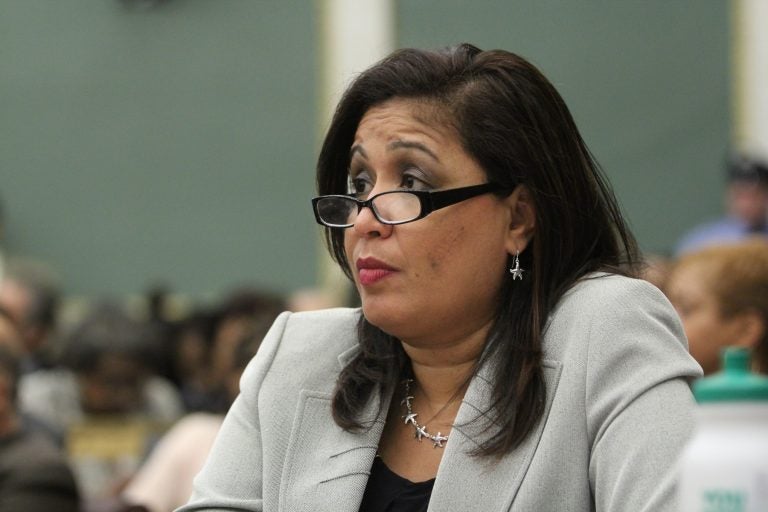 Philadelphia City Councilwoman Maria Quiñones-Sánchez has won three terms in office without the support of her own party. To win a fourth term, she'll have to do it again.
Though the city's Democratic Party nearly always supports incumbent elected officials for re-election, a majority of the ward leaders in the 7th Councilmanic District voted to back state Rep. Angel Cruz over Quiñones-Sánchez for the seat.
The battle lines reflect a long-running feud among Latino political leaders in Philadelphia.
Cruz said the vote shows Quiñones-Sánchez's failure to build coalitions and work with others to serve her constituents.
Quiñones-Sánchez said to get the support of ward leaders opposing her, she'd have to cut deals she's not comfortable with.
"If you're not willing to be transactional with them, then they prefer to see someone else in the seat," she said in an interview.
Quiñones-Sánchez said the ward leaders opposing her have a history of Election Day shenanigans and campaign finance violations.
Many of the same ward leaders opposed Quiñones-Sánchez four years ago, supporting candidate Manny Morales. Cruz, the Democratic leader of the 7th Ward, was among them.
The Democratic City Committee backed Morales, then withdrew its endorsement after racist and homophobic posts were found on his Facebook page. But city ward leaders stuck with Morales, who lost to Quiñones-Sánchez by 850 votes.
After the election, the city's Board of Ethics found that the 7th Ward/Friends of Angel Cruz and Quiñones-Sánchez campaign committee had committed campaign finance violations for accepting excess contributions from other political committees.
The 7th Ward/Friends of Angel Cruz committee paid a $4,000 fine. Quiñones-Sánchez's campaign committee paid $3,000 in fines, and Quiñones-Sánchez herself paid $1,500.
All parties involved admitted the violations in settlement agreements with the Ethics Board.
Quiñones-Sánchez said she thinks the margin in the 2015 election was relatively close only because her opponents "weaponized" the practice of giving assistance to voters in the voting booth.
Any voter who has a disability or language issue can fill out a form authorizing someone to assist them in the voting booth. Quiñones-Sánchez said Morales' supporters intimidated voters into bringing them in the voting booth and ensuring they voted for their candidate.
Cruz said voter assistance forms are legal methods of assisting voters that have to be approved by the local judge of election.
"There's nothing being done illegally," Cruz said, "but she uses any little thing to try and make herself a victim."
Quiñones-Sánchez said she'll seek special law enforcement efforts this time to ensure the election is run fairly.
The other side
Cruz said he's running for the Council seat because the district is poorly served by a councilwoman who refuses to work with ward leaders that are intimately connected to the communities they serve.
"She wants to be in charge, to call all the shots," Cruz said in a telephone interview. "She fights with the leaders in her district that are the same people that she demands support from. You can't do that. You have to unite people in order to service the people."
Quiñones-Sánchez said she serves everyone in the district, and she doesn't think she has to treat its neighborhoods as fiefdoms of ward leaders.
"I think this old school notion of 'I can't go into someone's ward without calling them?' Not happening," she said.
If past elections in the district are any guide, the race will be hotly contested with plenty of hard feelings on both sides.
The primary election is on May 21.
WHYY is your source for fact-based, in-depth journalism and information. As a nonprofit organization, we rely on financial support from readers like you. Please give today.