Looped In brings "social seating" to University City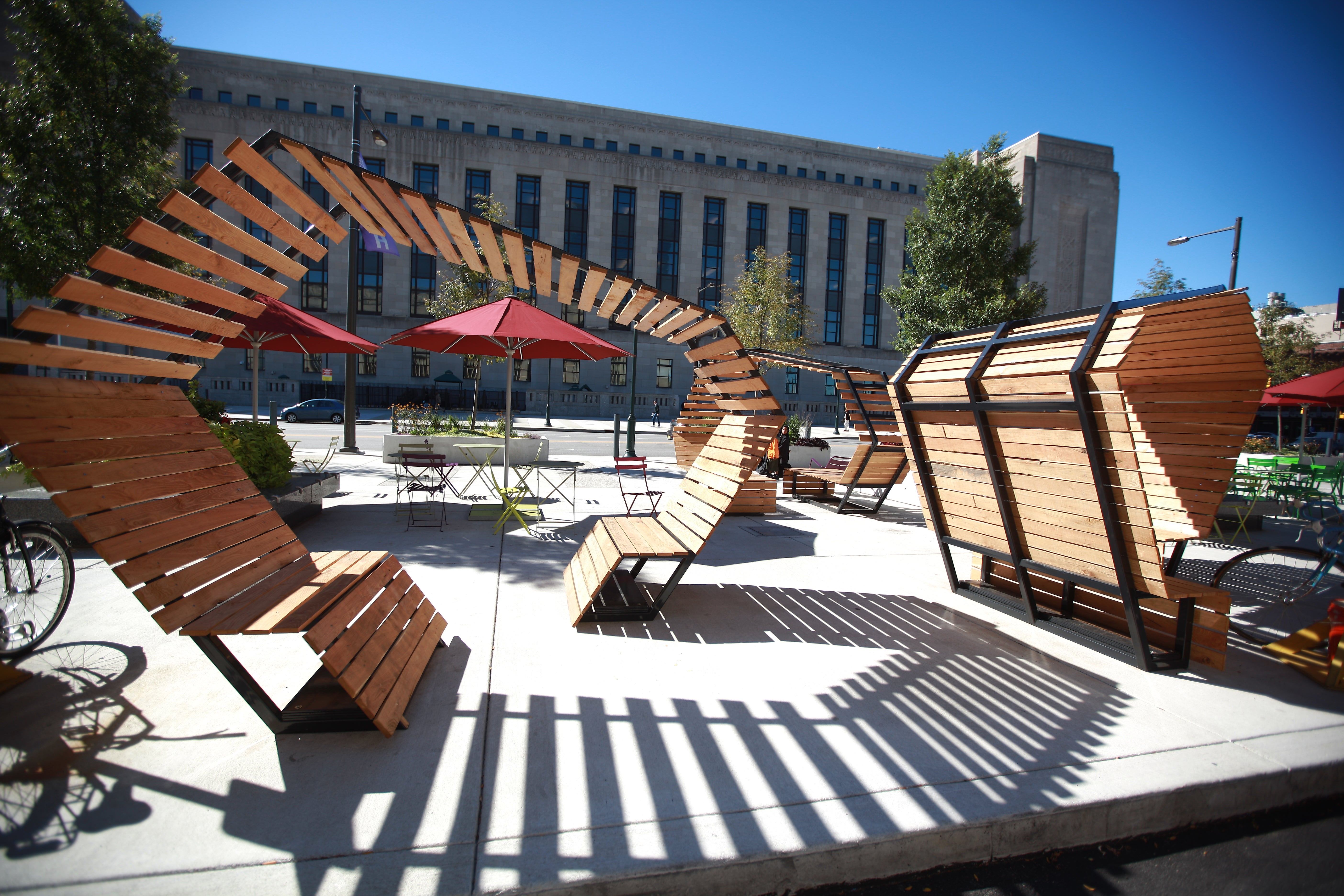 If you've passed through The Porch at 30th Street Station recently, you may have noticed some funky looking seating structures that appear to loop around on themselves with wooden benches below and canopy-like structures overhead.
These art-meets-functionality Porch chairs are part of Looped In, a new type of "social seating" debuted by University City District (UCD).
Looped In features three separate seating structures. Each is made of a heavy-duty, powder-coated steel frame, decked in sustainably harvested and locally-sourced Black Locust wood. The three structures vary slightly but all feature benches that face one another. With room for more than one person on each bench and the face-to-face interaction that the looping structure provides, Looped In is an attempt to encourage social interaction.
"Looped In is an evolution of our concept that site furniture can enhance comfort and social interaction in our public spaces," said Nate Hommel, UCD's Capital Projects Manager. "We hope our social seat is a catalyst that inspires social interactivity."
UCD enlisted Brian Phillips and Interface Studio Architects to design Looped In. En-Motion Design then built the actual structures.
The goal is to place Looped In at various public spaces through University City for several weeks at a time. The seats will be at The Porch for the rest of this month. In October Looped In will move to Clark Park for FIGMENT, a free, participatory arts experience that is held in multiple cities and will come to Philadelphia for the first time on October 6. UCD is open to suggestions for future Looped In destinations.
If you find yourself using the Looped In structures, UCD encourages you to take pictures and send them to LoopedIn@universitycity.org or share them on social media sites with the hashtag #LoopedIn.
(Neal Santos)

(Neal Santos)

(Neal Santos)

(Neal Santos)

(Neal Santos)

(Neal Santos)

(Neal Santos)

(Neal Santos)
WHYY is your source for fact-based, in-depth journalism and information. As a nonprofit organization, we rely on financial support from readers like you. Please give today.