Living 'By the Bog of Cats' (Irish Heritage Theatre)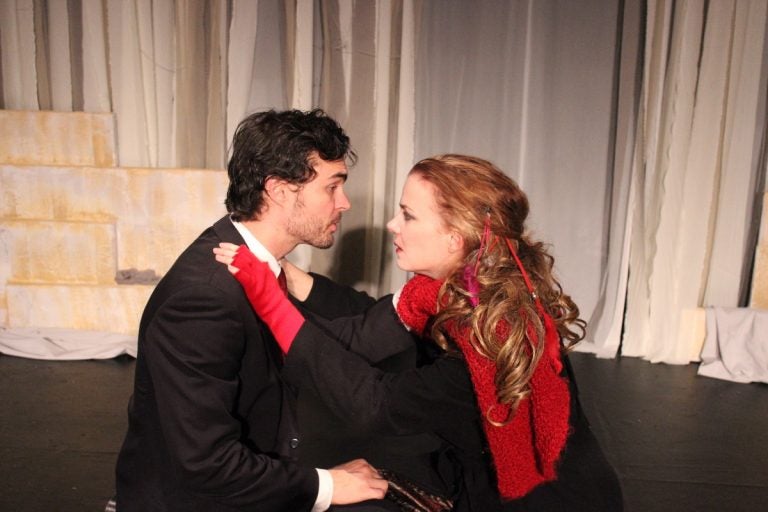 With its plot about a young man who leaves his baby-mama for a woman of higher station, playwright Marina Carr's "By the Bog of Cats" sounds a little bit like Euripides' "Medea." That is Carr's stated intent.
Except for a few plot turns, the resemblance ends there. "Medea" is a play about revenge, modeled on myth. "By the Bog of Cats" is a play about bitter people, modeled on indigenous Irish themes. In fact, "By the Bog of Cats" is what we come to think of — whether right or wrong — as classic Irish theater. It features a rural village of people as painfully ingrown as a bad toenail, ghosts, a man who represents death from the get-go, and a woman who acts like a cat and makes eerie pronouncements. Intense feelings boil over (24 hours a day, it seems). A priest's behavior is a mockery of the Church. Alcohol figures into the play to various degrees. And characters are so ruined by each other, accusation is all they know.
For me, it's too much of too much — yet in a current production by Irish Heritage Theatre, it sometimes comes off, oddly, as too little. A play with constant scripted passion, some of it organic and real and some not, demands a fearless delivery. Under the direction of its artistic director Peggy Mecham, the Irish Heritage production waffles. The intensity's always there, but, in a performance I saw Sunday, reactions and responses frequently seemed off by a fraction of a second, giving the production an erratic tempo. And the staging is at times static: Actors stand in place too often, talking fiercely at each other.
The production ramps up in its second half, although Kirsten Quinn's lead performance stands out through the show. Quinn plays, with a deep understanding of her character, a woman named Hester Swayne – born on the wetland called the Bog of Cats, where her mother abandoned her at a young age. Now she has her own daughter (the middle-schooler Keri Doheny, in an excellent performance), who seems to be getting by even though Hester is a big drinker who leaves her daughter at night while she wanders the bog as her own mother did.
The girl's father (Arlen Hancock) never married Hester but is about to wed one of her childhood friends (Jenna Kuerzi), and Hester has signed over the rights to the place she's lived with her former beau on the bog. But now that the wedding day has come, she refuses to leave. Her psyche and spirit are tied to the bog, which she considers her own. And besides, she's not easily pushed around; she and her old flame share a terrible secret that's the key to "blood money" mentioned several times in the play.
Carr's play has had several major productions since it first appeared in Ireland in 1998 and later on London's West End. It also has some fine lyrical writing and flashes of brilliance – a wedding dinner scene is pathetic, funny and memorable, and Mecham directs it with a flourish. In Ireland, Carr is among that country's best-known living playwrights, and she's recognized by theater communities beyond its borders. In September she was awarded a $165,000 Windham-Campbell Prize for drama in a ceremony at Yale.
Carr's not so visible, though, on stages in the United States. It's all the more fortunate that we have Irish Heritage Theatre, a small but bold company, staging what is arguably her most popular play in Ireland. If I find "By the Bog of Cats" overloaded, I also understand its appeal to Irish audiences, especially in its desolate depiction of backwater life where family history is everybody's business — and also bound to recur. I wonder whether that appeal will translate here.
_
"By the Bog of Cats," produced by Irish Heritage Theatre, runs through Nov. 18 at Walnut Street Theatre's Studio 5, on the fifth floor of the Walnut, between Eighth and Ninth streets on Walnut Street. For more information, irishheritagetheatre.org.