Legislation creating new Central Delaware overlay is introduced, but can't get through council before summer recess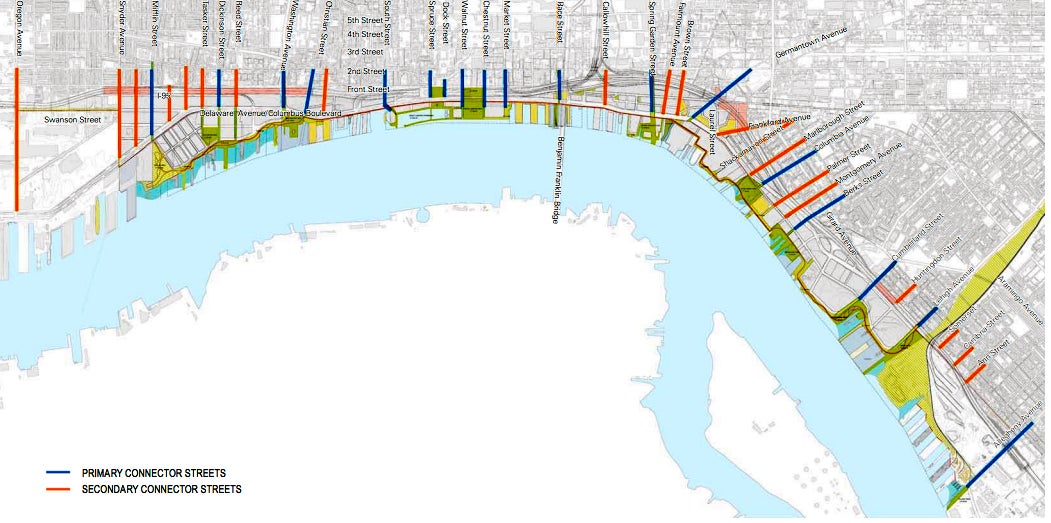 The new Central Delaware Riverfront Overlay – a zoning document meant to keep future development in line with the city's vision for the riverfront – was introduced at city council Thursday morning.
But there is not enough time before council goes on summer recess for the new overlay to become law, unless council adds another meeting at the end of June.
"I don't think it will be passed this session," said First District Councilman Mark Squilla, who introduced the bill. There has been no discussion of an extra June meeting, he said. But even though the existing, interim overlay is set to expire when the new city zoning code goes into effect Aug. 22, Squilla remains hopeful the waterfront will not go without overlay protection.
"There may be time for a (committee) hearing," he said.
The legislation was referred to the Rules Committee. Planning Commission Deputy Executive Director Eva Gladstein has previously said if Rules holds a hearing and votes the legislation favorably out, the overlay would be considered pending legislation, and the city's Department of Licenses and Inspections would have to apply it to any permit applications. Gladstein was in meetings until late Tuesday, but early Wednesday morning, she sent an email saying, "We will work with the Councilman to support any appropriate option that will result in the overlay being reported out of Committee before Council recesses."
Squilla said he's talked to planning about another possibility: An amendment to an existing bill – likely the zoning code "clean up" bill – that would keep the current, interim overlay in place until council can adopt the new overlay.
The councilman hopes final adoption of the new overlay will happen shortly after council returns from recess in September. If the bill does make it favorably out of committee before break begins, council could adopt it as soon as the second meeting after they return.
Should neither of these options pan out, and the waterfront is without an overlay from mid-August until sometime in September, Squilla does not think there is much risk to the goals laid out in the Central Delaware Master Plan, which include the creation of a multi-purpose trail, a network of green space, mostly mid-rise, mixed use development, and river access. The Master Plan has been adopted by the planning commission, he said, and so city agencies are required to consider it when making waterfront decisions.
Matt Ruben, chairman of the Central Delaware Advocacy Group, disagrees.
"It's essential that some sort of overlay be in place at all times," said Ruben, who is also president of Northern Liberties Neighbors Association. The need is heightened because some planned changes to riverfront base zoning have not happened yet.
"The biggest nightmare scenario is death by a thousand permits on the waterfront," he said. Between Aug. 22, when the interim overlay is set to expire, and whenever council passed a new overlay, a developer could pull zoning permits for development that needs no variances under current base zoning. Once those are in hand, the eventual passage of the new overlay wouldn't impact that development, Ruben said.
When asked how many properties currently have base zoning that would allow for development in discord with the master plan, Ruben said he wished he knew. CDAG has asked planning to identify properties on which existing zoning is contrary to the master plan in terms of height, density, waterfront access or sign regulations. "The general answer is there aren't a tremendous number of properties where these things can happen, but there are some," he said. "When you add all those different possible risks together … there is real risk there. No one knows exactly how big that risk is."
When asked if he would be as comfortable with an extension of the interim overlay as with the application of the new one, Ruben said: "The old one is better than nothing. The new one is better than nothing. But the old one, and current draft of the new one, are not what we really need. We need something better than both of them."
CDAG members, which all represent a Central Delaware civic group or organization, remain concerned that the proposed overlay does not do enough to ensure river access, extend the city street grid to the waterfront, or keep billboards at bay.
CDAG will "keep working to improve the current draft of the overlay," Ruben said.

Speaking of changes to underlying riverfront zoning, Squilla said there was simply no way he could review planning's suggestions in time to introduce legislation before the break.
"That makes sense," Ruben said. There's really no way all the riverfront communities could review the changes and provide comment in that short a time frame either, he said.
Reach the reporter at kgates@planphilly.com.