Judge convicts Pa. Capitol rioter who yelled Pelosi threats
A federal judge has convicted a Pennsylvania restaurant owner of storming the U.S. Capitol, where she screamed at police officers to bring out then-House Speaker Nancy Pelosi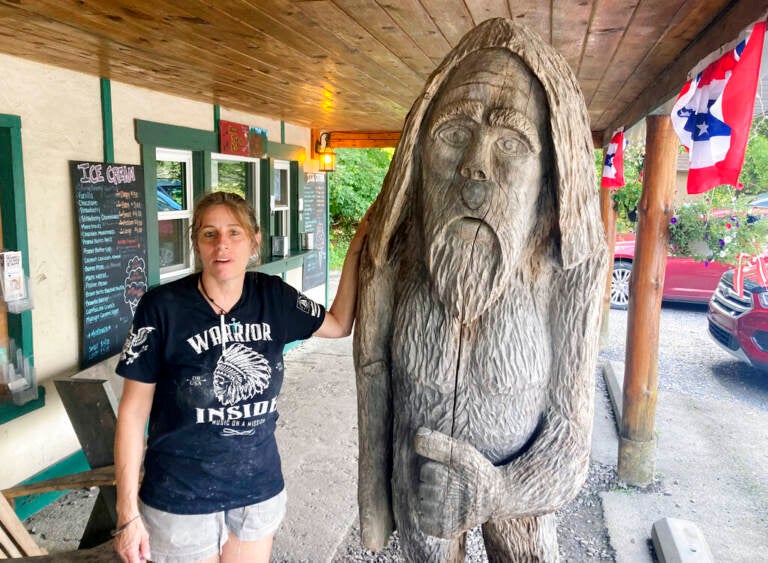 A federal judge on Tuesday convicted a Pennsylvania restaurant owner of storming the U.S. Capitol, where she screamed at police officers to bring out then-House Speaker Nancy Pelosi so the pro-Trump mob could hang her.
U.S. District Judge Trevor McFadden decided the case against Pauline Bauer after hearing testimony without a jury. The judge convicted her of all five counts in her indictment, including a felony charge that she obstructed the Jan. 6, 2021, joint session of Congress for certifying President Joe Biden's electoral victory, court records show.
Bauer's bench trial started last Thursday. McFadden announced the verdict from the bench. The judge is scheduled to sentence her on May 1. McFadden agreed to let Bauer remain free on certain conditions until her sentencing.
In September 2021, McFadden ordered Bauer to be jailed for violating conditions of her pretrial release. Bauer remained in custody for several months while awaiting a trial. The judge can give her credit for the jail time that she already has served.
During her initial court appearances, Bauer expressed an ideology that appeared to comport with the "sovereign citizens" extremist movement's belief that the U.S. government is illegitimate.
Bauer, 55, traveled from her home in Kane, Pennsylvania, to hear then-President Donald Trump speak to a crowd of his supporters at the "Stop the Steal" rally on Jan. 6. Bauer was part of the crowd that forced Capitol police officers to retreat up the stairs in front of the East Rotunda doors, prosecutors said.
Bauer entered the Capitol with a friend, William Blauser, and confronted police officers protecting an entrance to the Rotunda. She shouted at police officers to "bring them out or we're coming in," according to prosecutors.
"They're criminals. They need to hang," Bauer yelled.
Video from a police officer's body camera captured her profanely yelling at the officers to "bring Nancy Pelosi out here now. We want to hang (her)."
She and Blauser left the Capitol about 38 minutes after they entered.
Bauer's indictment charged her with a felony count of obstructing an official proceeding. She also was charged with four misdemeanors, including entering or remaining in a restricted building or grounds and disorderly or disruptive conduct in a Capitol building or grounds.
Approximately 950 people have been charged with Capitol riot-related federal crimes. Nearly 500 of them have pleaded guilty. Dozens of others have been convicted after trials decided by juries or judges.
The only Capitol riot defendant to be acquitted of all charges after a trial was a New Mexico man whose case also was decided by McFadden, a Trump nominee.
Bauer was arrested in May 2021 along with Blauser, who pleaded guilty to parading, demonstrating or picketing in a Capitol building. In February 2022, McFadden ordered Blauser to pay a $500 fine but didn't sentence him to any term of incarceration or probation.
During an interview after her arrest, Bauer acknowledged that her actions angered some of her neighbors in Kane, a small town on the edge of the 517,000-acre Allegheny National Forest. But she insisted that her participation in the events of Jan. 6 hadn't cost her any friendships or harmed her business.
"A lot of people say that they're proud of me for standing up for my rights," she told an Associated Press reporter during a break in dinner service at her restaurant, Bob's Trading Post.
Bauer was combative with McFadden at pretrial hearings and claimed the court has no authority over her. Bauer has said she is a "sovereign people," not a sovereign citizen, and referred to herself as "Pauline from the House of Bauer." She told the judge that she doesn't want an attorney to represent her "or any lawyering from the bench."
"I do not recognize your bar card, sir," she told McFadden, who appointed a lawyer to act as her standby counsel.
Bauer became a punchline for Stephen Colbert's late-night talk show on CBS. The host mocked Bauer for claiming to be a "divinely empowered entity immune from laws."
"Divinely empowered? So she's going to get away scot-free, just like Jesus," Colbert joked. "But it does raise the question: If you're chosen by God to be above the laws of government, why do you care who's in charge of it?"
WHYY is your source for fact-based, in-depth journalism and information. As a nonprofit organization, we rely on financial support from readers like you. Please give today.