Joe Biden's Washington experience: Asset or albatross?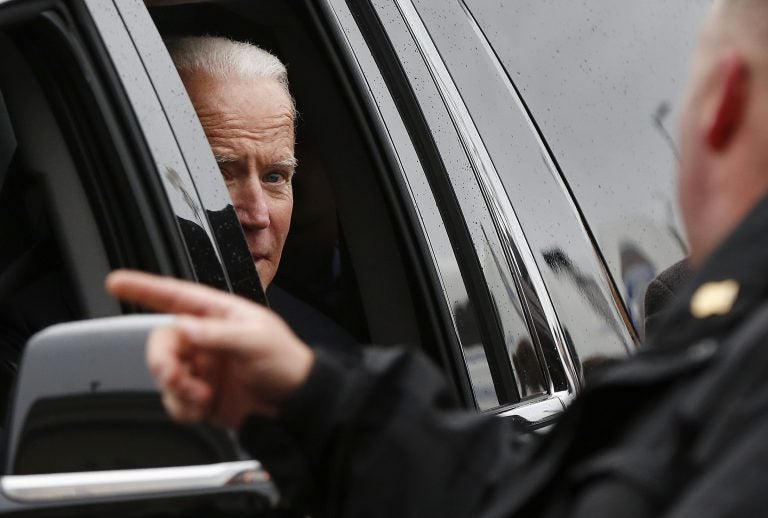 Joe Biden is reportedly poised to enter the presidential race on Thursday, which is a very good thing, if only because we can finally retire the tired pun that Joe is Biden his time. Beyond that, nothing is certain. Maybe he'll be a juggernaut (a new Reuters/Ipsos poll says he tops the Democratic field, with 26 percent of likely primary voters), or maybe he'll be a bust like Coca Cola Orange Vanilla (don't even try to drink it).
Many questions have been raised about his age, his occasionally corporate-friendly Senate record, and his propensity for laying hands upon people who fail to find it endearing. But the key facet of the Biden brand that might prove most problematical — especially with younger Democrats who want to turn the page on the past — is his tenure in Washington. A very long tenure. At the time of his arrival, Philadelphia's Veterans Stadium was virtually brand new. It was so long ago that moderate Republicans still roamed the land.
Biden says that his Washington experience — 36 years in the Senate, eight years as veep, most of those years immersed in domestic and international policy — makes him "the most qualified person in the country to be president." In his recent words, "The issues we face as a country today are the issues that have been in my wheelhouse, that I've worked on my whole life." On paper that does seem persuasive, especially when contrasted with a seriously impaired incumbent whose sum total of civic knowledge appears to have been culled from "Fox & Friends."
The problem, however, is that the electorate has become allergic to tenured Washington insiders. Perhaps Biden can buck that trend. But don't be surprised if he can't, because the weight of history is heavy. Six of the last seven presidents had little or zero experience at ground zero of national governance.
Jimmy Carter (four years as governor of Georgia) came out of nowhere to win the Democratic nomination and presidency in 1976. Ronald Reagan (eight years as governor of California and 30 years in Hollywood) won the presidency in 1980. Bill Clinton (11 years as governor of Arkansas, where his national security experience was limited to running the National Guard) won the presidency in 1992. George W. Bush (six years as governor of Texas, where the governor's office is weak) won the presidency in 2000. Barack Obama (with a mere two years in the Senate) won the presidency in 2008. Donald Trump (no record of public service) has been the apotheosis of inexperience.
The sole exception, during the last half century, was the senior George Bush in 1988 — eight years as veep, a few years running the CIA, a few terms in the U.S. House — who at least proved that it's not impossible for a career insider to sway an electorate that typically views D.C. as a political sinkhole. But he lost his re-election race to Clinton, who was actually an outsider back in the day, and who frequently said on the trail that "experience counts, but it's not everything. The same old experience is not relevant."
There's no magical formula for judging a candidate's qualifications, or lack thereof. The Federalist Papers, where the nation's founders wrestled with the weightiest matters, fail to offer any meaningful advice. As far as I can tell — and I'm no expert parser of 18th-century prose — there's little or nothing about the relationship between experience and performance. Alexander Hamilton wrote only that candidates should be "preeminent for ability and virtue," which are highly subjective traits, but arguably within Joe Biden's wheelhouse.
Perhaps the biggest question going forward — as Biden reportedly taps the usual Democratic establishment suspects (including Ed Rendell and David Cohen) to raise insider money — is not whether experience per se is viewed as an asset, but whether Biden's specific experience resonates with primary voters. His long experience includes a Senate vote to authorize George W. Bush's disastrous Iraq war, Senate votes that were friendly to the credit card industry at the expense of consumers, and a Senate chairmanship that short-changed Anita Hill's sex harassment allegations against Clarence Thomas. The beauty of being an outsider with no skin in the Washington game — the beauty of being a newbie like Pete Buttigeg (at least at the moment) — is that rival candidates have less to shoot at.
But what Biden is banking on — and who knows, perhaps he'll be proven correct — is that the Trump nightmare will teach the electorate a valuable lesson about the steep downside of inexperience, and that a seasoned septuagenarian Washingtonian would put the steadiest hand on the tiller. One weekly poll, which tracks Democratic sentiment in the early primary states, says this may be so. But he'd be wise to lay off the Senate war stories circa 1975, and stop quoting politicians like Adlai Stevenson, who died in 1965. He'd surely do better to quote the painter Auguste Rodin: "Nothing is a waste of time if you use the experience wisely."