Island Beach State Park could get stricter bag limits on Fluke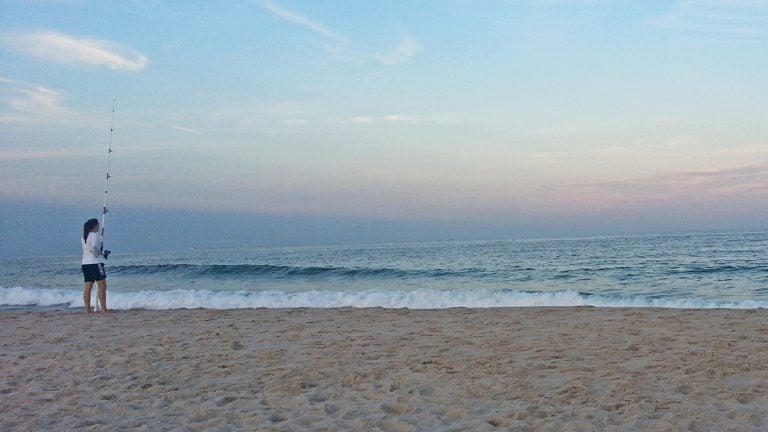 A plan to reduce the bag limit of Fluke may be tried out in Island Beach State Park in Ocean County.
Fluke, also known as summer flounder, are popular with hobby fisherman and amateurs because they're easy to reach from the shore.
The statewide limit on fluke, which is officially in open season from May 23 – Sept 27, is five fish at an 18-inch minimum. However, if a pilot program is approved for IBSP, fishermen could only take home two fluke at 16 inches or greater.
The intention is to help shore fishermen, or anglers, hold on to their smaller catches instead of having to wait all day for an 18 incher. "I catch plenty of big fluke from my boat, but from the surf? I can't remember the last time I caught one at 18 inches," said Paul Haertel, president of the Jersey Coast Anglers Association.
Haertel says allowing people to take home smaller fish improves your chances of taking home a prize. "The reason we're doing this is to try to help out the people who really need it – casual fisherman, kids, amateurs, people who need to bring a fish home – because for them a 16 inch fish is a big fish," Haertel said. "Before, they would have caught a fish this size and had to throw it back."
Although he understands the rationale for the allowing people to take smaller fish home, he'd still like to see the bag limit stay at five, like what's in place for the rest of the state. He suggests modifying the take home cap to two fluke at 16 inches or bigger and three more fluke at the statewide 18 inches or larger. He says overfishing is not a real concern for fluke in New Jersey, and on those rare days when a shore fisherman manages to catch four or five fluke they should be allowed to take them home. Still, he likes the idea of the pilot program and hopes it will be expanded to more locations.
For now, Brandon Muffley from the New Jersey Marine Fisheries Council wants to launch the pilot in only one location and Island Beach State Park is the top contender. One reason, he says, is its statewide accessibility being centrally located along the coast. More importantly, the park has only one access point in and out, which would enable staff members at the exit gate to not only enforce size limit regulations but also collect biological data about every fluke leaving the park.
"If you do harvest summer flounder, we'll probably require you to check in that fluke," said Muffley. "You'll get a tag, we'll get biological information from it, measure it and weigh it. Plus we're going to do some interviews with anglers while they're out fishing."
The data-collection component of program will give Muffley and other policy-makers a better understanding of whether the take home limits are at the right level. The current quota is based on a federal estimates, and Muffley says the hard data from this program could help policy-makers make a case for changing New Jersey's quota in the future.
"If we can collect the data this year, it will help us regardless of when we can implement this program going forward," said Muffley.
The NJMFC will meet again on May 1 to decide whether the pilot program will be put into practice this year.
WHYY is your source for fact-based, in-depth journalism and information. As a nonprofit organization, we rely on financial support from readers like you. Please give today.