Is South Street's retail apocalypse coming to an end?
"We think we've hit the bottom, and that's why we're jumping in."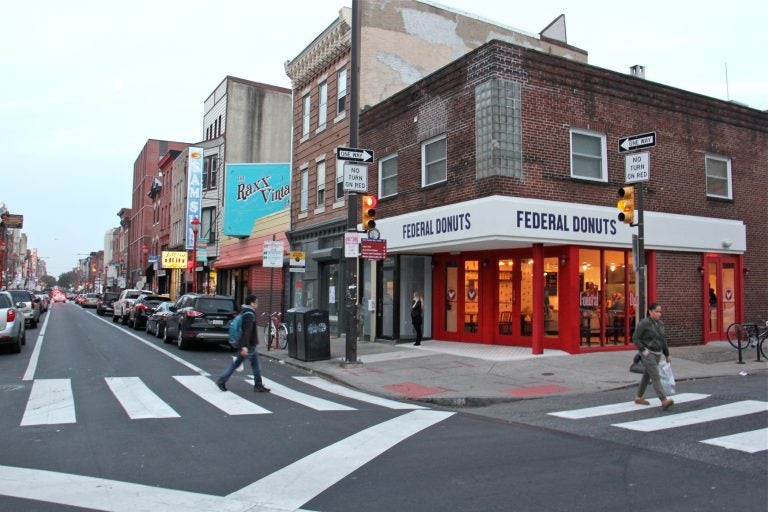 This article originally appeared on PlanPhilly.
—
On a famously eclectic, and lately, unlucky, strip of South Street, a turnaround appears to be in the making.
Among the signs of revival on South Street are a gleaming Federal Donuts that opened at 6th and South last month, a boutique hotel under construction on the corner of 5th and Bainbridge, and a Target planned for the opposite corner. A grocery store may finally be coming to the long-vacant Abbotts Square building at 2nd Street, and construction is underway on a new Bridget Foy's after the popular restaurant was badly damaged by a fire last year.
"We think we've hit the bottom, and that's why we're jumping in," said Larry Steinberg of Rittenhouse Realty Advisors, a brokerage firm that began marketing several South Street properties earlier this year. "It's a good time to jump in."
Vacant storefronts often signify transition in a neighborhood. Rising rents or changing traffic patterns could affect business. Sometimes, a corridor's identity changes without bringing tenants or landlords along. On South Street, the transition is still underway and to be sure, unfolding slowly. At 5th and South, just a block from the new donut-and-fried-chicken shop, three of the corner's four properties are empty: a Johnny Rockets diner that closed in January after 20 years in business, the former NET clothing store, and a shuttered Sprint outlet.
On the next block, the vacancies include the former Eternity Fashion, Auntie Anne's, and The Legendary Dobbs. On a chilly morning last week, a homeless person dozed in front of the former Dr. Denim. The old Downey's Irish pub at the corner of Front and South has been waiting for a new tenant since early 2016. Just this month, Jon's Bar and Grille, a popular 3rd Street mainstay for 37 years, suddenly shut down, and it was announced that the Starbucks that has anchored the corner of 4th Street since 1995 will close in a couple of weeks.
"People say all the time, 'What's wrong with South Street?' " said Ken Silver, owner of Jim's South Street, where tourists and locals continue to line up out the door for the famous cheesesteak sandwiches. "The businesses that are here seem to be doing fairly well, if not very well. The businesses that have left either left because they weren't what people were looking for or weren't running right."
A downturn decades in the making
The boom-bust business cycle may point to a coming revitalization for the eastern blocks of South Street, but the corridor has a particularly persistent hole to dig out of. For several years, business owners and the local business improvement district have been trying to bring more customers to the street with mixed results, even as the national economy has improved and shopping districts in Center City have experienced a boom.
That's partly a legacy of South Street's previous renaissance in the 1970s, which began after older businesses fled to make way for a proposed expressway that was later called off. Cheap rent attracted artists' galleries, rock clubs, and cafes, run and patronized by young people. Steinberg, who lived in Queen Village in the 1980s, said the youth-centered business model enlivened the corridor, but it didn't support retail stability and resulted in an "incredible amount of turnover."
The youthful crowds also caused a major image problem when some 50,000 revelers descended on the street for Mardi Gras in February 2001, leading to riots that made national news. They smashed windows, looted a dozen stores, and threw bottles at police, resulting in 100 arrests and a clampdown on Fat Tuesday celebrations in the years since. "That cast a negative shadow on South Street," Steinberg said. "That doesn't happen anymore."
During the recession, scores of businesses closed and were not replaced for years, prompting some landlords to donate their storefronts to arts organizations for use as low-cost galleries and art studios. Anchor stores like Gap, Tower Records and Blockbuster shut down. The rise of online shopping took a toll. Meanwhile, shoppers began discovering other cool places to spend their time and money.
The variety of alternatives is something the street has "wrestled with over the years and still wrestles with," said Michael Harris, executive director of the South Street Headhouse District business association. "Frankly, South Street used to be the only game in town, in the 80s and 90s. But the heat map moves, the areas of popularity move, so now you have Fishtown and North Liberties and East Passyunk."
While the internet and changing shopping habits have challenged retailers everywhere, Center City's retail market is booming. Some 2 million square feet of new retail space is in development from Vine to South streets, according to the Center City District, "expanding Philadelphia's prime retail district and reactivating long-dormant downtown shopping streets."
On Walnut and Chestnut streets west of Broad, the retail vacancy rate dropped below 5 percent last year, CCD said. The vacancy rate citywide hovered around 8 percent as of mid-2018, according to Collier's International. Meanwhile, South Street struggles with a vacancy rate of 16 percent, nearly twice the citywide average, Harris said.
The loss of businesses on South Street is reflected in stagnant retail rents. Storefronts there rent for about $40 per square foot, well below the amounts charged in the core of Center City, according to a report by the real estate firm CBRE. That figure is almost unchanged from 13 years ago, while asking rates on Chestnut, Walnut and Market streets have risen steadily since then.
Yet with so many buildings vacant, rents should arguably be even lower. Landlords' unwillingness to accept less profitable lease arrangements may explain why some spots remain empty for months or even years. A similar phenomenon is occurring in parts of Manhattan, where landlords are reluctant to lower rates despite a supposed retail apocalypse driven by online competition.
"There are people still expecting to get rents much higher than I think the street can support, so they're holding out and holding properties vacant against the dream that has probably changed as retail is facing ever more pressure from the internet," said Paul Levy, CCD's chief executive and a resident of nearby Society Hill. "A lot of the property owners have made decisions to wait for certain types of tenants who may not be coming."
South Street's future may depend on embracing the model of the neighborhood main street. Levy, Harris, and the brokers agree that the best bet for the long-time tourist attraction may be catering to the affluent residents who have moved in over the last few decades.
"You've got incredibly strong market demand on either side of the street, from Society Hill and Queen Village, from Washington Square and from Bella Vista. This is not like a marginal commercial corridor struggling for businesses," Levy said.
That would mean accelerating the street's shift from its youth-oriented focus of the 1980s and 1990s, which depended on weekend visitors from around the region, to a balanced model that brings in more local shoppers on weekdays.
"Part of our challenge, and part of our opportunity, is that we have to service both the neighborhood and tourists," Harris said. A recent survey of people on the street found visitors from 20 different states, he said. "We are a tourist destination and we want that to be a good experience for people, but at the same time we want to be serving all the neighbors that live around here, which are lots of families, and lots of people with disposable income. It's kind of finding that balance of things that work for both. If you can get the right mix, both sets of consumers will be happy."
An indication of what that could look like can be found right off South Street, on 4th Street's Fabric Row, where boutiques, salons, cafes and restaurants like Hungry Pigeon thrive off a steady stream of local customers. One popular boutique, Moon + Arrow recently opened an offshoot shop, Little Moon + Arrow, catering to the organic-onesie-wearing, wooden-toy-playing children of their customers.
Nearby residents are particularly eager to see a grocery store fill the long-vacant storefronts of Abbotts Square. Ahold Delhaize, the Dutch company that owns Giant and other supermarket chains, reportedly leased space in the building in 2016 to open a smaller-sized, higher-end market, but the owner has encountered difficulties that have slowed redevelopment of the complex.
Harris and Steinberg said Ahold recently announced that the 16,000-square-foot market is coming soon. A spokeswoman for Giant Food Stores would not confirm a date or address for a new South Street store, but she said the company is planning to announce several new locations in Philadelphia in the coming months. A Giant Heirloom Market is set to open in December at 24th and Bainbridge, close to South Street West in Graduate Hospital.
The South Street Headhouse District already has Whole Foods and ACME at 10th Street, as well as Essene natural foods and two small markets on 4th Street. There's also a small ACME on 5th Street in Society Hill.
Another prospective anchor business is the small-format Target proposed for 5th and Bainbridge, where buildings have already been demolished in preparation for construction of the store, a parking garage and apartments. Steinberg said a "highly regarded" national fast-food chain is also working on a deal to open a restaurant on South Street.
Apart from individual anchor stores, what South Street needs are developers who gain control of several properties that are close to each other and pursue visions for cohesive, attractive shopping areas, Levy and Weiss said. Similar approaches worked well for East Passyunk, Frankford Avenue in Fishtown, and 13th Street in the Gayborhood, among other areas, they said.
To that end, Weiss's firm is working on transactions with large investors who would acquire a whole portfolio of properties at once, he said.
"It will take some time to turn around," he said. "It's not going to be one landlord at a time. It will be larger, well-capitalized landlords who have a vision and patience to execute that vision, not to open another hookah shop."
A promising development along those lines was the sale of several properties owned by New York developer Michael Axelrod to Midwood Investment & Development in 2016. Axelrod has reportedly owned more than 40 South Street buildings and kept many vacant for years, apparently holding out for high-profile tenants willing to pay higher rents. Since the sale, Midwood has started filling the spaces, including a former McDonald's that was vacant for a decade but recently reopened as a nail salon.
"There are a lot of property owners who are willing and interested in negotiating [with prospective tenants]," Harris said. "There's no magic wand that suddenly cures it all, and the needle doesn't move as fast as I want, but I think there are a tremendous number of great restaurants and great retail down here that we want to remind people of."
WHYY is your source for fact-based, in-depth journalism and information. As a nonprofit organization, we rely on financial support from readers like you. Please give today.