'Incognito' Falcons fans in Philly suffer in silence as their team falls to the Eagles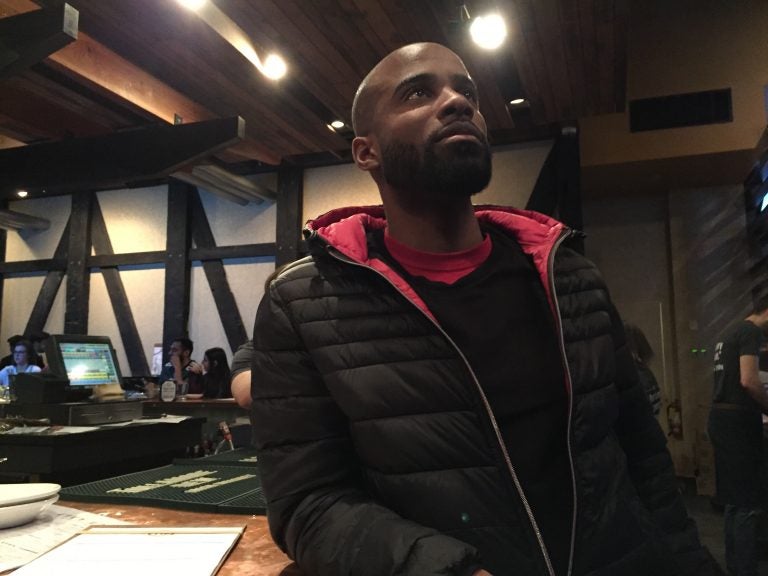 I went bird hunting Saturday afternoon, in search of a species seldom found in these climes.
Fannus Falconus — more commonly called "Falcons Fan" — tend not to migrate north of the Carolinas. But I figured it'd make a rare appearance during the Philadelphia Eagles' playoff clash with the Atlanta Falcons Saturday evening.
My hunt took me to City Tap House in West Philadelphia. Several websites advertise the roomy pub as an "Atlanta Falcons bar."
When I called ahead of time the host sounded exasperated.
A Falcons bar? Here?
She'd received a steady stream of phone calls that day from fans who'd apparently read the same online materials. But City Tap House, it turned out, was not an Atlanta Falcons bar as the infallible internet promised.
Some enterprising soul had advertised it as such, but none of the bar staff seemed to know who. Anyhow, they were now expecting a flood of Atlanta fans based on the volume of calls.
Fast forward to game day, 45 minutes before kickoff.
The bar is a sea of green jerseys, with hardly a speck of black or red in sight. I scan the room for someone, anyone, not wearing green.
After several awkward and futile attempts, I finally find 28-year-old Bryan Garland. He moved to Atlanta in 7th grade and stayed on through college at nearby Georgia Tech. Work had brought him north and he'd wandered over to City Tap House with a couple of friends, both Eagles fans.
His Falcons paraphernalia did not make the trip with him.
"I still get to root for my team, but somewhat in silence, incognito here," Garland explained.
But what if the Falcons won? What if they returned an interception for a touchdown to win the game (something Eagles fans know all too well)? Would he crow then?
"I'm definitely gonna gloat," he said with a nervous chuckle. "But quietly, quietly gloating."
When Pierre Saint-Amour arrived at the bar, he took a similarly demure approach.
The native Parisian moved to Atlanta at 17 and soon after, adopted the Falcons as his hometown team. He wore a red Falcons shirt to the game, but after scanning the room, decided to tuck it away under his parka.
One problem: His jacket is red and black. It is an unfortunate oversight that arouses the interest of this intrepid reporter and just about everyone else circled around the bar.
After I pester him, he warily lifts his jacket to show the Falcons garb layered underneath.
"I'm rooting for the Falcons on the downlow," he said as he flashed his feathers and scanned the room for suspicion. "Let's just put it that way. Let's just put it that way."
Only a few times do I hear the distinctive call of Fannus Falconus, a guttural sound that pierces the bar during moments of deflated silence. Usually it comes from Jason Peng or Sahil Bahri, two University of Pennsylvania seniors who make no secret of their allegiance.
"I feel like anytime you're out supporting your team, you have to be all out, you have to go all the way or else it's not that much," Peng chirped.
"No fear."
Bahri explains further:
"Part of the fun is to get under some people's skin, piss some people off."
He promises to preen if the Falcons can hold on to their halftime lead.
But they can not. And as the bar empties, a new tune arises from the native flock, a warble heard across the Delaware Valley Saturday night:
"E-A-G-L-E-S, Eagles!"