Hypermasculine, totally queer: Celebrating the leather jacket in cinema — July and August 2018
The Fabric Workshop and Museum has partnered with Lightbox Film Center to present a film series celebrating the iconic jacket.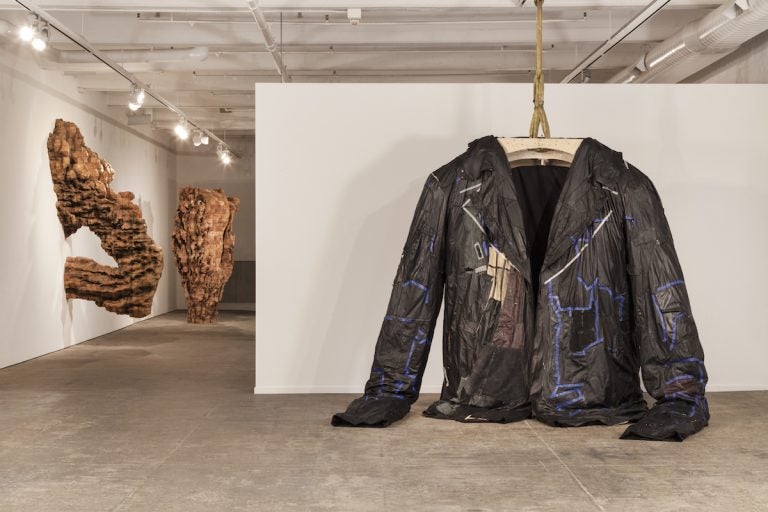 The Fine Print
Naked Under Leather Film Series
July 11, 18, 25, and Aug. 1, 7-9 p.m.
Lightbox Film Center, 3701 Chestnut St., Philadelphia
Tickets: $10, RSVP required
No article of clothing oozes cool, hip, sexuality more than the leather jacket. It's canonical but also subversive, associated with bikers and fetishists, working grunts and high-fashion models. It's hyper-masculine and totally queer. In sculptor Ursula von Rydingsvard's current exhibition at the Fabric Workshop and Museum, the leather jacket also becomes somewhat gruesome — as WHYY's Peter Crimmins described it, "hacked and violent, like a Frankenstein monster."
The oversized leather jacket featured in that exhibition inspired the Fabric Workshop and Museum to partner with Lightbox Film Center to present Naked Under Leather, a film series dedicated to this piece of outlaw couture. Over four evenings, Lightbox will screen classics including "The Wild One" — "the quintessential biker film" starring Marlon Brando as a leather-clad renegade — as well as John Waters' trashy, cult favorite "Cry-Baby," a satirical, musical take on biker culture starring Johnny Depp.
"For me. I always associate leather jackets with punk rock," said Jesse Pires, chief curator at Lightbox Film Center. "I wanted to bring some of that counterculture and rebellion."
Sexuality also figures prominently, with "The Girl on a Motorcycle," starring Marianne Faithfull, and short films including Kenneth Anger's "Scorpio Rising" and Stuart Marshall and Neil Bartlett's "Pedagogue," about a law that would have outlawed "the promotion of homosexuality" in education and government in Britain.
When curating the series, "I immediately thought of the hypermasculinity of the leather jacket and how it was originally portrayed in movies," said Pires. "Over the years, I think it's been reclaimed, and now leather culture is sort of fun, playful, playing with that masculinity, a camp version of it."
---
This article is part of a new effort recommending things to do in the Philly region. Tell us what you think.
WHYY is your source for fact-based, in-depth journalism and information. As a nonprofit organization, we rely on financial support from readers like you. Please give today.