Hundreds rally outside Philly Planned Parenthood, call for Sims' resignation
State Rep. Brian Sims self-recorded two videos as he harassed anti-abortion demonstrators outside a Planned Parenthood facility in Center City. Backlash has been swift.
Hundreds of anti-abortion activists rallied Friday outside Planned Parenthood in Center Philadelphia to condemn a pair of viral videos state Rep. Brian Sims posted to Twitter last week, calling on the three-term Democrat to resign and "pick on someone his own size."
"Just because you don't like prayer, just because you don't want to give women nonviolent options to abortion, it doesn't mean that you can go bully them off of the sidewalk," said Laura Muzyka, executive director of the Sidewalk Advocates for Life. The group organizes street protests in front of clinics that perform abortions, including the Planned Parenthood at 12th and Locust streets, part of Sims' legislative district.
In an eight-minute video recorded by Sims, the state lawmaker tells an unidentified woman quietly praying and protesting outside the clinic that her actions are "disgusting" and that she has "no business being out here."
"It's an attack on common sense, it's an attack on the Constitution, it's an attack on the rights of every single person coming here. And don't convince yourself that what you're doing isn't extremely racist," Sims tells the woman, who is heard halfway through the video telling Sims to "get your camera out of my face."
Sims, a longtime volunteer patient escort with Planned Parenthood, refuses, saying "the same rights that allow you to be out here allow me to be out here."
In a second video outside the same Planned Parenthood, Sims calls Ashley Garecht and her teenage daughters  "pseudo Christians" as they prayed and protested.
In a spitting rain Friday, Garecht vowed to continue protesting outside clinics.
"It is our right, and I would say our duty as American citizens, to proclaim our beliefs calmly, peacefully, assertively without fear of retribution and without apology," Garecht told the crowd, which included several out-of-state protesters.
After being targeted by Sims, Garecht and her husband launched a GoFundMe campaign to raise money for the Pro-Life Union of Greater Philadelphia. Garecht said the campaign has so far raised more than $116,000.
Scanning the crowd, conservative podcast host Matt Walsh warned Sims that the anti-abortion community has no plans to back down.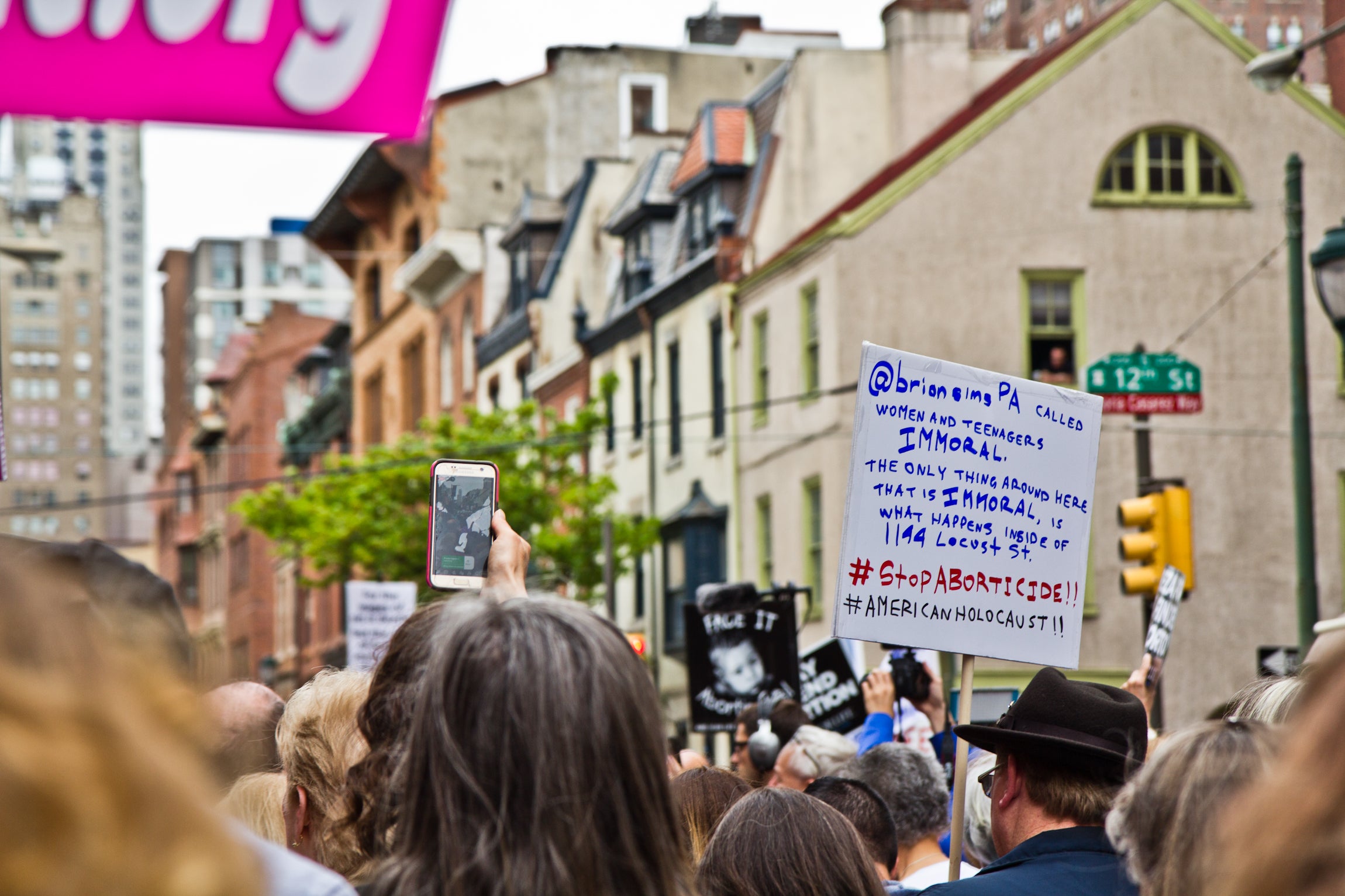 "Brian, now you maybe understand something. That if you try to shut us up, we're only going to get louder. And if you try to shame us, we're only going to stand taller. And if you try to scare us, we're only going to get bolder," said Walsh
"If you want to shove a camera in someone's face, if you want to scream at someone, if you want to bully someone, I'm right here. I will put myself out there for that. Pick on someone your own size, Brian," he added.
Sims did not immediately respond to a request for comment. In a two-minute video posted to Twitter this week, he says his behavior outside Planned Parenthood was "aggressive" and that he will "do better." He does not expressly apologize in the video.
In response to Sims' videos, Val DiGiorgio, chairman of the Pennsylvania Republican Party, has called on Philadelphia District Attorney Larry Krasner, Pennsylvania Attorney General Josh Shapiro, and U.S. Attorney William McSwain to launch criminal investigations into Sims' conduct.A Krasner spokesman said the office is "aware of the letter and the matter, and we are currently reviewing the issue."
A Shapiro spokesman also confirmed getting the letter from DiGiorgio, but would not confirm or deny whether the office has plans to investigate.
McSwain's office said it couldn't "confirm or deny any part of this including the existence or nonexistence of an investigation."
WHYY is your source for fact-based, in-depth journalism and information. As a nonprofit organization, we rely on financial support from readers like you. Please give today.