How to try your hand at half-ball, the old-school Philly street game
The game of half-ball has a local history spanning about 70 years that calls for a broomstick, a three-story building, and half of a squishy ball.
Listen
3:05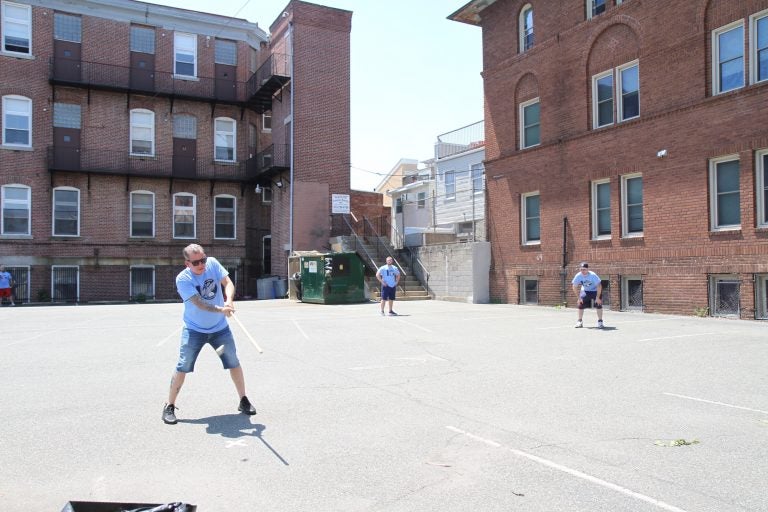 Smack in the middle of the annual Italian Market Festival in South Philadelphia Saturday, some 30 men gathered to play half-ball — a game with a local history spanning about 70 years that calls for a broomstick, a three-story building, and half of a squishy ball.
Split into teams of five people, these men comprised the 10th annual John Marzano Half-Ball Tournament, hosted at the Christopher Columbus Charter School parking lot.
Marzano was a major league catcher who died after a fall in 2008. Before he played for the Boston Red Sox, Texas Rangers, and Seattle Mariners, Marzano grew up in South Philly playing half-ball.
Organizers said the tournament is part-fundraiser (to support youth baseball), part-awareness campaign for the old-school street game.
While the game's heyday was in the 1950s, '60s, and '70s, it still holds a place in the hearts of many South Philly residents. There's even a half-ball league in South Philly that plays 22 weeks of the year — not including playoffs.
WHYY talked to some of the people at the tournament about the history of half-ball, how to play, and what makes the game so special to them.
The unofficial history of half-ball
Tom Rossomando grew up in South Philadelphia playing the game in the '70s and helped put the Marzano tournament together. It's unclear exactly where the game originated, though Rossomando said half-ball took off in Philadelphia, Baltimore, and Boston.
Rossomando called the game "an inner-city Italian thing."
"You got up early in the morning, you played sports with your friends," which Rossomando said included baseball and basketball.
But as the day progressed, chores and dinnertime whittled away at the number of kids playing outside.
Rossomando said he and his friends would switch to half-ball when "you eventually got down to a few people who didn't want to go home yet."
Half-ball doesn't require as many people as some of the other games Rossomando and his friends would play. A team requires a minimum of three players — a pitcher, catcher, and fielder — although Rossomando said you could get away with just a pitcher and catcher.
Video games didn't exist in his day, which is why he thinks half-ball isn't as popular with young people now.
"The kids today don't play it like we used to," Rossomando said. "They have more options and I understand it."
"I mean, I would encourage any kid nowadays to get out there and do it instead of sticking your face in the TV and playing video games all day," said John Coghlan, who's played in the South Philly Half-Ball League since 2001 and has been its commissioner since 2004.
The game is a tradition, said Coghlan, who learned how to play it from his dad. Fathers passed it down to their children and those children grew up and passed the game down to their children.
Though the game isn't as widespread these days, seeing men like Rossomando and Coghlan play is what inspired Joe Manfre, a younger player in the league, to join four years ago.
"I've seen the guys growing up playing, so you know, I just wanted to play," Manfre said. "I knew Marzano, so I just wanted to do it."
What you'll need
Grab your crew of three to five people — though only three are allowed on the field at a time.
Ask ma for the top of an old broom and unscrew the broomstick. This will serve as your bat. A mop stick will also work. Feel free to tape the end of the stick to get a better grip.
Back in the day, there were balls called "pimple balls" — white, soft, hollow balls with bumps.
"Originally, we would throw it against the wall, like you were playing baseball with a strike zone, and the brick would start to cut the rubber," Rossomando said.
The ball would lose its air within about a week, according to Rossomando, leaving kids with nothing to do. So someone in the 1950s thought to cut the ball in half.
Cutting the pimple ball became part of the ritual before the start of each game, though nowadays, the half-balls can be bought pre-cut.
Finally, you need a building that's at least three stories tall.
A few rules
In baseball, players score by running across the first, second, and third base to make it to home base after a player on their team hits the ball across the field.
The idea of running the field to score still applies in half-ball, except there are no physical bases in the parking lots or streets where people play the game.
The pitcher throws the half-ball to the person at bat who aims upwards, trying to hit one of the building's three stories.
Players keep track of the "base" a player lands on in their heads and that's based on the story a player hits on the building.
If a player hits a ball on the first-story wall, it's a single; second story, it's a double; and the third story, it's a triple. If you "roof" it, meaning you land the ball on the roof, your team gets a home run.
If the ball hits a story and comes back down within three seconds, the fielder has a chance to catch it for an out.
Each inning has three outs. A strike, a miss, or a foul tip — all count as an out.
If you're playing at home, you can play as many innings as you want.
"You played until your mother called you," said Rossomando, though the game is limited to seven innings for tournaments.
A half-ball comeback?
The game is difficult. Players swing up, not out, so baseball skills don't always transfer well. Coghlan, who used to coach baseball, said he actually discouraged those players from taking up half-ball because it would ruin their swing.
"So far, I've been terrible," said David Guzman after two games. Guzman grew up in Los Angeles and had never heard of half-ball until Rossomando invited him to play in the Marzano tournament.
"I'm a baseball player through and through, and this is completely different. Just like the broomstick, the slice of the ball — it's throwing off my timing, it's throwing off my balance."
Nonetheless, Guzman said he had fun and would play again.
Judy Keegan, who used to direct the Italian Market Festival, manned the registration tables at the Marzano tournament on Saturday.
She said it's not uncommon to see a handful of people who have never played the game before showing up to learn the game and take part in the annual tournament after they've "heard about it in their office, saw a listing in one of the weeklies or weekend section" of the newspaper.
Two years ago, Keegan said a group of students from Seattle played in the tournament after reading about half-ball online.
She said she's seeing a general revival of old-school games.
"We think that the strength of the half-ball tournament is part of that interest in what used to be and what can be adapted for today," she said.
WHYY is your source for fact-based, in-depth journalism and information. As a nonprofit organization, we rely on financial support from readers like you. Please give today.