How a new transportation bill could help solve Philadelphia's transit woes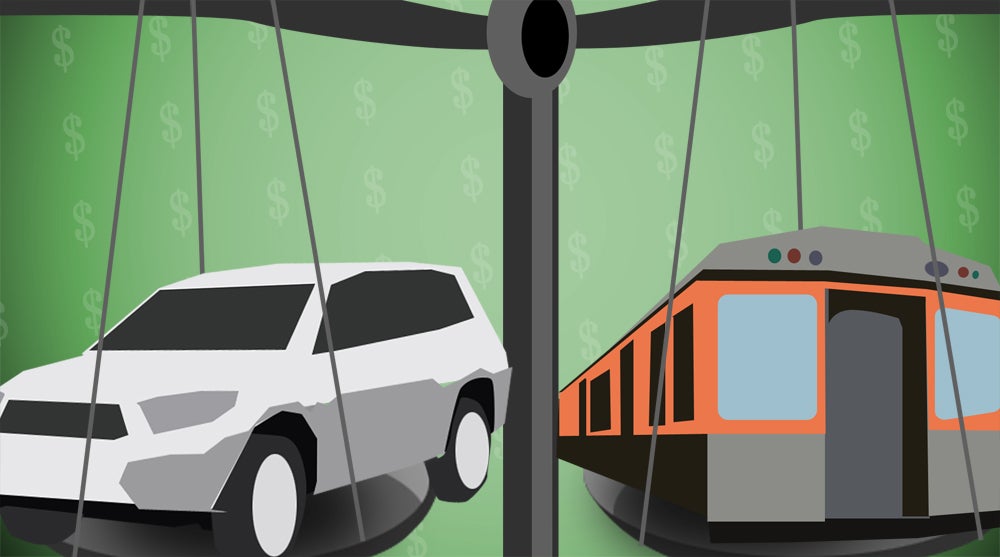 With President Obama signaling that he's ready to start the push for a new federal transportation bill, Mayor Michael Nutter went down to Washington last week to lend support.
He said a new transportation bill would help bring jobs to the region and bolster Philadelphia's economy.
Local transportation officials are excited because it could also bring more federal money to the region, allowing it to replace aging infrastructure that's historically been short-changed by federal policy decisions.
While much of what a transportation bill could mean remains unknown ― the administration hasn't released draft language yet ― here's a look at how the coming debate over federal policy could affect our region:

What does the transportation bill do and how does it affect the Philadelphia region?

The federal transportation bill is a big deal. It sets federal funding levels for highway, bridge, pedestrian and transit projects ― usually for six years at a time.
To get a sense of what that means on the local level, the recently approved Transportation Improvement Program for Philadelphia and the Pennsylvania suburbs includes almost 400 projects over the next four fiscal years, totaling almost $2.9 billion.
Federal dollars represent 67 percent of that projected spending.
By comparison, the state is expected to chip in only a quarter of that money.
Since the previous bill, SAFETEA-LU, expired in 2009, federal funding has been provided through a series of stopgap measures, with the latest due to expire at the end of the year.
After putting reauthorization on hold to tackle health care and financial regulatory reforms, the Obama administration has signaled it wants to get a transportation bill through Congress after the midterm elections ― meaning that the amount of money which comes from the federal government and the way it's distributed could change significantly.
Up to now, federal transportation policy has focused on adding new highway capacity and building new transit systems, and local transportation officials are heartened by the new emphasis the administration is placing on promoting livable communities and focusing on repairing existing infrastructure.
The region is among the most walkable and transit-dependent in the country, but is dealing with an aging transportation network, so it could stand to gain if the administration's stated objectives make it into the final legislation.

How could Philadelphia get more money under a new bill?

The region could get more federal money under a couple of different scenarios:
First, and most obviously, the new transportation bill could simply be bigger than SAFETEA-LU. If that happens ― even if existing funding formulas stay the same ― the region would be in for money because there's more money to go around.
But it's unclear whether that will happen, given political resistance to raising the federal gas tax, which funds transportation spending.
Equally, or even more, important, however, is how the government divides up the money appropriated under the new transportation bill.
A new emphasis on sustainable development and aid to aging regions could lead to the creation of new federal transportation programs ― essentially, establishing new pots of money that the region could be entitled to or apply for.
SEPTA, for example, has been pushing for the creation of a new program that would channel federal money to older transit systems with significant maintenance needs.
Something like this occurred under SAFETEA-LU, which authorized the Small Starts program, which set aside money to fund transit projects costing less than $250 million.
Transportation reauthorization could also change the formulas under which federal money is awarded. Currently, federal funding covers 80 percent of local highway projects, while transit projects only get 50 percent funding.
Andrew Stober, director of strategic initiatives at the Mayor's Office of Transportation and Utilities, ranks changing that number as one of his top two priorities in trying to influence the new transportation bill.
(More on his second priority later.)
The current matching requirement puts regions like Philadelphia, which have a robust public transit system, "at a profound disadvantage" to places with less transit and more highways, Stober said.
The formula doesn't just hurt when it comes to adding additional transit capacity ― something that current federal policy makes it hard for Philadelphia to get money for. It also reduces the amount of money SEPTA could get for maintenance and state-of-good-repair programs, he said.
And federal funding, especially in the wake of state funding cuts under Act 44, is a crucial component of SEPTA's capital program.
More than half of the authority's current $303 million capital budget comes from federal programs ― and most of that comes from federal formula funding.
The administration's emphasis on state-of-good repair projects and promoting walkability could also lead to changes in the rules under which the federal government distributes the money allocated to different programs.
This doesn't necessarily require congressional action.
The Federal Transit Administration has begun to change the rules under which it distributes money under the New Starts program, which funds major new transit capital projects, like the building of a new rail line.
Traditionally, Philadelphia and other older cities have been frozen out of funding because federal regulations made it almost impossible for their projects to qualify.
New FTA rules will place greater emphasis on promoting walkability, economic development and livable communities.
When that process is completed ― and if it's repeated on a wider scale ― the region could have access to entire federal programs that have been cut off from it.
Greg Krykewycz, a senior transportation planner at the Delaware Valley Regional Planning Commission, said that changes to the New Starts program could help move a host of regional projects forward that remain on the drawing board because of a lack of federal funding, from a Broad Street Line extension to the Navy Yard to the King of Prussia extension on the Norristown High Speed Line.
At the same time, SEPTA treasurer and CRO Richard Burnfield cautioned that rule changes won't automatically mean a new raft of federal money. After all, if SEPTA is able to access programs like New Starts, then other older transit systems in cities like Boston and New York will also be eligible for funding.
"Unless the pot of money grows, you would have more projects chasing after the same amount of money," Burnfield said.
Finally, a new transportation bill could give states and regions more tools for raising money locally ― especially if it gives states more power to toll interstate highways.
Remember that Act 44, which was supposed to provide a stable source of funding for state roads and transit agencies, fell apart when the federal government denied Pennsylvania's request to toll Interstate 80.
A new transportation bill could permit tolling on a wider scale.
And even if the money raised through tolling is required to be used to maintain the tolled highways, it would free up state money for other projects.
After all, the money saved by using toll revenues to maintain I-80, in conjunction with toll hikes on the Pennsylvania Turnpike and other measures, was supposed to have been enough to bring the state's transportation system up to a state of good repair.
Other new funding mechanisms that are being talked about include a federal infrastructure bank, which could allow the region to start projects that are already on the drawing board sooner, according to Burnfield.
But a bank isn't a panacea ― it could allow regions and transit systems to borrow for major capital projects. While that would provide money up-front, the loans would have to be paid back later, meaning a bank wouldn't give the region an extra infusion of cash that would enable it to do projects it otherwise couldn't afford.

The elephants in the room

The bottom line, though, is that the region simply needs more money, said Elizabeth Schoonmaker, DVRPC's manager of capital programs.
There's simply not enough money from either state, federal or local governments to adequately maintain the infrastructure that's in place now.
"It's really the level of funding I think which will make the most the difference," Schoonmaker said, pointing out that a simple rejiggering of funding formulas could rob Peter to pay Paul ― giving the region more money for, say, rail maintenance at the expense of highway funding.
For SEPTA's part, an FTA study found that the authority needs $4 billion in capital spending to modernize its system and replace aging stations and infrastructure.
And on the highway side, the region is faced with the gargantuan task of reconstructing Interstate 95, which is beginning to reach the end of its projected lifespan.
Finding money for the $10 billion undertaking ranks as Stober's second major priority for a transportation bill because it threatens to swallow up a huge chunk of regional transportation money that could otherwise be used for other projects.
Up to this point, the approach nationwide has been to repair the interstate highway system "emergency by emergency," he said.
The Minnesota bridge collapse and a crack in an I-95 support structure in Philadelphia galvanized transportation officials to find money for quick fixes. What's needed in a new transportation bill, Stober said, is help in forming a more comprehensive plan to tackle interstate highway maintenance and the money to get that plan implemented.
But before Congress decides whether regions like Philadelphia get more money, it has to figure out new sources of federal funding to maintain current spending, as the federal gas tax has brought in less and less money to the federal highway trust fund as fuel efficiency standards tighten and people begin driving less.
Though Obama has started the discussion now, expect the debate to continue into the next Congress.
Contact the reporter at acampisi@planphilly.com