How cars and people can co-exist
During recent public forums conducted from Port Richmond to South Philadelphia, a conceptual image that PennPraxis presented as part of its Central Delaware waterfront planning process consistently caused a stir among river ward residents.
If you guessed the idea was a new park space, you're wrong. Ditto for models that show Interstate 95 buried and capped to allow for new development.
While those practical and fantastical visions grab hearts and headlines, the proposal to develop parking guidelines that mandate techniques such as hidden, shared, and remote parking, has been seen as the foundation on which developers and urban planners can create a pedestrian friendly waterfront where automobiles and people can more easily co-exist.
Current context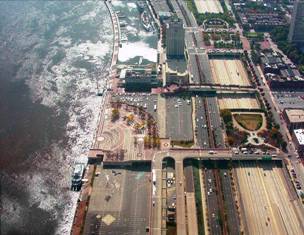 Penn's Landing looking south
In many ways, the automobile currently sets the development standard along Delaware Avenue and Columbus Boulevard. Even including the Penn's Landing public space, there is significantly more surface parking than there is park space in the project area. Parking lots cover more land area than actual stores in the Pier 70 big-box district in South Philadelphia. Parts of Penn's Landing, arguably the most important waterfront space because of its proximity to downtown, is currently used as remote parking for Jefferson Hospital employees.
The most recent waterfront development shows that this auto-centric pattern will continue. The parking podium in Waterfront Square dominates the view from Delaware Avenue; the proposed Bridgeman's View Tower will have a double-digit story garage; and Foxwoods Casino plans to construct 4,600 on-site parking spaces – that's almost one spot per slot machine. The rest of the twenty-one high-rise projects proposed for the waterfront have similarly structured parking amenities.
Waterfront Square garage
In a recent blog entry, Philadelphia Inquirer architectural critic Inga Saffron noted many problems with Philadelphia's parking policy. For instance, the city requires that any new residential development unit must also have one on-site parking space, be it a reserved surface space or a spot in a structured garage. While this amenity creates some ease of use in terms of lugging groceries, it also contributes to the clogging of Center City streets at prime congestion times. This is an example of what Donald Shoup cites in his book, "The High Cost of Free Parking." Shoup contends that city regulations subsidize downtown parking and therefore have distorted our urban setting to focus on the car instead of the pedestrian.
Solutions
One important thing to remember is that with new streets come new opportunities for on-street parking. With the extension of the street grid system past I-95 to the Delaware River, hundreds of parallel spots will suddenly be available to waterfront patrons. The underbelly of I-95 is also a valuable resource for parking spaces; it is already used as a surface lot near the UA Riverview movie theater as well as in Queen Village north of Washington Avenue. Utilizing space that would otherwise not be conducive for development would open up a significant amount of land at the river's edge. And instead of parking miles away from destinations, residents and visitors would only have to cross Delaware Boulevard to reach the waterfront. With the possibility of a new boulevard aligned closer to the river, the present Delaware Avenue could become a frontage road with some of the right-of-way used as dedicated parking.
In order to support a positive urban-scale waterfront landscape, the following policies should be considered on the central Delaware waterfront:
• Curb cuts on major thoroughfares will be prohibited, limiting access to secondary and service streets.
• Incentives will be offered to private developers such as height and density bonuses for:
o Parking solutions that embed parking within the mass of the building, place it underground, or arrange to utilize remote or shared parking.
o Promoting mass transit by developing transit-oriented development and infrastructure.
Such regulations would be designed and enforced by an integrated traffic and transportation office that actively works to mandate decreased traffic and parking and a well-funded expanded mass transit system.
Some of the most intriguing urban public spaces have been built above parking garages, which presents a very interesting way to shield parking. Examples include Millennium Park in Chicago, Post Office Square in Boston, and Love Park in Philadelphia. However, building underground is not always financially or physically possible, especially at the river's edge, where there are significant environmental implications for building anything below grade. If parking garages must be built, then constructing them so that they are sensitive to their context is an important way to create an urbane urban setting.
Garage best practice in Denver
There are many other examples of developments that incorporate active uses in or around a garage. A recent example is Museum Residences in Denver, where a 980-space garage wrapped in a condo complex also houses a four-acre landscaped garden for residents' use on its roof. Though private space, it makes the garage a more urban element. Numerous other garages in Denver have ground-floor retail, increasing human activity instead of relegating the structure to a dark side street that becomes a pedestrian hazard. Many smaller cities incorporate garages into residential construction in subtle ways by wrapping them, leaving a single entrance and exit as the only physical sign that a garage exists at that location.
Simple architectural features can also be incorporated into the garage design so that the structure looks like a building instead of dark cavernous pit. Many such examples exist in Center City and University City, as well, where the parking garage looks like just another building from the sidewalk. This helps achieve continuity in the urbane pedestrian experience. Other examples include Wilmington, Delaware, and Staunton, Virginia.
Reagan National Airport garage

One environmentally-friendly way to beautify garages is through landscaping. Because garages must still be somewhat open for ventilation, covering exposed portions of the garage with plants and small trees can be a very effective way to turn a harsh structure into an interesting piece of the skyline. Garages in South Beach, Florida, and Ronald Reagan National Airport in Washington, D.C., are important examples of this method.
Parking garages can also be works of artistic greatness. A new 900-space structure for the Santa Monica Civic Center uses multicolored glass bays that create a dynamic lighting scheme at night. Not only does this serve as public art, but the garage is also environmentally friendly; it uses photovoltaic panels on the roof and provides room for bicycle parking.
Breaking ground
PhillyCarShare

Innovative mandates or incentive policies will need to be established to encourage car sharing, automated parking structures, and remote or shared parking. One important way to address this city-mandated 1:1 development unit to parking space ratio is PhillyCarShare, which allows residents to rent cars by the hour at a relatively nominal rate and return the vehicles close to their home or work.
PhillyCarShare
CarShare's success has increased exponentially of late, making Philadelphia the second-highest "car sharing" city with over 20,000 participants. This rental program has removed over 8,000 cars off Philadelphia's streets, and has also loosened the city's parking requirements in many areas. PhillyCarShare has already made progress in reducing auto usage in Center City, so the central Delaware could be the next target area. By including CarShare "pods" in their residential projects, numerous local developers have been given significant pardon from the 1:1 requirement by the Philadelphia Zoning Board of Adjustment. Precedent now states that with CarShare included, the ZBA will allow a developer to remove up to 25 required parking spaces for each CarShare car within the project. So instead of having to build a 500-space garage for a high-rise condo tower, only a 40-car parking lot would be necessary: twenty for private spots, and twenty for CarShare cars. With such significant reductions in construction costs by not having to build a large garage, a developer could theoretically purchase dozens of new cars for residents to share and would still save a tremendous amount of money.
Ease of use
Another strategy is investigating automated carousel parking systems, which are increasing in popularity in the United States. Automated parking requires up to 50% less space than traditional structured parking, yielding more lease-able space and flexibility for good design. Construction costs are also lower because elements such as ventilation systems, pedestrian elevators, and emergency staircases are not necessary, and automated structures generally require less maintenance. These small footprints are ideal for urban development, and the mechanized car storage and retrieval systems often make parking a quicker, safer, and more pleasant experience for the user. Though they are used throughout Europe, only a few automated garages exist in the United States, including 123 Baxter Street in New York City and the Summit Grand Parc in Washington, D.C.; plans exist for a couple such garages in the Rittenhouse Square area of Philadelphia. While being stored, the car remains untouched, unopened, and vehicles are safe because the automated section is generally off limits.
Remote scenario
Further, remote parking is already an accepted strategy in Center City, so many waterfront users will not object to parking off-site in order to visit the vibrant and dynamic central Delaware. Incentives can be implemented to shift developers' thinking away from constructing maximum parking scenarios, and shuttles and wayfinding signs can be used to direct visitors from the lot to their destination. Further, electronic monitoring systems can be used to inform citizens where spots are available. Such a system exists in Seattle, where one can access a computerized database using the Internet that shows – up-to-the-minute – what downtown parking is available.
One potential major source of remote parking near the central Delaware could be the vast surface lots in the Sports Complex. Since these are only used part of the day, tens of thousands of parking spaces could easily accommodate all casino traffic, and a jitney service could quickly transport people to Foxwoods. Numerous Center City developers operate shuttles to employment centers, so the precedent has already been set in dense areas of Philadelphia. Chattanooga developed peripheral parking garages with free shuttle service. By constructing parking facilities at either end of the business district, the system intercepts commuters and visitors before they drive into the city center, reducing traffic problems. Such a system goes to the heart of one of Saffron's main points: how the over-saturation of parking garages in Center City has contributed to downtown congestion.
Redistributing and Refinancing
Seattle garage under Olympic Sculpture Park

It is easy to label parking as interfering with urban development, but that is not the full story. Though parking lots and garages do not typically add aesthetic value to an urban place, they remain necessary elements in modern American society. Parking serves as a valuable tool for waterfront development. Not only does it improve access by allowing people to visit from all over the region, but it also can help finance some of the major redevelopment projects needed to improve the public realm along the central Delaware.
The opportunities that exist for change in parking policy do not end with its redesign and redistribution. Since parking must exist within the project area, it is important that it further benefit the project area by using its revenues to finance public waterfront projects. Many cities have maximized the effect of structured parking in similar ways. The most renowned is Millennium Park in Chicago, now the number one tourist destination in the country. Its upkeep and operation are entirely financed by revenues from a vast parking garage underneath the park. Boston's Post Office Square has a similar arrangement. Many waterfront open space developments, including New York's Hudson River Park, also receive significant revenues from paid parking areas. Chicago went one step further earlier this year, leasing two parking garages that will yield enough revenue to finance fifty park improvement projects throughout the city.
Vancouver garage design blends into streetscape

These examples show that parking can be an important ally in such large-scale redevelopment projects when it is contained properly and acts as a revenue source. Using parking in this manner will also be important in creating demand for mass transit, as well as garnering government funding for environmentally-sensitive and transit-oriented development. With federal funding for local development and improvements decreasing, finding unique funding streams such as parking is crucial. Other cities, such as Denver, have integrated their traffic and transportation functions in order to actively work to mandate a robust, functional, well-funded expanded mass transit system.
A successful waterfront requires the right balance of pedestrian, mass transit, and automobile traffic. Given the urban-suburban growth patterns of post-WWII America, parking remains a necessary piece of city life. However, that does not mean the car must be catered to before the pedestrian. Philadelphia and Pennsylvania will need to work together to create and implement a mass transportation system that will address the increased needs of the Central Delaware Waterfront project area. The city and state should provide incentives to developers to build transit-oriented developments that will help diminish dependence on the automobile. By providing fewer parking spaces for private vehicles, the city will be able to capitalize on an opportunity to actively promote a pedestrian and transit oriented development pattern rather than one dominated by the automobile. And the open land and development interest in the central Delaware gives Philadelphia a rare opportunity to make a statement about the shifting priorities of 21st century urban life.
Andrew Goodman is a project planner for PennPraxis. Other civic engagement projects he has worked on include the Franklin Conference on School Design and Creating a Civic Vision for 40th and Market Streets.
WHYY is your source for fact-based, in-depth journalism and information. As a nonprofit organization, we rely on financial support from readers like you. Please give today.