This story is part of The 47: Historias along a bus route, a collaboration between WHYY's PlanPhilly, Emma Restrepo and Jane M. Von Bergen. 
This article is written in a combination of English and Spanish. To read entirely in English, click or tap here o para leer en español, haga clic o toque aquí.
---
Election Day has come and gone. The voting machines packed up, the ballots sorted and counted. For the Boricuas of Puerto Rico, though, the 2020 election was something to watch, not participate in.
The Caribbean island is a territory of the United States with a population of American citizens who pay most federal taxes and travel freely within the U.S. without a password. Yet these American citizens cannot do what the rest of America's citizens did on Election Day. By law, Boricuas who live on the island cannot vote for their President, the President of the United States.
That's why Puchi De Jesus, a young activist who grew up in Puerto Rico and moved here in 2019, wants to increase political involvement among Latinos in her new home, Filadelfia.
"Es muy importante que la comunidad puertorriqueña participe y ejerza su voto como miembros de la diáspora boricua porque nuestros familiares en la Isla no tienen el derecho de votar por el presidente de los Estados Unidos", dijo De Jesús.
De Jesus, who lives in South Philadelphia, is a founding member, or miembro fundadora, of Philly Boricuas. The group began in the summer of 2019 to rally Puerto Ricans here to support the removal of Puerto Rican Governor Ricardo Rosselló after homophobic, misogynistic and cruel comments he made in a group chat were leaked to the media. In Puerto Rico, millions of people protested, at one point closing an 11-lane highway. What particularly angered the protesters, there and in the diaspora, was the government's mismanagement after Hurricane María, which led to the deaths of more than four thousand people. The protests did not stop until Rosselló left office on August 2, 2019.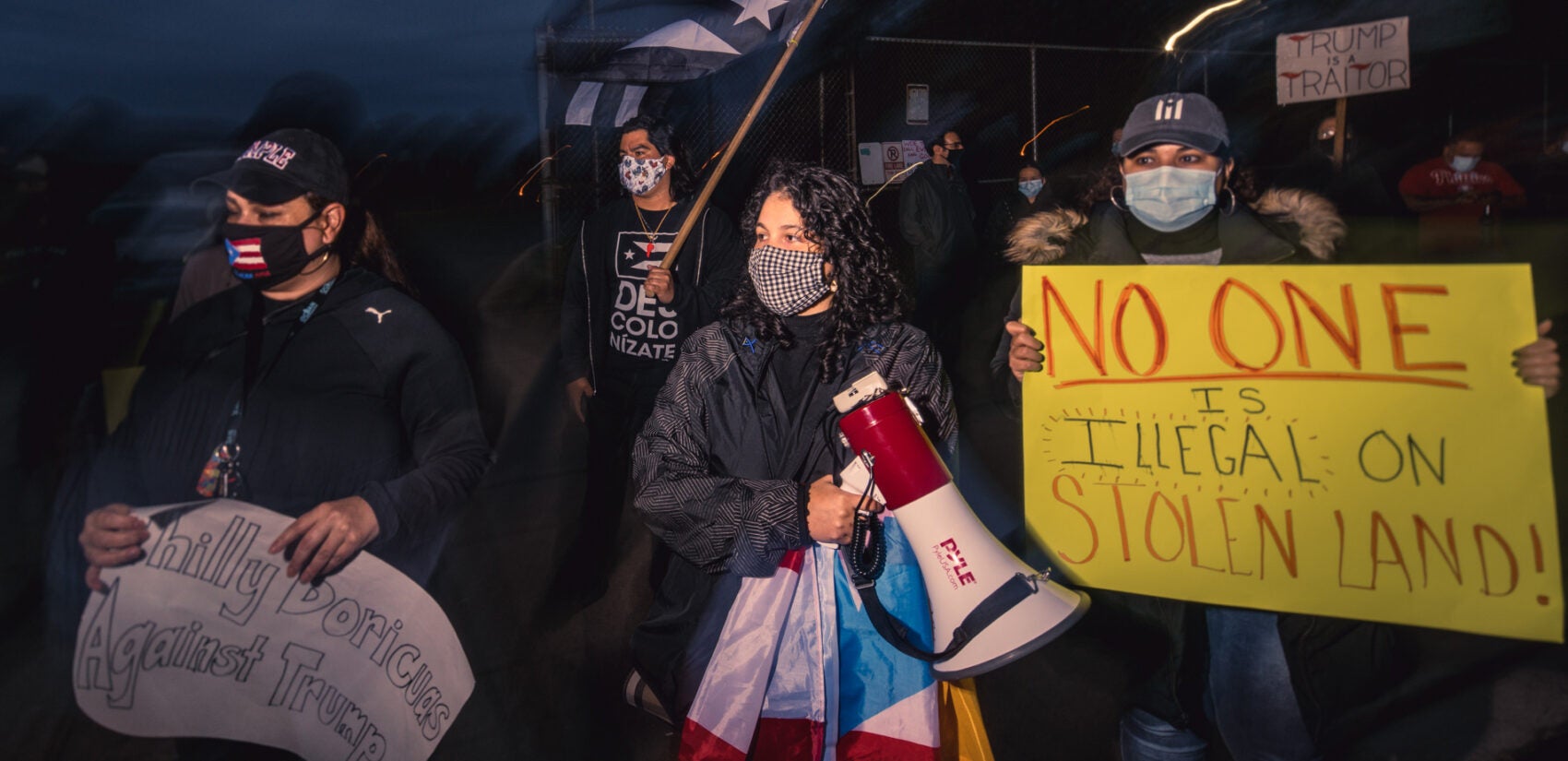 On that same day, Boricuas converged on Fairhill Square in North Philadelphia — many traveling there on SEPTA's Route 47 bus — to celebrate. But that event wasn't the end for Philly Boricuas or for De Jesus and her fellow organizers, Adrián Mercado, Adrián Rivera Reyes, Vanessa María Graber, Charito Morales, Fermín Morales, Ami Aviles, and Michael Collazo.
"Comenzamos a decir que esto era algo que tenía que continuar, esto tenía que ir más allá de "Ricky renuncia". Pensamos que hay que continuar aquí en la ciudad de Filadelfia, seguir educándose, trayendo información y conectando a la ciudad con la gente de la Isla".
De Jesus says voting isn't only about affecting change on the island — it's also about making change in Philadelphia.
"La comunidad puertorriqueña aquí en Filadelfia ha sido bastante abandonada por el gobierno local. Es importante que los puertorriqueños salgan y voten en lo que son las elecciones cuando hay … cómo es que se dice la palabra, the policies. Cuando hay policies a nivel local y leyes que se vayan a pasar, que van a afectarnos como comunidad aquí, es muy importante que la comunidad no se deje manipular y que no se dejen pisotear".
De Jesus sees two primary barriers that prevent Latinos from participating in politics – language and knowledge of how the system works.
"Lo primero que yo diría sería, el idioma y segundo, el conocimiento. Si uno no sabe nada de cómo corre la política en este país, entonces, ¿cómo vas a hacer para empezar a cambiarlo?".
Education is the answer, and it's best if it starts in the home, as it did for her, growing up in Puerto Rico. Her father, Ecuadorian-born and raised in the United States, believed passionately in the American Dream.
"Tú eres americana, tú no eres puertorriqueña, tienes un pasaporte americano", he would tell her.
On the other hand, her mother taught her to be proud of her Puerto Rican roots and fight for her heritage and justice.
"Por lo menos en el lado de mi mamá, mi familia puertorriqueña siempre ha estado bien envuelta en lo que es el movimiento de soberanía puertorriqueña de independentismo puertorriqueño".
At home, "politics was always involved when I was growing up," De Jesus said.
"La política siempre ha estado envuelta cuando yo estaba creciendo".
In Philadelphia, it's important that children learn how to interact with the political system as jóvenes, De Jesus says. Philly Boricuas was working to develop educational programs but switched to raising money to help islanders after Hurricane Maria hammered Puerto Rico. Even so, the goal of political education has not disappeared.
"Se empieza desde la casa y muchos de nosotros no nos empezamos a educar en la política hasta que ya somos adultos y estamos perdidos y no sabemos qué hacer y no sabemos a dónde correr. Y yo creo que es bien importante que desde joven uno empiece a aprender de cómo es que corre el mundo. ¿Cómo vamos a decir que necesitamos representación Latina en el gobierno y en la política cuando ni siquiera sabemos por dónde empezar? Y esas puertas están cerradas".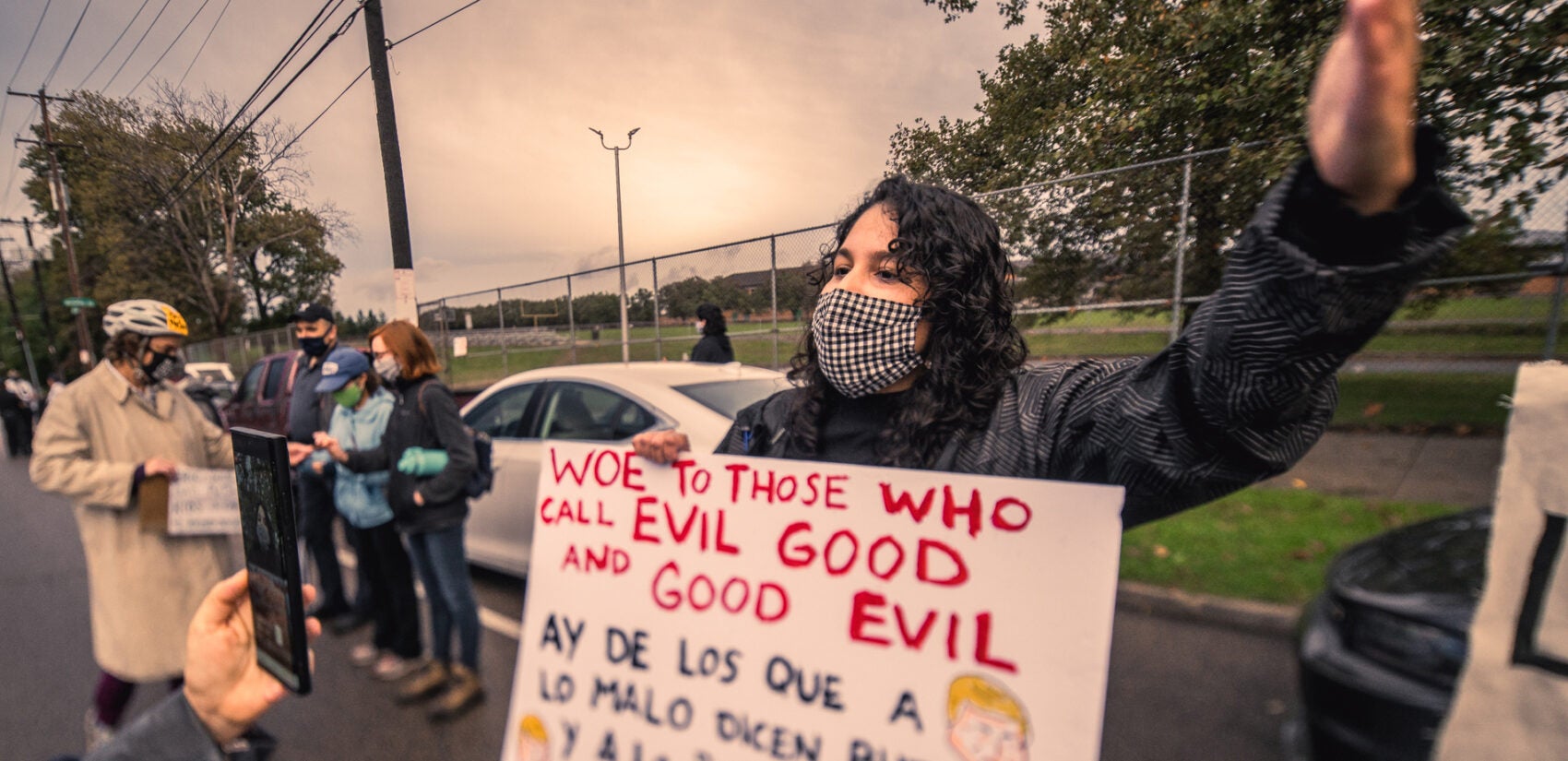 Sometimes, De Jesus says, Latinos who gain political education and power are unwilling to share it.
"Ellos quieren ser la única representación para la comunidad latina y en vez de abrir las puertas e invitar al resto de la comunidad latina para que pueda llegar al lugar en donde ellos están, cierran las puertas y no educan, y no le dejan saber al pueblo cómo es que puede ser".
Philly Boricuas is small – it has no place to meet, no bank account, no dinero. When the organizers need to buy something, they pool their own money. In Puerto Rico, the phrase is hacer un serrucho, or "make a saw," one of those expressions that doesn't quite translate.
De Jesus believes that someday, Philadelphia Latinos will be able to marshall enough power to elect a Latino mayor, or alcade, along with other Latino government officials. But, she said, those people will have to represent the entire variety of Latinos, not just the people from one country or another.
"Y tenemos el poder para hacer cambios verdaderos y más todavía si nos unimos; todos. Y dejamos la división entre razas, idiomas y países. Esto de puertorriqueños en contra de dominicanos, cubanos en contra de quien sea, no puede seguir así".
While there are differences, Latinos in Philadelphia share common concerns about poverty, crime, and in many cases, immigration policies, although immigration is not as pressing for Puerto Ricans.
"Todos estamos afectados por la pobreza, por el crimen. Y bueno no tanto la comunidad puertorriqueña pero al resto de la comunidad latina le afecta mucho la política de inmigración y es algo en lo que todos estamos siendo afectados y nos debemos unir. Nos debemos ayudar porque si estamos divididos vamos a fallar y no vamos a poder vencer el problema. Y así es como nos quieren. Nos quieren divididos porque si estamos divididos nos pueden dominar".
The way to overcome divisions and domination is through knowledge, or conocimiento, and that is part of Philly Boricuas' goal – to educate Puerto Ricans here about issues on the island and its history while helping Puerto Rico move toward independence.
"Darle voz a la comunidad puertorriqueña y educarla, para que conozca los problemas de la isla en Puerto Rico, y a medida que eso pasa, que nosotros también ayudemos a la independencia de Puerto Rico. Nuestra educación es educación política sobre la historia de Puerto Rico, sobre las verdades lindas y feas. Queremos educar a las personas para luchar por la libertad de Puerto Rico".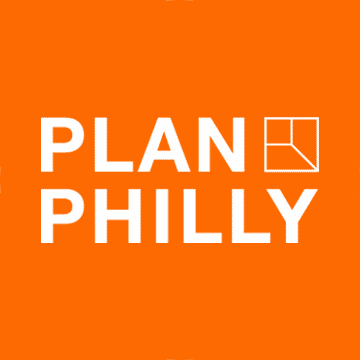 WHYY is your source for fact-based, in-depth journalism and information. As a nonprofit organization, we rely on financial support from readers like you. Please give today.