Headlong into 'The Gap' (Azuka Theatre)
Aliens have invaded her, one sister tells another in a beguiling world-premiere play.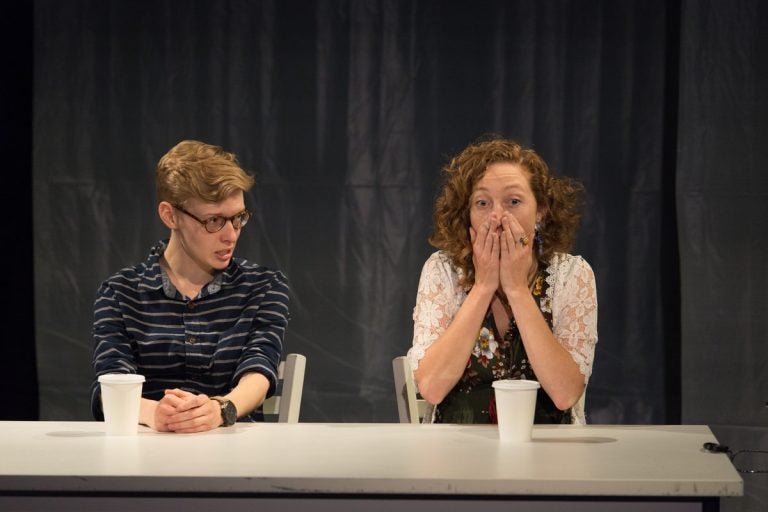 Lee and Nicole have never communicated effortlessly as sisters, but when they're home for Thanksgiving, Nicole tells Lee something Lee cannot ignore: She's been overtaken by an aliens. What's more, she says, a show on the History Channel has confirmed it.
What do you do with information like that? Well, in addition to suggesting that Nicole seek more help, Lee decides to seek some herself. She's a teacher and creator of theater, and she gets one of her best students to help her play-act that scene and others involving her sister and family. Ostensibly, this is grist for a piece of performance art. But for Lee, it's also do-it-yourself therapy.
I'm no spoiler, so I can't write more about the plot of "The Gap" — a beguiling play in its world premiere at Azuka Theater, whose top-notch production is directed by Rebecca Wright with five outstanding actors. There's intrigue in Philadelphia-based playwright Emma Goidel's cleverly constructed piece, and it has much to do with warping the audience's notion of reality. Or at least our ideas about what's real in the story and what's not.
I wish I could tell you more, and not just because "The Gap" is such effective playwriting, but because it also addresses something important.  It begins as a light sort of comedy about two sisters and their family. Then later, in a tone shift that a lesser playwright couldn't handle, "The Gap" becomes an illuminating piece that involves a sort of trauma that's all too familiar these days.
Enough said, anything more will wreck the experience. Maggie Johnson, one minute self-assured as Lee the theater artist, the next, clueless as a sister, gives a carefully nuanced performance. Alice Yorke plays a broken, troubled Nicole, and Ciera Gardner is spot-on as the student who agrees to help Lee develop her family-oriented performance art. Jaime Maseda and Geneviève Perrier are credible in several roles. You have to be credible as an actor to maneuver the tricky labyrinths of "The Gap." For the audience, it's a journey worth taking.
—
"The Gap," produced by Azuka Theatre, runs through November 19 at the Louis Bluver Theatre on the side of the Drake Apartments, on Spruce Street between 15th and 16th Streets. 215-563-1100 or azukatheatre.org.
WHYY is your source for fact-based, in-depth journalism and information. As a nonprofit organization, we rely on financial support from readers like you. Please give today.