Grassroots program helps low-income, high-achieving Delaware students blossom
Leading Youth Through Empowerment helps high-achieving, low-income students gets into elite high schools and programs.
Growing up in the Philadelphia area, Ankur Arya attended a middle school designated as a Title 1 institution because it had a high percentage of students living in poverty.
But for high school, he won scholarships and financial aid to attend a top-tier one in the suburbs.
Even though his former school had received extra funding to educate the students from needy families, he couldn't help but notice the stark contrast between the two schools.
"I saw there was a huge disparity in the education I was receiving" at the new school, Arya recalled this week.
So, when he began teaching in Delaware about five years ago, it was at Thomas Edison Charter School, located in one of poorest sections of Wilmington. Seventy-seven percent of the children are from poor families, and 99 percent are black or Latino.
Arya wanted his students to have the opportunities he did, so he invited several high-achievers to intensive after-school classes in math and English "above their grade level." He also taught them to advocate for themselves and become community leaders. His mom even came into sessions to help teach parents to fill out financial aid forms for private high schools.
He called his nonprofit initiative Leading Youth Through Empowerment or LYTE.
The goal: help them get into elite private high schools or honors programs at public schools.
His students meet four days a week after school. "We prepare them for rigorous testing for honors programs in public schools and for private school testing,'' he said.
Whereas he began the program only for Edison students, it has expanded to take ambitious students in other local schools with high percentages of low-income students.
Today there are 95 so-called "LYTE Scholars" in middle and high school. LYTE works with their high schools to ensure they are doing well until graduation.
His efforts culminated Thursday at a ceremony in Edison's auditorium, where he honored the first 10 students who graduated high school, as well as his students entering ninth grade.
'Pushing me, even when I didn't even want to be pushed'
LYTE's graduates are sprinkled across the top schools in Delaware — winning grants, financial aid or scholarships to attend expensive private schools such as Wilmington Friends, Tower Hill, Ursuline, Tatnall and Salesianum. Others have gained acceptance to high-ranking public schools such as Wilmington Charter or the International Baccalaureate programs at Mount Pleasant and Dickinson.
All 10 high school graduates are going to college, including the University of Virginia and the University of Delaware. Those kids have qualified for nearly $1 million in college scholarships, grants and financial aid over the next four years, he said.
"We are so proud of those students,'' Arya said.
Thursday's ceremony, which also saw Wilmington Mayor Mike Purzycki deliver warm remarks for the kids and the program, honored a handful of new scholars entering ninth grade as "Rising Stars."
One winner was Kennedy Garner, who had attended Kuumba Academy charter school and will be going to Wilmington Charter in September.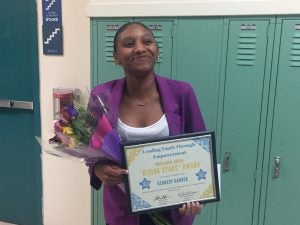 Garner, who aspires to be a surgeon, said LYTE has made a major difference in her life "by preparing me for the [Wilmington Charter placement] test and pushing me, even when I didn't want to be pushed,'' she said.
Garner was joined at the ceremony by teacher Ariael Brooks-Porter, who described herself as the girl's "school mom" at Kuumba.
Garner said her teacher and mentor "makes sure I stay on track … and was doing what needed to be done."
Brooks-Porter said Garner is such an intelligent child and hard worker that she might have been able to get into Charter without LYTE.
But the after-school program, and the support it provides, "was a real motivator for her to become involved with other people in the community and other [high-achieving] students in Wilmington."
While Arya feted his scholars Thursday, a board member announced that the founder was starting a new chapter himself.
The founder is stepping down from his administrative post at Eastside Charter and Charter School of New Castle to become full-time director of LYTE.
WHYY is your source for fact-based, in-depth journalism and information. As a nonprofit organization, we rely on financial support from readers like you. Please give today.