Girls who aren't 'girly' find a fit in more rigorous activities of Boy Scouts
One of the first all-girl Scouts BSA troops delights in the outdoor activities troop members say aren't often available in Girl Scouts.
Listen
4:42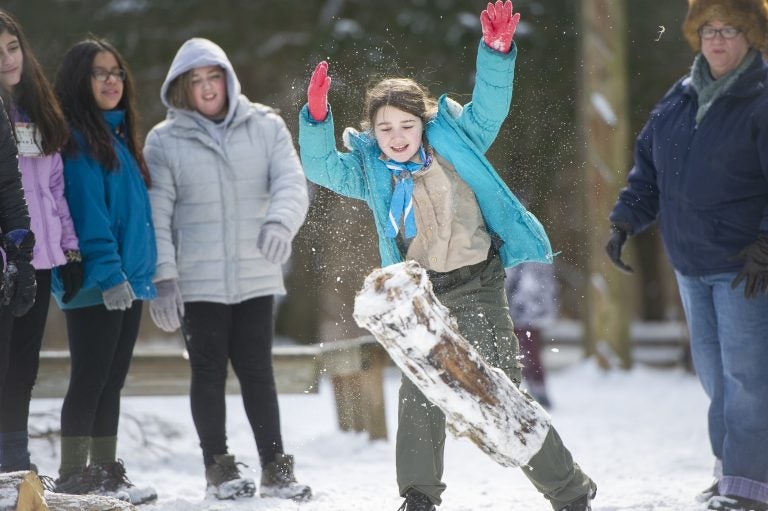 It's Lily Rohner's first time competing in the Klondike Derby at the Horseshoe Scout Reservation in Peach Bottom, Pennsylvania. Think of the derby as a battle of the bands for scouts. Troops pull decorated sleds filled with gear around the camp, completing scouting tasks — such as first aid and fire building — for points.
Winners get ribbons and bragging rights.
Lily, 10, and her group of friends know they're at a disadvantage. That's because it's only their second day as official members of Boy Scouts of America, so they haven't learned everything some of their male peers have.
As a result of the organization's decision to open its flagship program to girls, the Boy Scouts changed its name to Scouts BSA on Feb. 1. The banner organization is still the Boy Scouts of America and troops within the Scouts BSA program are single gender, all-boy or all-girl, ages 11 to 17. The troops intermingle at events like the derby.
A few thousand girls have already signed up for Scouts BSA across the country, according to the organization.
But at the Horseshoe Scout Reservation on the day after the name change took effect, Scouts BSA Troop 19, based in Marshallton, Chester County, is the only girls troop visible in a sea of more than 100 boys. That's Lily's group — 12 girls total.
She doesn't mind that Troop 19 is the only all-girls troop at the derby.
Lily is so excited, she takes off her raccoon hat to show off her hair, which she dyed red to go with the derby's superhero-inspired theme this year.
Lily, was able to join the troop 14 days before her 11th birthday because she earned the highest rank in the Cub Scouts, the precursor to Scouts BSA, which started allowing girls last year.
She's delighted to be outdoors.
"I feel like it just pulls me in," she said. "I've never really considered myself too much of one of those girly-girl types. Like paint my nails, do my hair, have long hair."
That's how most of the girls in the troop feel.
Mia Christensen, 11, practiced making knots on the 45-minute car ride to the camp. Knot tying is one of the courses all of the scouts will compete in at the derby, but Mia and the other girls don't know all of them yet.
Though she's all about healthy competition, Mia said it doesn't matter if the troop doesn't win any events this year because they've only just started to practice these skills in preparation for Scouts BSA in the past couple of months.
Mia said Scouts BSA is different than other activities open to girls.
"They actually teach you leadership and wilderness survival, and they just teach you things you'll actually need in life," she explained.
Mia has looked elsewhere for these opportunities. She's also been a member of the Girl Scouts of the USA since kindergarten and plans to stay.
She said she still looks forward to summer camp with the Girl Scouts. While she loves the social space she's built there, Mia says the program isn't challenging.
While both organizations have similar structures — opportunities to rise through the ranks, earning merit badges along the way — Mia said the awards she can earn in Girl Scouts, such as the Social Butterfly badge awarded for practicing social skills and manners, don't mean as much to her.
"I mean, it's good, but it's not really going to be like life-changing," Mia said.
Grace King, also 11, said she loved camping with her Girl Scout troop, but that trip happens just once a year.
"We would only sit inside and do crafts. We wouldn't go camping, and I'm more of a tomboy," she said, as another girl high-fived her for the response. "I don't like doing girly crafts."
Membership quandary, organizational clash
And unlike some of the other Troop 19 girls who plan to participate in both organizations, Grace dropped out of Girl Scouts.
"I think that if any girl is feeling like there's other things she'd like to pursue, and somehow she's limited, we are very open to working with every girl to find the adventure that she's looking for," said Kim Fraites-Dow, CEO of the Girl Scouts of Eastern Pennsylvania.
She said girls can find what they like — and don't like — in all-girl settings.
"Caving, rock-climbing, kayaking, canoeing, hatchet throwing — you name it, we offer it at Girl Scouts," said Fraites-Dow. "So there really is something for all girls to do pretty much every weekend of the year, including at summer camp."
That picture differs from the one many girls in Troop 19 describe.
Last year, the Girl Scouts of the USA sued the Boy Scouts of America, claiming the move will confuse the public, damage the goodwill of the Girl Scouts' trademark, and marginalize the Girl Scouts' movement.
The quarrel comes after decades of membership decline for both scouting organizations.
But the tensions among adult leaders feel far away at the derby as Josie Provencher prepares to shoot five arrows at a target.
At 11, Josie is at least a head shorter than most of the girls her age.
She's so excited about the derby, she wore her Class A uniform, a khaki shirt and dark green pants. Most of the others dressed more casually.
Josie is shy in large groups, but a standout performer at the derby, surprising her peers when she volunteered to represent them in the archery event and a log toss.
"I'm going to get like, at least 60, I'm going to get you 60 points," she yells over her shoulder. "The other ones I might fail."
An adult tells her to go for 100 points.
"OK!" she yells back.
Scoutmaster Melissa Pendill said giving girls, including her own daughter, access to these opportunities to grow is why she volunteered to lead the troop.
"Maybe it's their age, that they're kind of on the edge of being shy and being more self-confident," Pendill said. "And I think it doesn't take a lot to push them from one side to the other."
'Times are changing'
The all-boy troops at the derby don't seem to mind the girls' presence.
"It's like we weren't there," said Josie.
"But in a good way," adds Mia.
Ethan Taylor, 11, and his dad point out only a small fraction of the World Organization of the Scout Movement members remain boys-only.
"I don't really care, cause No. 1, we're like one of the last countries to let boy and girls cooperate in scouting and all that," Ethan said.
Tom Murphy, a ranger at the Horseshoe Scout Reservation for almost nine years, has seen some of these international girl and boy troops co-exist just fine.
Scouting under the Boy Scouts of America is a good opportunity for boys and girls, he said. It was an opportunity Murphy's daughter couldn't take advantage of when she was growing up while her brother went through the program.
"I didn't think this would ever happen," he said. "I thought this was going to be a male-dominated program as long as I ever lived, but I think times are changing."
Murphy said he looks forward to the day one of the girls in Troop 19 earns the highest rank in Scouts BSA, Eagle Scout.
Troop 19 looks forward to that day, too.
Mia Christensen hopes to beat her brother and become an Eagle Scout first.
WHYY is your source for fact-based, in-depth journalism and information. As a nonprofit organization, we rely on financial support from readers like you. Please give today.