Fringe reviews: 'Alias Ellis Mackenzie' and 'It's So Learning'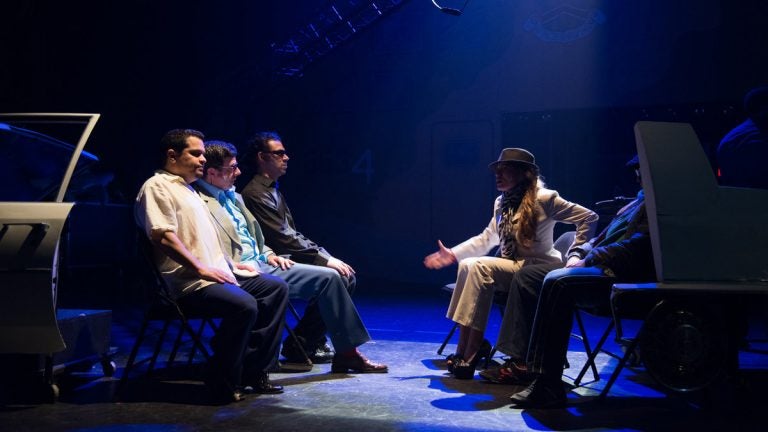 Alias Ellis Mackenzie
The theater artist Thaddeus Phillips, whose group Lucidity Suitcase International has given the Fringe many memorable moments, took a plum role on a Colombian tellanovela, the genre of fast-moving series normally infused with passion. He played Ellis Mackenzie, the alias of the real-life American drug-smuggler Barry Seal, a daring commercial pilot who moved to the dark side in the '80s when Colombian drug lords were local kings.
Phillips went to Colombia "and thus dove into an absolutely insane, surreal and illogical world of Latin American TV production," he writes in the program notes, in a series about drugs and politics. His idea for "Alias Ellis Mackenzie" is to show us all that from the inside. The main stage of Prince Theater has been dressed down to look like a TV studio with sound booms, camera booms, a fake airplane, a real Cadillac cut apart to be effective TV scenery – and a coterie of crew members working all the TV equipment.
While all this may look like the real confusion of shooting a series on stage, though, it doesn't transfer to the audience. Sure, the crew woman who yells "cut!" to mark the end of scenes seems real enough, but then the crew comes on, mumbles to the actors and the director prods everyone quickly onto to the next scene (deadlines!). We hear the mumbling between shoots but that's about it – nothing else registers, so we're left with the simple notion that TV is made at a frantic pace.
What's more, Phillips – an early user of multi-media in highly inventive ways – doesn't even give us real camerawork. The cameras are used solely as props, not working ones, so this filming of a show seems even more artificial than it must have to Phillips as he worked on the real one.
Phillips and the cast – some from Colombia and some from here – enact scenes whose scripts are projected in pieces on the stage sides so that we know the characters and settings, and have some translations of dialogue when it's in Spanish. The scenes themselves are fun to watch and frequently captivating, the way short thrusts of TV dialogue can be. But even here, the message is mixed — as the intermissionless, hour-plus-45-minute show moves on, the scenes begin to meld into each other without any breaks for the production staff to run on the set and make changes.
If "Alias Ellis Mackenzie" is supposed to be about making the story, it suddenly becomes the story itself – until the next crew interrupts on stage to pretend they're filming. The surreal drug-smuggling story is ripe with tension, and the story of "the surreal and illogical world of Latin American TV production," as Phillips puts it, sounds like it has a tension of its own. To be effective, "Alias Ellis Mackenzie," a production curated by FringeArts, needs to show both facets.
—Alias Ellis Mackenzie, from Lucidity Suitcase International, runs through Sept. 19 at Prince Theater, on Chestnut Street between Broad and 15th Streets.
It's So LearningNo, I'm not going to tell you what the guy in a turtle suit has to do with the new show from The Berserker Residents, or why it's important to understand George Orwell's "Lord of the Flies." Or why you may need homework help in order to move your hands in strange rhythmic ways.
Mum's the word, because otherwise the little surprises of "It's So Learning" would be spoiled. I can say that The Berserker Residents, a group of creator-performers who have had Fringe hits before, have invented a typically loopy take on something – this time, school. Dawn Falato, Lee Minora, Justin Jain and Bradley Wrenn are the teachers and the entire audience – about 40 people for each performance – participates as the students. The idea that theater is a shared live experience is foremost here: Everyone's involved.
That entails collecting your school bags and pulling your notebook and writing implement from them when necessary, singing a morning song together, and paying attention. Also, throwing paper spitballs when directed.
What do we glean from all this? Nothing, really, about education. But a whole lot about how to think of it in a bizarre way.
_It's So Learning, produced by The Berserker Residents," runs through Sept. 20 at the Ruba Club, 4216 Green St. in the Northern Liberties neighborhood.
Click on FringeArts for more information about the Philadelphia Fringe Festival.