Franklin Square Station reopening advances as DRPA board approves 2016 capital budget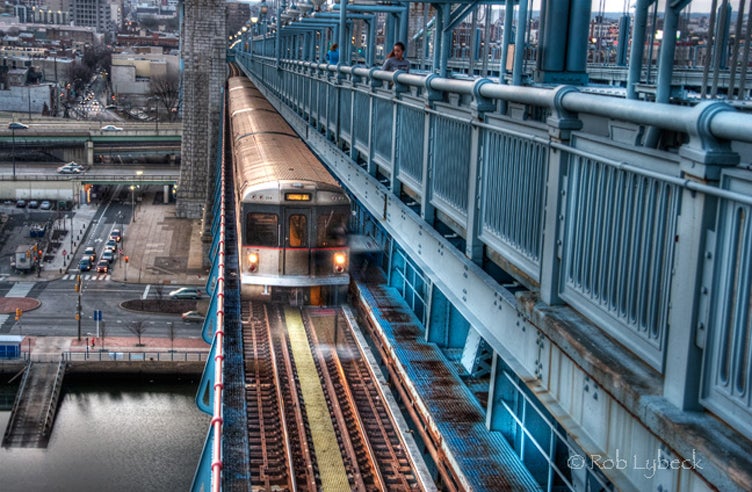 Johnny Doc's dream of reopening the PATCO station underneath Franklin Square took another step towards reality today, as the DRPA Board approved the 2016 capital budget, which sets aside $28.3 million over five years for the project.
The IBEW 98 business manager and Delaware River Port Authority (DRPA) board member has consistently advocated for reopening the station, which was abandoned in 1979 due to low ridership.
The budget allocates $500,000 this coming year to hire a design firm to draft up blueprints for the shuttered station's rehab.
The DRPA board approved a capital budget totaling $166.5 million for 2016 and $728 million over five years. That's about $20 million more than the 2015 capital budget, representing a 13 percent year-over-year increase. Most of the funds go towards ongoing rehab and maintenance projects: $27.6 million to continue the $194 million PATCO car refurbishment project, $17.3 million for repainting the Commodore Barry Bridge, and $900,000 for elevator installation studies.
The Franklin Square project advances despite the fact that DRPA's application for the last round of federal TIGER grant funding was rejected. After the board meeting, PATCO General Manager John Rink said the project could move forward using just DRPA funds, should the board approve design and construction.
TIGER grants are highly competitive – this most recent round awarded $500 million to 39 projects from 627 applications request $10.1 billion. Still, rejection implies that the U.S. Department of Transportation bureaucrats did not overwhelmingly believe that opening the "ghost station" at 6th and Race would contribute significantly to quality of life or economic competitiveness. At least, not as much as rebuilding a swing bridge over the Schuylkill to connect two segments of a trail, or building bike lanes on American Street in North Philly.
That shouldn't come as a shock though. Findings from a feasibility study released last spring were similarly unsupportive. That study, conducted by STV Incorporated, found that opening the station would have an overall adverse effect on ridership. While the study predicts 1,300 daily riders at Franklin Square, almost all of those riders would be existing riders who today use the nearby 8th and Market Station.
To the extent there are new riders, they would be offset by lost riders: Because opening a new station would slow down PATCO's round trips, some existing passengers would change their commutes.
That finding was consistent with STV's previous feasibility study, conducted in 2009. Both of those studies – which cost $500,000 each – matched findings from an STV study conducted in 2003, which also said ridership would be too low to justify reopening the station.
The only notable difference between the studies has been estimated construction costs: The 2009 study said $14 million, and the 2015 study said $18.4 million. That grew to $28 million because DRPA later expanded the construction scope to include another entrance on the south side of Race and a tunnel to the platform.
Feasibility studies sometimes need to be updated to reflect changes to the nearby area. A 2008 study on extending the Broad Street Line to the Navy Yard, for example, is now outdated due to the intervening years seeing new buildings and an updated master plan. Ridership estimates often change, as do projected construction costs: tunneling under buildings is more difficult and costly than digging a trench, building a tunnel, and then covering it, for example.
Since that first STV study in 2003, the National Constitution Center opened, but since the 2009 study, very little has changed in the immediate surrounding area, which still remains isolated from major residential concentrations by large swaths of highways. While Northern Liberties and Old City have grown, that growth has been largely residential and reverse commutes to New Jersey remain relatively rare.
Inclusion in the five-year capital budget does not guarantee the ghost station's resurrection anytime soon. Franklin Square station rehab was added to the capital budget in 2011, but was removed from the 2012 budget as DRPA significantly reduced its so-called "economic development" spending, which was lambasted for waste and mismanagement.
Before Franklin Square Station could reopen, the project will need at least two more board approvals: One to hire a design firm in 2016, and another approving construction once the design results come in. By then, the cost estimates could rise again.
The $500,000 spent this year and the $500,000 to be spent next year studying Franklin Square station's reopening would go a long way towards finishing some other capital projects, such as building a pedestrian and bicycle ramp on New Jersey side of the Benjamin Franklin Bridge. $1.2 million in private and public grants have already been earmarked for construction of the ramp, which is projected to cost $3.5 million.
WHYY is your source for fact-based, in-depth journalism and information. As a nonprofit organization, we rely on financial support from readers like you. Please give today.