Former cop gets probation for stealing from Northwood bar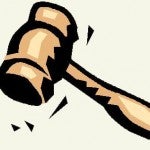 Former 15th District Police Office Kenneth Crockett has been sentenced to probation after being convicted in October of stealing from Pat's Cafe in Northwood.
Crockett was charged in July with stealing $825 from the bar following a police investigation. The Walton Park resident and two other officers were at the bar after an unfounded burglary call nearby. The other officers were cleared.
Crockett could be seen on surveillance tape taking the money. Pat's Cafe is where officer Gary Skerski was killed on duty in 2006.
Crockett already lost his job and pension.