Forecasters: Prolonged exposure in dangerous cold poses health threats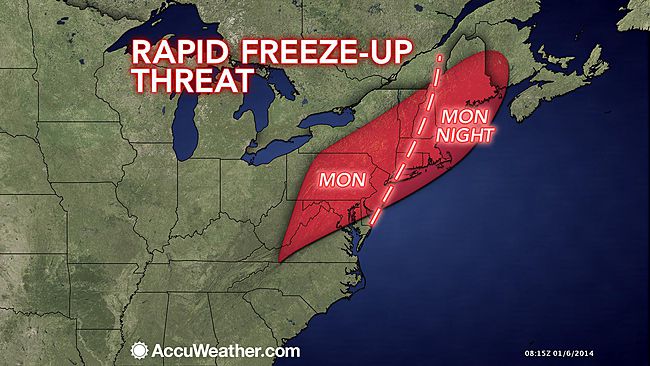 If you're planning on venturing outside over the next few days, you better have the right gear and take it slow.
And it's not just due to the bitter cold; you can also blame the wind.
A Wind Chill Advisory is in effect for most the region (a Wind Chill Warning covers the Poconos, where wind chills will be -25 to -35 below), and the National Weather Service advises against spending lengthy periods outdoors when the brutal cold invades.
"Prolonged exposure to the dangerous cold and wind may lead to hypothermia and frostbite," the advisory warns.
The advisory is in effect the longest in northern areas. The details:
1 a.m. Tuesday until 6 a.m. Wednesday for Sussex, Warren, and Morris counties. Wind chill values as low as minus 15 to minus 20.
1 a.m. Tuesday until 6 a.m. Wednesday for Hunterdon, Somerset, Middlesex, Monmouth, and Mercer counties. Wind chill values as low as around minus 15.
1 a.m. until noon Tuesday for Salem, Gloucester, Camden, Burlington, Ocean, Atlantic, Cape May, and Cumberland. Wind chill values as low as minus 10 to minus 15.
As a cold front passes, temperatures will fall from the early Monday morning highs in the 50s, and a rapid freeze will occur later in the day, according to AccuWeather.com. The National Weather Service advises that all areas will be in the 30s before sunset.
"Any surfaces that are wet will ice up as the temperature dips to below freezing. Elevated surfaces such as bridge decks will likely be the first to become icy with other surfaces following shortly after," wrote AccuWeather.com meteorologist Michael Doll. What is particularly troubling is that roadway chemicals lose effectiveness with such low temperatures, according to the National Weather Service.
Buildings are also vulnerable. In a briefing package, the local National Weather Service office in Mount Holly advises that water pipes may freeze due to the extreme cold.
The harsh conditions are from the arrival of the polar vortex, an intense area of cold low pressure residing in the Arctic region that rarely fully invades the United States, according to Climate Central's Andrew Freedman.
"1994 is the last one that comes to mind when we talk about big Arctic outbreaks and a lot of below zero temperatures," Robert Oravec, a NWS meteorologist, told Climate Central last Thursday.