Five years later, 40th Street Bridge opens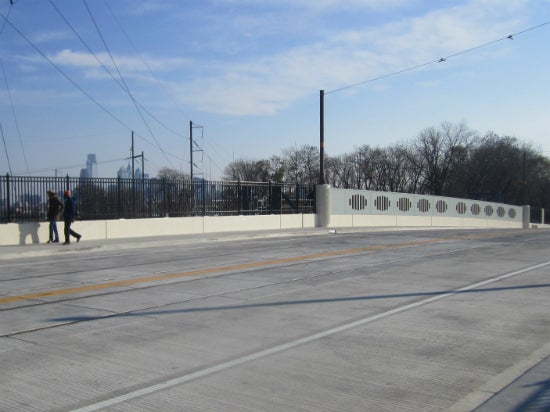 Five years after the 40th Street Bridge connecting West Philadelphia's Mantua and Parkside neighborhoods closed, it is back and better than ever.
Though a few bridge closure signs remain posted nearby, the 40th Street Bridge has been rebuilt and is open to car, pedestrian and public transit traffic.
The 40th Street bridge spans across some of the city's busiest Amtrak and SEPTA train tracks and is one of three bridges connecting Mantua and Parkside. For the past several years both the 40th Street and 41st Street bridges have been closed. PlanPhilly has covered the frustration this caused in the divided neighborhoods, the attention it received from the City and the lengthy construction process.
When I went to visit the now familiar spot after the bridge opened, foot traffic across the bridge seemed low, but there were people both biking and walking on the new bridge's wide sidewalks. The November sun beamed off of the bright, clean surfaces and cars and busses whirred across the smooth pavement.
The route 38 and 40 busses, which were rerouted on 42nd Street during the half-a-decade closure of the 40th Street Bridge now travel on their original course, saving travelers on both routes several minutes. Anyone who wants to travel from the Philadelphia Zoo, Please Touch Museum or other Parkside attractions to University City can now simply drive straight down 40th Street.
A neighbor, who asked not to be named, said he has added more produce to his vegetable stand two blocks from the bridge. He hopes the open bridge will bring more traffic and customers.
He said he has seen more people buying houses in East Parkside near the bridge and thinks this will continue as people find the neighborhood increasingly accessible.
Much attention has been paid to the 40th Street Corridor, and now that the bridge is open, there is potential for the corridor to extend as a continuous strip through both Mantua and Parkside, perhaps traveling as far south as the 40th Street Trolley Portal.
Nearby, construction crews are still at work beneath the bridge and are projected to begin construction on the 41st Street Bridge in late 2013. In September Streets Department Chief of Construction William Gural, P.E. estimated that the 42nd Street project might take approximately two years.