Firefighters battle Tacony blaze during weekend heatwave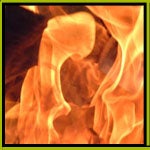 Firefighters took extra precaution early Saturday morning when they were called to battle a blaze in Tacony. Crews arrived on the 7100-block of Cottage Street around 12:30 a.m., where four people were on the roof of a home calling for help.
Firefighters were able to rescue all four, who were treated for smoke inhalation and are expected to recover. Crews kept hydrated and took breaks in cooling stations to beat the oppressive heat.
The cause of the fire hasn't yet been determined.