Feminista Jones' new book 'Reclaiming Our Space' examines how hashtags build community for black women
Listen
5:51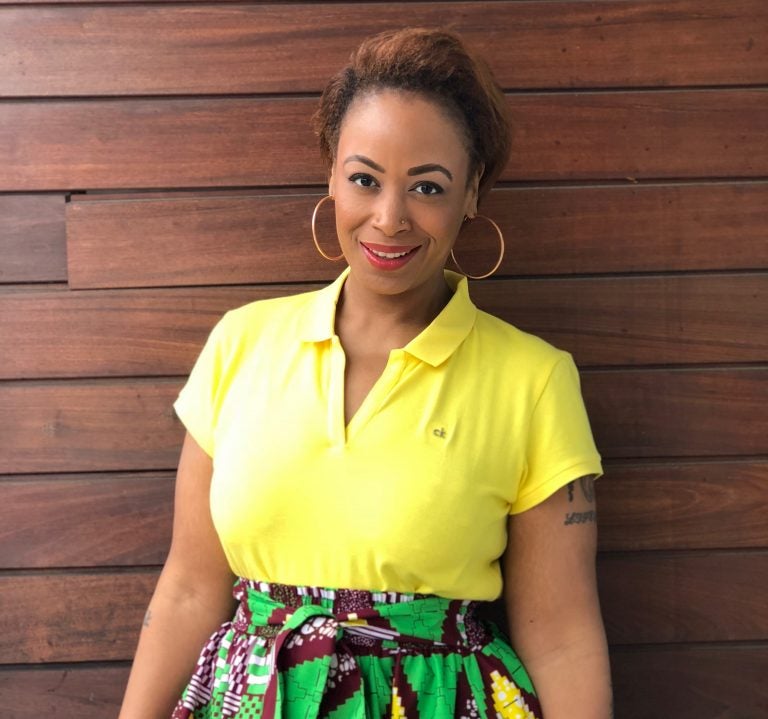 Feminista Jones is a Philadelphia-based activist, cultural commentator and writer. Her new book, "Reclaiming Our Space — How Black Feminists are Changing the World from the Tweets to the Streets," explores how black feminism evolved over 220 years — from abolitionist Sojourner Truth to black activism in the digital age. Jones unpacks how black feminists built communities with their activism on social media and influenced global conversations while creating movements around race, class, gender, sexuality, politics and culture with hashtags.
Can you define black feminism?
Absolutely. Black feminism is a theoretical framework that I think is necessary for black liberation. It's the idea that understanding that — while we are black and we deal with racism — we are also women and have to deal with sexism. Not just with the larger world, but definitely within our communities and that, in order for all black people to be free, black women have to be free, and we have to be free on the same terms and treated fairly. And so, what we're trying to do through black feminist theory is really center black women and our experiences … Make sure that people understand that there are multi-layers to being both black and being women. And it's an intersection that no one else can understand.
You wrote that it seems to be this weight that some of the early black feminists had to bear with racism and sexism. And I guess there are some parallels you make in the book that today's black feminists also have to navigate that heavy burden. What helped those early black feminists navigate those barriers?
I think they held onto their inner strength and their faith and their community. It's really fascinating for me when we have discussions about black feminism, people will talk about ways of being and thought processes and things, but not know that black feminism is like the ways your grandmother managed her house and her relationship and her motherhood and her position in the community. The ways she fought for her children and her grandchildren, was in the church questioning the things that the men were saying, those kinds of things that really show us the breadth of black feminism. But we didn't call it that and we didn't have those names for that.
I think that what they were doing back then was navigating as best they could. If you look at other early folks, like Amy Jacques Garvey who was Marcus Garvey's wife, they were writing about their experiences. And I think that telling your story is probably the greatest act of feminism as a black woman. I think that's the way in which they were able to go about that, they just told their stories and to remain true.
I thought it was really interesting how you compared black women's way of communication and engagement with one another on Twitter to those traditional African- rooted call and response that you might hear at a Christian church on a Sunday morning or afternoon. How is it that black women feel so safe to express their views and to have these conversations on social media as everyone is looking in?
Because we know we have each other's backs, right? When we talk about sisterhood and we talk about building community, I think one of the greatest strengths is knowing that someone has your back. And so even when you say something that you know will bring on attacks, you know that there's going to be that whole brigade of sisters that are going to be, "No, she's right, and here's why she's right." And then we'll go in, and when we see someone being negative, we will go at that person and be like, "Leave her alone. You're wrong."
And we take up for each other … I think that is the black women tradition. I think we have always had to do that in the face of racism, in the face of sexism, and all of these other issues. We have had to support each other in order to survive. While I'm not going to say that this is every black woman on the planet ever, I do think that there is something unique about how black women communicate with each other and the ways in which we hold space for each other.
What does black feminism look like next year, five years from now, even 10 years from now.
I think black feminism is going to be in the streets. I think we're going to move away from the Academy — not saying that it won't exist  — but we're going to move more away from [post-secondary education]. We're going to move offline, and it's going to be embodied in folks on the streets  —  the everyday people, and not just women or people that identify as women. It's going to be with men, it's going to be with nonbinary folks, going to be everywhere. People are going to realize,  and I have always maintained, black liberation struggles and fights and movements have been the blueprint for so many other movements, right?
When you think of massive movements for rights, they've always modeled themselves after black liberation fights. And so as that goes, we are going to see that this blueprint laid out by black feminism is going to influence others and really start to shape how we talk about our existence as human beings. I'm excited. I can hear every woman say, "You can't tell me what to do with my body or my mind." And, to me. if we can get to a point where even half of women feel comfortable saying that. then we've won.
Feminista Jones will be at the Free Library of Philadelphia Feb. 5 at 7:30 p.m. to discuss her book.