Ex-Christie aide denies knowing of political plot against Fort Lee
Listen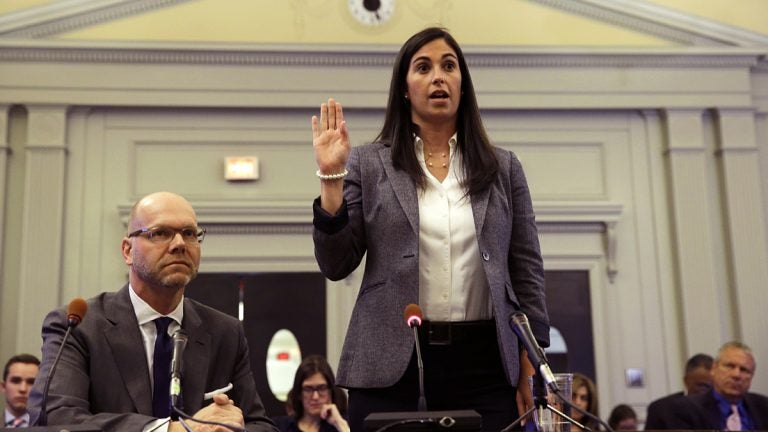 A former aide to Gov. Chris Christie says she had no knowledge of or involvement in the political payback plot at the George Washington Bridge.
The ex-aide, Christina Renna, is testifying under oath before lawmakers investigating politically motivated lane closings that caused gridlock in Fort Lee, the town at the base of the heavily traveled bridge between New Jersey and New York City.
Renna worked under Christie's fired deputy chief of staff, Bridget Kelly. Kelly appeared to set the lane closings in motion with an email message saying, "time for some traffic problems in Fort Lee."
Assemblyman Lou Greenwald asked Renna whether Kelly, her former boss, orchestrated the bridge lane diversions.
"I wouldn't say she was the architect, but she was instrumental in the process," Renna said. "I believe that, yes."
"Do you know who was the architect of it and who worked with Bridget Kelly to order the shutdown of the lanes?" said Greenwald.
"I don't know directly, no," she said. "I think we all have theories, but I don't know."
Renna testified that Kelly could be a good manager, but could also be difficult, and was overwhelmed and enormously stressed about day-to-day life.She said staffers did not want to challenge Kelly because they thought that could endanger their jobs.
Sen. Loretta Weinberg, the co-chair of the Legislature's investigative committee, said that points to an atmosphere in the administration that sets up condition for abuse of power.
Renna, who resigned in February, is being questioned about the possible infiltration of politics in the governor's office during Christie's re-election campaign. She says Kelly communicated often with former Christie political operative Bill Stepien.
The Associated Press contributed to this report.