Esta historia es parte de la The 47: Historias along a bus route, una colaboración con WHYY's PlanPhilly, Emma Restrepo y Jane M. Von Bergen.
Este artículo está escrito en español. Para leer este artículo en una combinación de inglés y español, haga clic o toque aquí or to read this article entirely in English, click or tap here.
---
En la esquina icónica de la Avenida Lehigh y la calle 5, en la puerta de El Bloque de Oro, justo en la parada de Septa del bus 47, está el Centro Musical. Probablemente, la tienda de música salsa e instrumentos del Caribe y Latinoamérica más importante de la ciudad de Filadelfia. Allí bongós, campanas, guitarras, güiros, congas, timbales, maracas y panderetas están en fila en el piso o colgados del techo; y los discos, dispuestos a lo largo de la tienda, traen las voces de los inmortales de la Fania All Stars, Héctor Lavoe, Mark Anthony y muchos más.
"La salsa fue, es y será el mejor género de música y nunca morirá", dijo Reinaldo Meléndez, dueño del Centro Musical. "Es algo que llegó para quedarse y, dentro de las circunstancias, todavía suele venderse muy bien. Cuando comparas con otro tipo de música, la salsa todavía está en el tope".
El mural de la fachada es como una estampilla de lo que siempre pasa en el Centro Musical sin importar la fecha del año: música y músicos tocando. Y las palmas de metal, aunque no ondeen, son la prueba de la nostalgia del Caribe. Y tiene sentido, el Bloque de Oro es el comienzo de la parte más caribeña de Filadelfia. Es aquí donde comienza el área en donde un número importante de puertorriqueños y dominicanos se ha asentado.
"Seguimos la misma tradición que ha tenido el anterior dueño por 57 años. Se ha hecho una bonita amistad con los músicos, quizás con algunos es una relación de hace 35 años y muchos músicos del patio [de la comunidad] y de afuera también, pasan y ésto es como un imán; los atrae, vienen, comparten, se dan su traguito, su cerveza, cantan, tocan y la pasamos bien siempre", dijo Meléndez.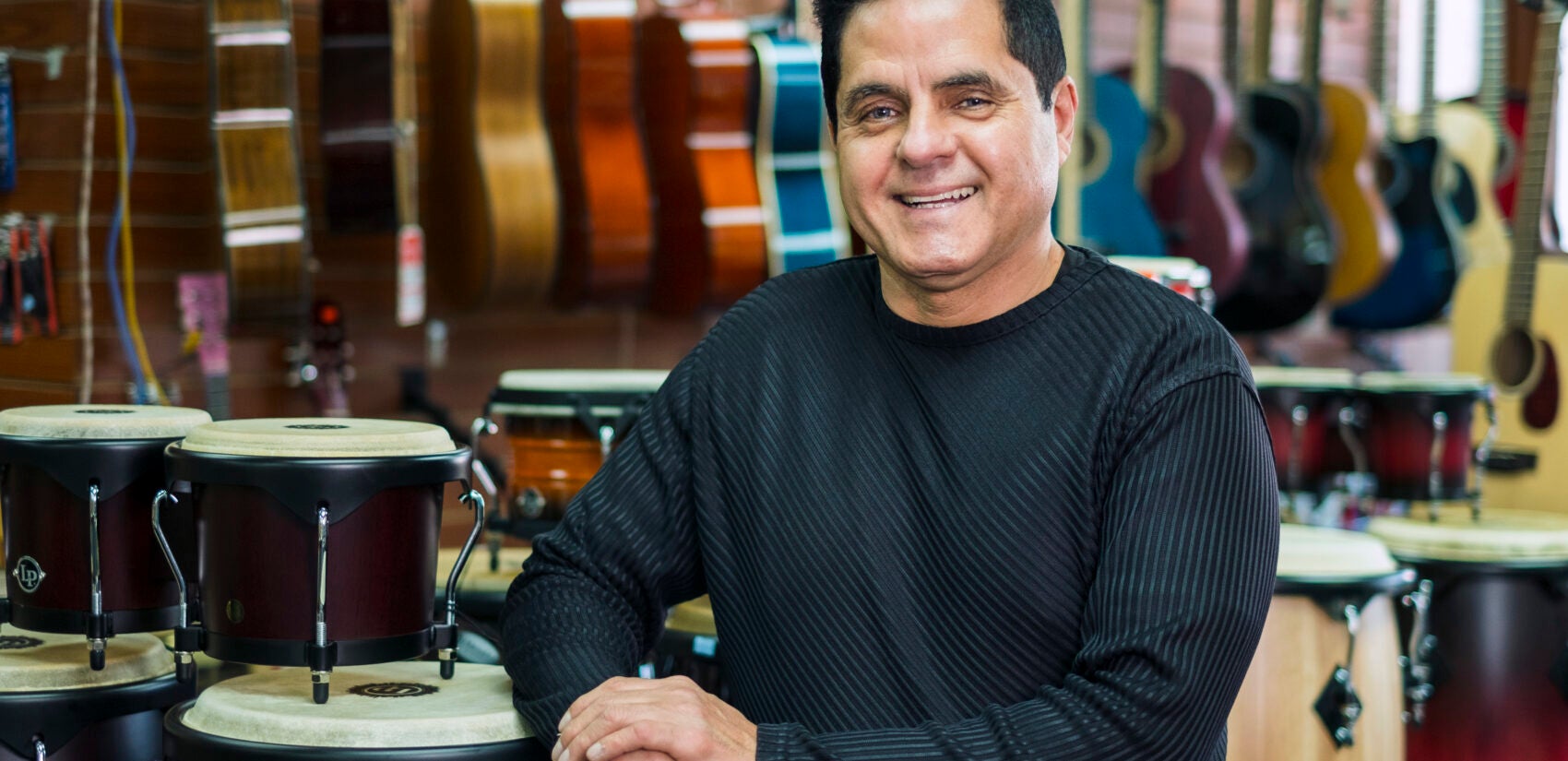 Durante la Navidad, en el Centro Musical, no faltan las parrandas o aguinaldos o villancicos, no importa cómo se le llame a la celebración navideña en cada país, porque ese periodo es sobre todo música y rumba.
"Filadelfia es donde he visto más músicos en mi vida", dijo Meléndez. "Las escuelas ofrecen muchos talleres, muchos tipos de instrumentos. Y hay muchas nonprofit como Taller Puertorriqueño que infunden la cultura puertorriqueña, porque para el boricua la música es parte de nuestra cultura".
El género de salsa continúa vivo en el mundo entero y especialmente para los latinos. Nace en Nueva York con influencia de ritmos de Puerto Rico y Cuba, además del Latin Jazz. Y de Nueva York migra sin papeles por Centro y Suramérica, especialmente a Colombia. Fue un movimiento porque mezcló no sólo notas musicales, sino también raza, identidad e integración. En los 70 la salsa bullía en Queens y todavía en el 85 cuando Reinaldo Meléndez se muda de Puerto Rico a New York; un patrón de migración muy común para los boricuas. A los pocos años de llegar, Meléndez se queda sin trabajo y decide comprar los CDs y los casetes de salsa de una tienda de Queens que iba a cerrar y se vuelve street vendor.
"Estuve así durante años vendiendo en la calle, hasta que pude alquilar un local", dijo Meléndez. Abrió El Barrio Music Center en East Harlem en Manhattan en 1992, tienda que aún mantiene, además de vender música al por mayor. Comienza a coincidir con Wilfredo González en Manhattan en las ferias de distribuidores de música salsa porque para ese entonces Wilfredo González en Filadelfia ya era dueño del Centro Musical. Le había comprado el negocio a su padre, Néstor González, quien abrió originalmente en el antiguo cine Teatro Puerto Rico en la calle 6 y la Avenida Germantown en 1960.
"Comencé a visitar Wilfredo [en Filadelfia] todos los miércoles, me compraba e hicimos una bonita amistad. Para el 2014, Wilfredo estaba decidido a jubilarse y él insistió mucho en que le comprara el negocio", dijo Meléndez. "Yo no quería, pero hubo una conversación seria de que si yo no lo quería, él lo iba a poner en una compañía de real state y entonces me senté a hablar con él y decidí comprarle el negocio".
El Centro Musical pasó a manos de Reinaldo Meléndez el primero de noviembre de 2014; desde entonces, "el negocio es una montaña rusa, hay días buenos y días malos, pero lo mantenemos. Eso es lo importante".
Y las ventas de salsa siguen ganando. ¿Sus clientes? "Todo tipo de personas; muchos boricuas, muchos colombianos, vienen peruanos, venezolanos, hasta mexicanos salseros, [entre los] dominicanos también hay un grupo que son salseros, gente americana que le gusta la salsa". Meléndez describe esta área como un lugar en donde "hay un poquito de hondureños, colombianos, peruanos, regaditos pero, dominicanos hay bastante, y mayormente sobreabunda el puertorriqueño".
A lo largo de los años, Meléndez ha visto el negocio de la música pasar de los discos a los casetes y a los discos compactos para terminar en el streaming. "Para complementar la caída del CD, trato de traer otro tipo de mercadería", dijo. La venta de instrumentos musicales, en particular, guitarras y bocinas [parlantes para algunos latinos] contribuyen a la rentabilidad además de la venta de máquinas de moler masa para pasteles [pasteles puertorriqueños hechos de plátano o yuca] y mesas de dominó.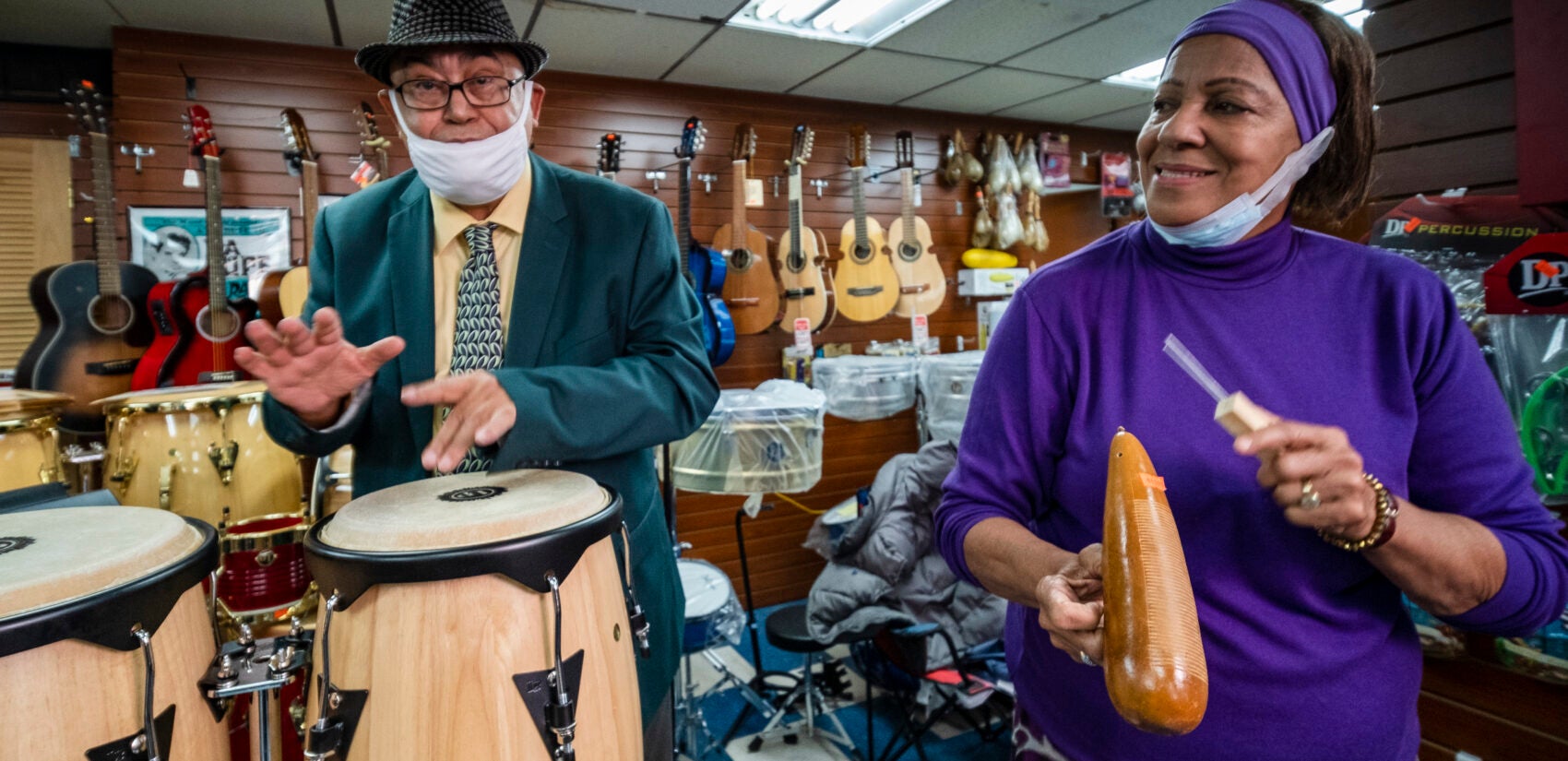 Pero el corazón del negocio sigue siendo la música y la comunidad. "Nos llaman como que tenemos que saber las respuestas a todo lo que nos preguntan y tratamos de ayudarlos en todo lo que podemos. ¡Me preguntan de todo! Que si yo conozco dónde pueden conseguir una plancha barata o dónde está el city hall. Yo tengo que saber de todo prácticamente", dice Meléndez riendo. "Sí hacen muchas preguntas y lógicamente muchas relacionadas con el almacén".
Quizás por esa razón, al Centro Musical siempre llegan volantes con información que la alcaldía quiere distribuir en esta comunidad, y dice Meléndez que "al frente de la tienda a mano derecha hay una tablilla donde gente de otros negocios pone su tarjeta".
Para este puertorriqueño ser dueño del Centro Musical es también continuar la tradición, "siempre cordial con la gente y si podemos dar la información, la damos", dijo. "Aparte de tener clientes, me gusta que se conviertan en amigos".
Esa amistad ha sido fundamental para que el Centro Musical mantenga sus puertas abiertas en tiempos difíciles.