Eastwick feasibility study recommends tearing down brutalist icon Pepper Middle School, residents say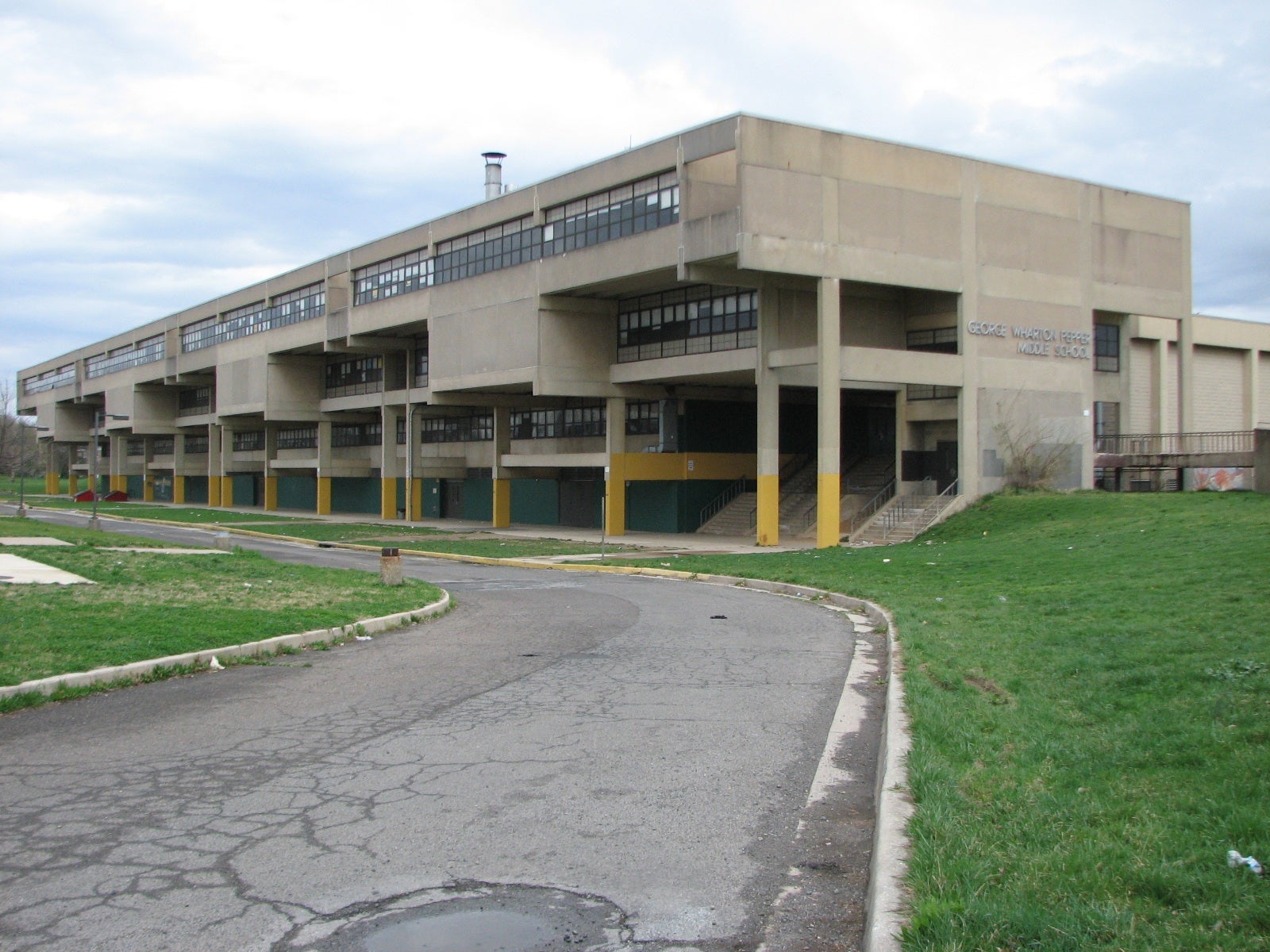 It wasn't really unexpected. For more than a year, Eastwick residents have been listening to experts say that the former George Wharton Pepper Middle School, on 84th Street between Mario Lanza and Lindbergh Boulevards, is at the lowest elevation point in the neighborhood, at some places 2 feet below sea level. One expert named it "the Pepper bowl" because when the neighborhood floods, all the water drains there.
During Hurricane Floyd in 1999, the property was under nine feet of water and suffered damage in excess of $1 million, according to FEMA. In 2013, the School District of Philadelphia closed the school, along with 23 others across the city. Aware of the flooding issues and the blight the abandoned building created in the neighborhood, some residents said they were open to it being demolished.
So last month, when Interface Studio — the firm contracted by the Philadelphia Redevelopment Authority to lead a planning and feasibility study for almost 200 acres of public land in Eastwick — told community leaders that one of their recommendations was to bring Pepper down, no one was really shocked, even though the structure is considered a local icon of brutalist architecture.
"It's at the lowest elevation for flooding, it's in a designated [FEMA Special] Flood Hazard Area, so that goes without saying," said Ramona Rousseau-Reid, vice president of Eastwick Friends and Neighbors Coalition (EFNC).
But that doesn't mean the Pepper school will go down without a fight — or go down at all. During the planning process, a recurring demand has been for education and new schools in the neighborhood, and many Eastwick residents believe Pepper is the best place for that to happen. Darien Thomas, a pastor and member of the community organization Eastwick United, said the study's recommendation to tear Pepper down is not going to fly.
"What we're proposing for the Pepper School is a trade center, a place where we train young kids for jobs in carpentry, plumbing, electrical work, all those things," Thomas said. "I'm of the opinion that we have the resources to purchase the building and restore it."
According to Thomas and other residents interviewed by PlanPhilly, the Interface Studio planning study now envisions a commercial corridor on 84th Street where the school and sport fields are and reusing the former Communications Technology High School building as a community center where training could take place.
Thomas said that he was "impressed and pleased" by the presentation as a whole, but that he and other residents question the placement of some of the development. For example, he said, if the argument is that Pepper is situated in a more flood-prone area, why is building businesses there a good idea? Neighbors won't want that either, he said.
Still, Thomas is optimistic that the community will get what it wants, because the Redevelopment Authority is giving it the time to process and the opportunity to offer feedback. Last week, he hosted a meeting with Eastwick leaders to discuss the proposals and get everyone on the same track.
EFNC's Rousseau-Reid said she was surprised to learn that what Interface Studio is preparing is a feasibility study and not a plan. Since the city has been calling this a planning process, she said, many in the community, including herself, understood that the result would be be a plan with resources attached to it.
"The feasibility study is just that, a study of how the properties could be used or how the parcels could be developed, or used, or repurposed. It's just a suggestion," she said. "The community needs to have their own plan, come up with a planning process, separate from this study, and get the financial resources to make that plan materialize."
Terry Williams, who chairs the 16-member steering committee created by the Redevelopment Authority to direct the process and is a long-term member of EFNC, said one proposal universally well received by community leaders was envisioning Eastwick as a village — a small community surrounded by nature and connected by a main street.
"When I grew up, Eastwick was pretty much a village," he said. "A place where you can walk to get whatever you needed — you can walk to work, you can walk to the store, you can walk to church. More than anything, it's a concept that speaks to how we live together or how we engage together as human beings and neighbors."
Williams recognized that the process is behind schedule. The third and last public meeting was originally planned for last Nov. 2 and is still pending.
"We had a few setbacks, but it was expected," he said. "This [process] matters, and can be very complicated at times."
Sixty years ago, the city developed a plan for Eastwick that ended up evicting almost 9,000 people in the name of urban renewal. Some of the promises made were never fulfilled, and although this time residents have been invited to decide the future of their neighborhood, they are still very reticent and divided. At the last public meeting in October, people had extremely different opinions about what should be built on the sites: Some expressed a need for development, while others wanted no development whatsoever, but flood mitigation.
Given that input, Interface Studio and the Redevelopment Authority decided to extend the process to allow more time for community members to weigh in, and to add more wetland information to address the flooding concerns. All things considered, Williams said, the process is working well and a collective vision is finally emerging for the community.
"We are really making good progress, given the fact that the community has been marginalized and neglected for 50 years," he said. "There's a lot of unity now in this community, and these things don't come about easy."
Jamila Davis, the Redevelopment Authority's spokeswoman, said the team leading the presentation felt it was generally well received. But she declined to share details of Interface Studio's recommendations until the next public meeting, expected in mid-July, "when the consultant team has the opportunity to thoroughly review all recommendations together in a public setting, and answer questions about why certain recommendations are being made and their implications," she wrote in an email.
After presenting the recommendations and receiving feedback from the community, Interface Studio will present a research document for the city and the community to decide the best use for the public land.
When asked about the recommendation to demolish the former Pepper School, Patrick Grossi, director of advocacy for the Preservation Alliance for Greater Philadelphia, said in an interview that it was a somehow-expected outcome of the process, considering the challenges of restoring the building and the fact that it's on a flood plain.
"Undeniably, it would be a loss, there's no sugarcoating that," Grossi said. "But I'm not surprised that that's [where] their thinking is headed."
The building, designed by architecture firms Caudill Rowlett Scott and Bower & Fradley in 1969, is considered the most noteworthy brutalist structure in the city and a modernist landmark, Grossi said, but it's mostly known by architecture enthusiasts. "Not everybody sees the beauty in it," he added.
Grossi said he is not sure the Preservation Alliance would seek to add Pepper to the local historic registry to stop its demolition, but he noted that the organization would be happy to have a conversation about it with the Redevelopment Authority and and Interface Studio.
WHYY is your source for fact-based, in-depth journalism and information. As a nonprofit organization, we rely on financial support from readers like you. Please give today.