Dumb and dumber: Trump's lawyer and the lawyer's lawyer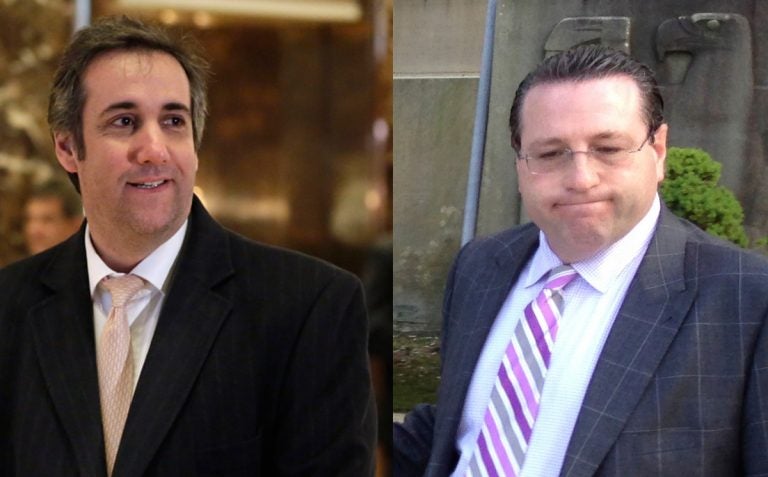 I'm sorry to return so soon to the Stormy Daniels saga. But it's actually not about sex. As evidenced by the latest plot twist, it's really a tale of rank incompetence perpetrated by the stupidest lawyers to ever orbit a White House.
Or, as Trump would call them, "the best people."
Remember that Trump fixer-lawyer Michael Cohen crafted Stormy's hush deal on the eve of the '16 election, paying her $130,000 from his own pocket via a Delaware LLC he created for that sole purpose (a potentially illegal campaign contribution) to ensure that she'd stay mum about her Trump tryst? And that Cohen and Daniels signed the agreement, but that Trump (aka "DD," aka "David Dennison") never did? That there was a signature line for Trump, but it was left blank? And that Stormy is now contending in a lawsuit that the hush deal is invalid because Trump never signed it?
Cue the appearance of Cohen's lawyer. His name is David Schwartz; apparently, he's supposed to be Trump's fixer's fixer. Last night on CNN, Schwartz endeavored to explain why Trump never signed the hush agreement: "The president was not aware of the agreement. At least, Michael Cohen never told him about the agreement. Michael Cohen left the (Trump signature) option open." Schwartz said that Cohen had "the option" to go to Trump, but "he chose not to."
The noise you just heard was Schwartz shooting off his own foot. What a gift to Stormy!
Schwartz declared, on national television, that Cohen negotiated a deal without even telling his own client (Trump) that he (Trump) was being made a party to a deal that, according to the document itself, required Trump's signature. The whole deal was designed to ensure that Stormy wouldn't talk about Trump or release "images" of Trump — and yet, according to Schwartz, there's no signature from Trump because Cohen never told Trump.
OK, I'm not a lawyer. But I took lots of pre-law courses in college (I still have the textbooks), and I can confidently conclude that Cohen's idea of a binding contract ranks high in the annals of stupidity. It violates all kinds of ethical canons to enter into a deal on behalf of a client without bothering to seek a client's consent. Law school profs should teach this contract, as a lesson on what not to do.
The legal community was aghast last night. Renato Mariotti, a former federal prosecutor, tweeted: "Under the terms of the agreement itself, only 'DD' can enforce it. If Cohen's position is that Trump is not 'DD,' then unless someone else comes forward as 'DD,' it is unenforceable and Stormy Daniels can release the materials." Georgetown University law professor David Super said that Schwartz's remark about Cohen was "amazing" because it "opens up Cohen and anyone else involved in soliciting the agreement to fraud charges." Why? "Because the agreement certainly purports to make commitments, beyond the money, that only Trump could make."
What's amazing indeed is that Schwartz gave the game away on TV. Which prompts me to ask several questions: Is it wise for a lawyer (Schwartz) to publicly undercut his own client (Cohen) in the middle of a lawsuit (Stormy's)? Or is it stupidity squared?
Worse yet (or better yet, in terms of sheer entertainment value), Schwartz kept on talking: "Michael was the fixer. It could be anything. There were a ton of matters that took place that Michael fixed and Donald Trump wasn't involved in every single matter." Wow. What does that mean? Have more women gotten hush deals that Trump didn't sign? Who else has been paid off without Trump's knowledge?
I doubt we've seen such lawyerly hijinks since the Marx Brothers handled a contract they finally tore up ("The party of the foist part shall be known in this contract as the party of the foist part …"). On the other hand, this is just standard behavior from the most incompetent White House in living memory. It's easy to understand why no self-respecting Washington attorney is anxious to hire on with Trump; nobody wants to soil his or her reputation by joining a bush league team.
But given the fact that Trump's lawyer and the lawyer's lawyer are being run ragged by a porn star, and given the fact that Trump loves to promote the unqualified, it's probably a cinch bet that Cohen or Schwartz will be teed up in the future for Attorney General.
–
UPDATE: Schwartz gave us another gem this morning, on CBS News. Again, he did his client no favors.
Q: "(Cohen) took out a home equity loan to pay off Stormy Daniels?"
Schwartz: "Yeah. To get the money quickly."
Q: "Does that make sense to you?"
Schwartz: "In a vacuum? No. Would I do that? No."