The doll and the denial: 'All the Dead Biddles' (Underbite Theatre Co. and Plays & Players)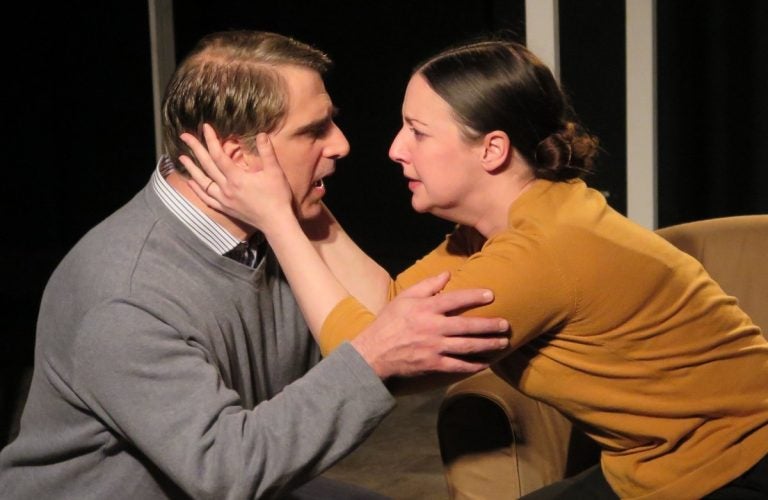 Don't expect a history play from "All the Dead Biddles," which uses the famous Philadelphia family name for no clear reason. What you will find, though, in Shelli Pentimall Bookler's new play running in the small theater atop Plays & Players, is the oddball story of a mother who copes with grief by raising a doll in place of her dead baby son.
"All the Dead Biddles," from Underbite Theatre Company and Plays & Players, is about extreme denial. After her baby dies, the mother attempts to feed, soothe and raise a doll instead. (A cute one, too, with puffy little cheeks.) Her bewildered husband can't stop her from believing in this substitution. He's made to feel like a cad by his unorthodox shrink — and by the nanny he had hired — for not playing empathetically to his wife's delusions.
In press material, Bookler calls the work a dark comedy "in the realm of" Sam Shepard and the deliciously wicked Martin McDonagh. But while "All the Dead Biddles" has its concept down pat, Bookler stops well short of the bracing, outrageous dialogue that marks those playwrights' works. In the end, she delivers a likeable play – one I liked more for its odd humor even after I saw and thought about it – about a tragic subject, with a quartet of actors who make sense of its absurdities.
With polishing, it could reach a new level. Bookler's dialogue is sometimes stiff as … well, a dead Biddle, especially when she has characters discussing poetry or answering with a word like "quite" when they would normally say "very." When her characters delve into anecdotes, they employ the sort of tailored English that writers use and off-the-cuff speakers don't.
The one exception is a psychologist who treats the husband with a therapy that involves some unusual elements like bonsai. He's played as an industrial-strength pedant by Barry Gomolka, who wonderfully delivers didactic pronouncements as if they're the meat and potatoes to sustain anyone who listens. For that character, tailored English is a must – and he's the best-scripted.
Colleen Corcoran plays the mom, and several times she flips with ease, from being down-to-earth to becoming steadfastly delusional. She's aided by the nanny, portrayed by Marisol Custodio. in believing her delusions. The husband – the hardest role because he juggles sustaining his marriage and finding sanity in the world – is artfully brought off by Anthony Marsala.
Bookler is a Philadelphia theater artist who, with her husband Matt, founded Underbite Theatre Company to produce new plays with a social mission. I'm not sure what social mission "All the Dead Biddles" fulfills, but I suspect that the director, Carly L. Bodnar, didn't worry much about that when blocking the characters so meticulously in a small playing area. That, like so much about "All the Dead Biddles," works. I just wish it more fully occupied its own strange concept.
–
"All the Dead Biddles," a co-production of Underbite Theatre Company and Plays & Players, runs through Jan. 21 at Plays & Players, Delancey Place between 17th and 18th Streets. More information at playsandplayers.org.