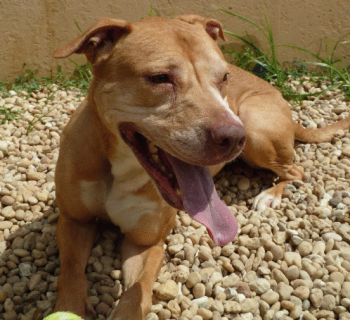 Editor's note: Due to the Memorial Day holiday weekend, our Pet of the Week coverage got backed up. Be sure to check back later this week for an additional dog and cat. We'll resume once-weekly Pet of the Week coverage next week.
Meet Sydney(A13102462)! Sydney is an older female Pit Bull terrier mix who was surrendered to the shelter by her owners on May 15. Her owners claimed they had issues with their landlord and were forced to get rid of poor Sydney.
Despite being an older dog (6 to 8 years), Sydney is still an energetic girl. She absolutely LOVES to play with a tennis ball and knows how to fetch like a champ! She will play by herself or with you. It's really adorable watching how excited she gets to play with a ball! She tracks it, chases it and digs all around it before she snatches it up!
She'll jump right into the shelter's baby pools to get it and while she's in there she splashes around like crazy! It really is the small things that make this dog happy. You can't help but laugh when you watch her play.
Sydney is a beautiful girl! She has a gorgeous face and a near perfect stance. She weighs about 43 pounds and is a little underweight. Poor Sydney's teeth were not taken care of properly by her owners and could use some TLC — both of her canines are broken and very worn. Because of her teeth, she's having trouble eating dry food and has lost some weight.
Otherwise, she seems very healthy. Sydney is a friendly girl who doesn't require much attention. She is happy to have some company and affection but she is not demanding. She gets so excited when someone comes to her kennel to take her out and she waits until she's outside to do her business! Sydney has no issues with any type of body handling and appreciates affection. As much as she loves her ball, she lets you take it from her without showing any aggression.
ydney has met other dogs here at the shelter and was fine with them. Also, she did live with another dog in her past home. If you are interested in this good girl and already have a dog of your own, the shelter will gladly arrange for a meet and greet to see if they can be BFFs! Sydney didn't show interest in cats at this time but would need another test once she settles in more.
Please give this nice girl another chance at finding a loving home where she will be taken care of the way she should. It's so sad to see a dog displaced in the middle of her life! This girl certainly did nothing to deserve that.
These animals are located at Philadelphia's animal control shelter, ACCT. They need immediate adoption or foster care.
ACCT is located at 111 W Hunting Park Ave. and is open 365 days a year. Please check the PSPCA website for hours. To check the status of an animal, call 267-385-3800, email nsmith AT pspca.org or mdecker AT pspca.org.
Don't forget to check out the weekly Animal Care & Control event at the Petsmart in Haldeman Plaza, where you can learn more about adoption and foster care, and meet some animals who need a good home.
Check in every week with NEast Philly to see the cat and dog of the week.