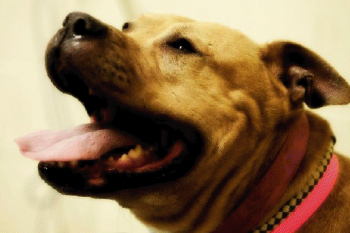 This gorgeous girl is Shaunie (A15052829). Shaunie is a 1- to 2-year-old female Staffordshire Terrier mix. She found her way to someone's back yard and they brought her to the shelter to find her forever home.
How anyone could let this angel go is beyond us! We don't know much about her past, but we do know that she is worthy of a good home.
Shaunie walks well on the leash and would love a family who takes her for regular walks. She loves being by your side and would love to snuggle with you each night! Shaunie is very appropriate and doesn't climb all over you. She has manners and is very respectful.
We expect her to open up a little once she gets into a forever home, but right now she is a very laid back, chill dog.
Shaunie likes other dogs, but she also likes her space. She did well with the dog she met and has lived with other dogs before. Shaunie might do best with a dog who respects her space and doesn't jump all over her.
Do you have room in your home for this gorgeous girl? All Shaunie wants is a nice family with a lot of love to give and you will absolutely receive true love from Shaunie!
These animals are located at Philadelphia's animal control shelter, ACCT. They need immediate adoption or foster care. ACCT is located at 111 W Hunting Park Ave and is open 365 days a year. Adoption hours are Monday-Friday; 1pm-8pm; Saturday and Sunday; 10am-5pm. To check the status of an animal, call 267-385-3800. Check in every week with NEast Philly to see the cat and dog of the week.