District 172: The Politics of Change After State Rep. John Perzel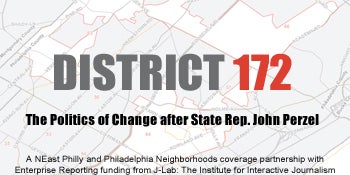 This is part of ongoing coverage in "District 172: The Politics of Change after State Rep. John Perzel," a collaborative effort with Philadelphia Neighborhoodsfunded by J-Lab.
In partnership with Philadelphia Neighborhoods as part of an Enterprise Reporting Fund grant from J-Lab: The Institute of Interactive Journalism, our reporters will take an in-depth look at the development and revitalization efforts in the district, specifically along the Frankford Avenue corridor in Mayfair, where Perzel concentrated his resources.
Our reports aim to answer questions about if and how development projects along the Avenue (like the Devon theater) were affected by the charges against Perzel, and whether his actions as a state representative and his subsequent loss of the seat have left a void in the neighborhood.
As residents and community leaders in Mayfair continue to serve their neighborhood with pride, hosting well-attended events and fundraisers and implementing neighborhood beautification projects, state and federal funding has run dry due to the economic crisis. With Perzel, the district champion, gone, will Mayfair have to fight harder to maintain its revitalization efforts? And will other neighborhoods in the district flounder?
Our ongoing research will culminate with a final package this spring that we hope will answer the aforementioned questions and shed some light on the future of the 172nd District.
Beginning today, we'll host pieces of the investigation on this site, with the final product coming this spring. Any post on this site with the above image is part of the package.