District 172: Civic member says, "there will never be another John Perzel in the Northeast"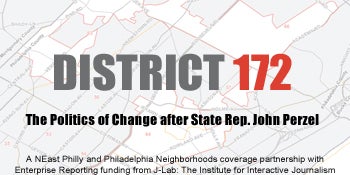 This is part of ongoing coverage in "District 172: The Politics of Change after State Rep. John Perzel," a collaborative effort with Philadelphia Neighborhoods funded by J-Lab.
After John Perzel, the former speaker of the Pennsylvania House of Representatives, was charged with misusing public funds, he lost the seat he had held for more than 30 years in the 172nd District to Democrat Kevin Boyle.
Despite the scandal surrounding Perzel, people are divided about whether a powerful politician was better than a new representative in the Northeast district.
John McClogan, a Walton Park Civic Association member, said he thinks a tainted Perzel is better than a newly elected representative.
"It's a shame," he said. "It's the people who are suffering."
McClogan said he thinks there is a big difference between Perzel and Boyle.
"Perzel was the speaker of the house. Boyle is just the representative. He doesn't have the clout that Perzel had," McClogan said.
At the civic, McClogan said he had a lot of contact with Perzel. He said he has not had any contact with Boyle yet.
"Perzel would do just about anything you'd ask of him. If you had a problem you brought it to Perzel and it got taken care of," McClogan said. "There will never be another John Perzel in the Northeast."
Others, like Greater Bustleton Civic League President John McKeever, have not seen a difference between Perzel and Boyle.
"Both of them are present at our civic meetings. Perzel had a representative there and now Boyle has a representative," McKeever said. "In terms of what they've offered for our members, I'm not sure. No one's ever said anything."
McKeever said he believes Boyle has not been in office long enough to have an impact.
"In our situation, really, they're just represented at our meetings. That's the only thing I can say regarding their assistance," McKeever said.
Mike "Scoats" Scoatese, the owner of Hop Angel Brauhaus in Fox Chase, had an optimistic outlook.
"Before we saw the influence a state representative can have after obtaining a senior position in Harrisburg," Scoats said. "Now we see the youthful energy of a junior representative."
Scoats also owns the Grey Lodge Pub on Frankford Avenue and is a Mayfair Business Association member, where he's also part of the 172nd Legislative District.
Unlike McClogan, Scoats has interacted with Boyle. "I've seen a lot of Kevin and his staff since he was elected," Scoats said. "They seem like they will do a lot of good for the lower Northeast, too. They are definitely very active and energetic."
Megan Paolini is a student reporting for Philadelphia Neighborhoods, the publication of Temple University's Multimedia Urban Reporting Lab.
WHYY is your source for fact-based, in-depth journalism and information. As a nonprofit organization, we rely on financial support from readers like you. Please give today.