Devon's 'JOSEPH' production snags five Barrymore nominations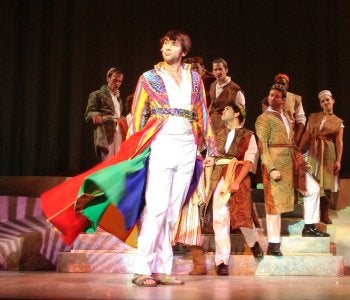 UPDATE (10/5/10, 1:50 pm) — The Devon Theater's production of Joseph did not win a Barrymore for any of its five nominations, but director Kim Reilly (who's currently at Act II playhouse, which pulled in one win and six nominations) said in a previous conversation with NEast Philly: "The success of the show is really a tribute to the hard work of our amazing cast and crew."
It's closing in on a year since the now-shuttered Devon Theater put on its rendition of Joseph and the Amazing Technicolor Dreamcoat.
The show debuted back in November 2009, the second of what was to be a five-show inaugural season for the Mayfair theater. But when arts funding ran out due to state budget constrictions, the Devon canceled its season after Joseph finished its run, and has since discontinued other performances.
Built in 1946, the Devon went through several transitions. What started as a movie theater did a stint as an adult theater, then back to a movie theater before becoming an abandoned eyesore along a main stretch of Frankford Avenue. The theater reopened as a 400-seat live arts venue, before shutting its doors once more early this year.
But a glimmer of hope remains for the theater, now that Joseph and the Amazing Technicolor Dreamcoat is up for five Barrymore Awards.
"I was shocked and honored," said Kim Reilly, who directed the show. "Joseph has been produced thousands of times all over the world – everyone knows it – but it's fluffy and fun, and that's why people love it – not because it's going to change your life."
The awards for excellence in theater highlight some of the Philly theater scene's best work, with 27 categories and more than 100 theaters considered in the review process.
Now in its 16th year of award-giving, the Theater Alliance of Greater Philadelphia — which chooses the Barrymore nominees — set its sights on the Devon, allowing the first-year Northeast theater to contend with staples like Walnut Street and Arden theaters.
And contend it has. The Devon took nominations for its Joseph production: Outstanding Direction of a Musical (Kimberly Reilly and Matt Silva), Outstanding Music Direction (Collin Maier), Outstanding Choreography/Movement (Angela Pomo), Outstanding Lead Actress (Liz Filios) and Outstanding Ensemble.
The award ceremony will be held Monday, Oct. 4 at the Walnut Street Theatre, where Reilly and company will learn if all their hard work has been recognized by critics and peers.
Until then, Reilly can be found working as the marketing and development director at Ambler's Act II Playhouse.
As for The Devon, which is owned and operated by Mayfair CDC, the stage will remain dark until additional or alternative funding can come through.
"It was a mad dash to the finish, with a lot of bumps along the way, but somehow we pulled it off and had this great production to show for it," said Reilly, who along with Silva, took over direction two days into the show's auditions when the now-former director quit. "The only thing that makes it bittersweet is that The Devon is no longer producing theater."