Delaware Theatre's 'Saint Joan' a story of determination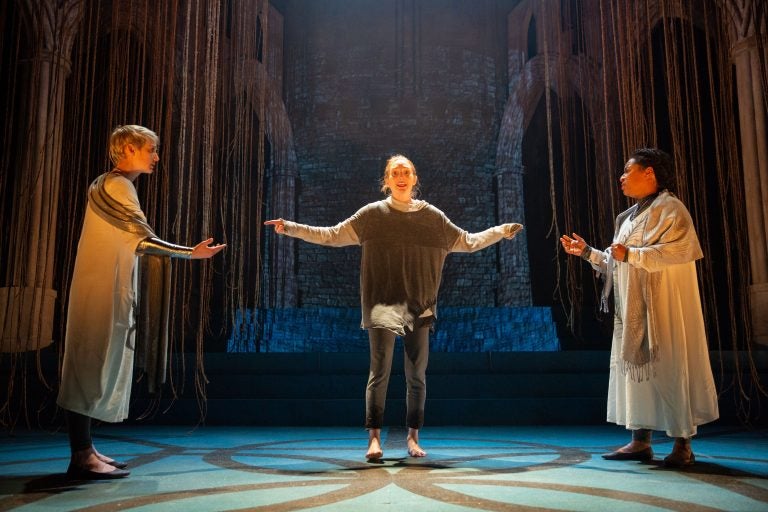 In February 1429 a peasant girl from the village of Domremy arrived at the court of the Dauphin Charles, leader of the Armagnac French, the anti-English faction of France's brutal and interminable civil war. She brought with her a strange message: she was sent by God to drive the English out of France. The sheer strength of her conviction coupled with the dire straits in which the Armagnacs found themselves persuaded the Dauphin's theological advisers that she should be put to the test. Dressed in shining armor, she led his troops to an astonishing victory at the besieged town of Orleans.
The story is being re-told at the Delaware Theatre Company in "Saint Joan," Chelsea Marcantel's adaptation of George Bernard Shaw's 1923 play. DTC Executive Director Bud Martin, who also directs the play, chose to mount the production at this point in time to mark the upcoming centennial of women's suffrage as well as the record number of women serving in the 116th Congress.
The problem is Joan was never a feminist in the modern sense of the word. (Would the Catholic Joan have supported abortion?) Rather, she is one of a host of remarkable women who have wielded power in a man's world without the pretense of empowering a universe of women or girls. Indeed, there is nothing in the historical record to indicate that Joan saw her directive from God as anything more than returning French rule to the French and that she alone was the person chosen to accomplish that.
St. Joan's story may be more significant in terms of class than gender: that an illiterate peasant girl could rise to determine the fate of nations with no prior knowledge of battlefield strategy or statecraft is truly astonishing. But a peasant who managed to amass that degree of power would have been doomed under any circumstances. How could a king who derived powers from God coexist with a peasant who rallied armies and also took direction from God?
Someone had to go and that person was Joan who got feted then burned at the stake as a heretic.
To Shaw, Joan of Arc was an amazingly brilliant and strong woman who may not have known how to account for her thoughts so she attributed them to God. He certainly did not see them as supernatural. In Marcantel's adaptation, Saints Margaret (Mary Tuomanen) and Catherine (Tai Verley) are white-robed figures who encourage and support with their own stories of persecution.
In another departure from Shaw's work, the arrogant English aristocrat Warwick, who supports Joan's execution as a "political necessity" becomes equally overbearing and bloodthirsty Lady Warwick (Mary Martello).
Marcantel tries but does not truly succeed in fashioning Joan as a true precursor to modern-day feminism. Shaw's account hews more closely to historical fact but even his rendering cannot place Joan squarely in the feminist camp.
Still, there is much to appreciate in this riveting, must-see production. The acting is aces as each cast member convincingly takes on multiple roles. Michael Doherty introduces some much needed laughs as the Dauphin.
Clare O'Malley delivers a sweet, searing Joan who dazzles all with her confidence and determination. In addition to Martello and Doherty, Joan's protagonists and antagonists are skillfully portrayed by Dan Kern, Charlie Delmarcelle and Sean Michael Bradley, who also choreographed the sword-fight scenes.
The physical production is a stunning blend of the traditional and the modern. Colin McIlvaine 's impressive set containing a series of Gothic arches is supported by Thom Weaver's dramatic lighting and Nicholas Hussong and Joey Moro's dazzling projections. Sound designer Michael Kiley supplies original music and Millie Hiibel's blend of medieval and modern costumes underscores the time shifts in the plot.
---
"Saint Joan" runs now through February 24 at Delaware Theatre Company at 200 Water St. in Wilmington. Tickets start at $25. For more information, visit www.delawaretheatre.org.
WHYY is your source for fact-based, in-depth journalism and information. As a nonprofit organization, we rely on financial support from readers like you. Please give today.