Bravado and indignation star in Delaware Theatre's 'Dare To Be Black'
Say what you will about the Delaware Theatre Company, it's never been afraid to tackle controversial topics. The story of a black boxer in the early 1900s fits that theme.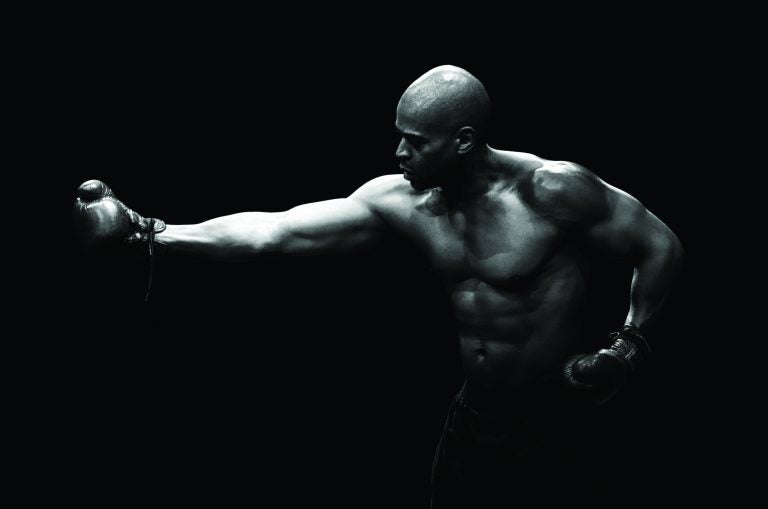 Say what you will about the Delaware Theatre Company, it's never been afraid to tackle controversial topics.
Early last season it offered the political drama "The City of Conversation" smack dab in the middle of one of the most contentious election cycles in history.
A few months later it staged "White Guy on the Bus," a bare-knuckled exploration of race relations in America.
That topic is getting a second pass with the regional premiere of "Dare To Be Black," now running through November 12th.
Written and acted by Tommie J. Moore, this 90-minute play chronicles the incredible story of forgotten icon John Arthur "Jack" Johnson, the first African-American to be crowned world heavyweight boxing champ. That was in 1908. He would reign for seven years before being delivered a knock-out blow by the American legal system. It's a story that resonates in 2017, seven decades after the boxer's death in a 1946 car crash.
Johnson was born in Galveston, Texas in 1878 to parents who were former slaves. He spent his teenage years working on the docks and honing his boxing skills. His size—he was known as the "Galveston Giant"—and talent got him noticed. After getting busted during a match with veteran boxer Joe Choynski—prizefighting was illegal in Texas at the time—Choynski offered to train him during their time in jail.
Johnson would go on to win some 50 fights before becoming "colored" heavyweight champion in 1903. But it would be another five years before he would get a chance at the inclusive title, because reigning champ James Jeffries simply refused to face him. Johnson captured the title in 1908 with a victory over Jeffries' successor Tommy Burns after stalking the Canadian in the press for two years. The response was swift and venomous. White commentator urged Jeffries to come out of retirement to regain the title.
Johnson's flamboyant lifestyle didn't earn him any allies either. He lived large, thumbing his nose at America's turn-of-the-century mores regarding race. He owned a nightclub, acted on stage and walked his pet leopard while sipping champagne from a crystal flute. His behavior even alienated some members of the African-American community, most notably, Booker T. Washington.
But it was his romantic entanglements with white women—the ultimate taboo at the time—that caused the greatest outrage. Southern whites wanted him lynched.
Johnson finally squared off with Jeffries—and won—in 1910. Violence ensued and people were killed, most of them black.
That was the same year the Mann Act was passed, making it illegal to transport women across state lines for "immoral purposes." Johnson was tried and convicted in 1913 of "crimes" he committed prior to the law's enactment.
He skipped bail and spent seven years on the lam. He held on to his title until 1915 when he lost to Jess Willard during the 26th round of a fight in Havana. Tired of running, he surrendered to authorities on the Mexican border, served a year-long jail term and emerged to a much quieter lifestyle.
Moore is an artist for the thinking theatergoer. He is a meticulous researcher and a superb writer. Moore not only plays Johnson, he becomes Johnson, capturing his physicality, his charm, his bravado and his indignation in a convincing and thought-provoking performance that seeks a full pardon for crimes not committed.
Dirk Durossette's boxing-ring set is nicely complemented by John Stovicek (Sound), Scott Cocchiaro (Lighting) and Nicholas Hussong (Projection). Katherine Fritz provides appropriate costume changes as required. The entire production comes together under the capable direction of DTC Executive Director Bud Martin.
If you go:
What: "Dare To Be Black"
Where: The Delaware Theatre Company, 200 Water Street, Wilmington
When: Now through November 12th
For more information and to purchase tickets, go to www.delawaretheatre.org
WHYY is your source for fact-based, in-depth journalism and information. As a nonprofit organization, we rely on financial support from readers like you. Please give today.