Delaware State University honors departing president at December graduation
More than 200 Delaware State University men and women are headed into the workforce.  But before leaving the campus, they received their degrees along with one more pep talk.
"Make relationships in your life with people who are doing positive things," said Steve Ewing, the keynote speaker at Saturday's December commencement. Ewing earned his degree from DSU in 1983 and now is the CEO and President of Wade Ford, one of the largest African-American owned Ford dealerships.  He advised the Class of 2017 to always press forward despite life challenges.
"Take lessons from failures and turn them into stepping stones," said Ewing inside Memorial Hall Gymnasium that was nearly filled to capacity. "Coming out of this school, you are equipped," he added.
Among the undergraduates, many were certainly high achievers and successful during their journey at DSU. According to Carlos Holmes, Director of Communications, five students completed school as summa cum laude, 15 as cum laude and 11 transfer students as honorable mention with 60 or more credit hours.
A set of honorary degrees were also presented to three people who have made a tremendous impact in higher education and supported work at Delaware's only historically black college or university. During the ceremony honorary degrees were presented to state Sens. Brian Bushweller and Margaret Rose Henry.
However, one honorary mention came as a surprise when the DSU Board of Trustees presented Harry Williams Ed.D. with an honorary doctorate, capping off his eight year tenure as the university's 10th president.
"Delaware State will always be here in my heart and Del State will be a major model for the country as it relates to how to do it right and how to do it in a positive way that you can see growth," Williams said.
Under Williams' guidance, his administration has increased student enrollment, encouraged campus diversity, developed international partnerships and expanded its research portfolio.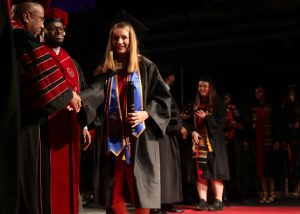 "This university can compete with any university in America. What I mean by that, is that we have the same programs as some of the institutions that are not historically black. They have quality and that's what we have here," Williams said.
The school's transformation since it was established in 1891 has even been documented in a film that only a select few of faculty and students recently previewed.  The documentary, "A Legacy of Opportunity," that explores the history of Delaware State University was commissioned by the Delaware Humanities Forum.
Williams will leave in January for a new role as CEO and President of the Thurgood Marshall College Fund.  There he plans to continue his work to support and strengthen a network of historically black colleges and universities across the country.
Tune into First on WHYY on January 5 at 5:30 p.m. and 11:00 p.m. to hear President Williams' final farewell to DSU and to watch exclusive clips from the school's new documentary.