Delaware nurses, health care experts, discuss national, state, nurse shortage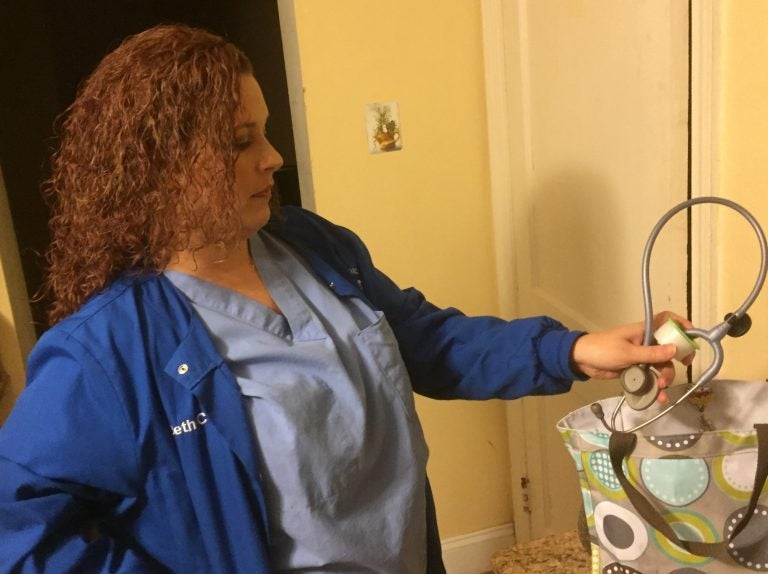 As a registered nurse for 16 years, Beth Carroll has worked in several health care facilities in Delaware and Maryland.
Across the board, she and her colleagues face the same burdens — extreme exhaustion and missed time with family because of working so much overtime.
"You kind of go on autopilot once you've been doing it a long time," she said. "Then, if a trauma comes in or a CPR in progress, your adrenaline takes over, and you keep going and going until you're done.
"When you're doing shift work, you don't always get to pick the kids up from school, you don't always get to make the games, you have to work holidays, nights, weekends, so there's a lot you miss," she said.
Hospitals ask nurses to take these overtime hours to fill empty shifts.
Across the nation, health care facilities are struggling to meet the demand for nurses. Hundreds of jobs are vacant due to newly created positions, retirements, and resignations.
The Bureau of Labor Statistics projects 203,700 positions for registered nurses will be available each year in the U.S. through 2024. About 160,000 nursing staff will leave their positions each year, and 43,800 new positions will be created annually.
According to some studies, the national RN vacancy rate is around 8 percent — and it's higher than that at many hospitals around the country.
Delaware is one of only a few states that doesn't collect data on the supply and demand of nurses. But experts say health care facilities in the First State are also struggling to find nurses.
"I am all over the state, and I talk to a lot of leaders of agencies, and without exception, what they are clear about is they cannot recruit or retain enough nurses, and that the vast majority of them have some kind of vacancy," said Dr. Emily Jane Hauenstein, a University of Delaware nursing professor.
The problem intensifies as the senior population increases, and more individuals have access to health care through the Affordable Care Act.
Carroll said she left her last job at Union Hospital in Elkton, Maryland, because of the long unsociable hours. She attempted to change her 3 p.m. to 3 a.m. shift multiple times, but the hospital refused because no other nurse was available to take it.
"I would do that shift and be dead the next day, tired, just completely wiped out," said Carroll, whose children are 9 and 20 years old.
"If you bunch three days in a row, it's better because you get four or five days off, but that could not happen every time because of a nurse shortage, or the schedule didn't allow for it because someone requested off," she said. "So you might do Monday, Wednesday, Friday, but you're no good the day after when you have to get up and take your kid to school at 7 a.m., come back home and go to sleep until they're off school at 2 p.m. and pick them up, and by dinner time, you're ready to go to bed."
She said she faced similar issues at Delaware hospitals, including Christiana, where she worked long shifts about three times a month.
"There were times I'd be working 3 p.m. to 11 p.m., and they might have had a callout on a midnight shift, so they'd ask me to stay," Carroll said. "I'd work 3 p.m. to 11 p.m. and 11 p.m. to 7:30 a.m. in the morning — so I'd be exhausted."
Exhaustion leads to errors
Mistakes sometimes occur when nurses are overworked, Carroll said.
"Medication errors happen, you're working overtime, and you have two patients come in — both post op, same hip surgery on the same side, about the same age, one's diabetic, one's not diabetic, and you give insulin to the wrong patient," she said. "Stupid little things that could lead to something major if it wasn't just two units of insulin given — if it was a large amount.
"I made a transcription error, and the ICU caught it. I hung the right med, the right dose, the right strength, the right time, but wrote the transcription wrong and wrote a different medication on the label, because it didn't come from pharmacy and I had to hand write it," she said.
"Was I distracted? No. Why did I do it? I have no idea. Was I tired? Could have been."
Carroll said some hospitals offer nurses a shift differential — a pay increase of 10 percent for evenings and 15 percent for midnights and weekends — and extra pay to do a "double back," when nurses work until almost midnight and come back at 7 a.m. for another shift.
Another incentive to work overtime could be a three-day weekend.
Carroll said nursing staff were always asked if they wanted the extra hours, however, and nurses are only allowed to work 16 hours at a time.
She said it's a vicious cycle — nurses work overtime because there's not enough of them, and then quit because they become burned out. Not only are nurses overworked, they sometimes deal with verbal abuse from patients and doctors with egos — all with a smile, Carroll said.
Another contributing factor to the nursing shortage is qualification, Hauenstein said. Many hospitals look for baccalaureate nurses, but a 2014 study found only 33 percent of Delaware nurses had a bachelor's degree.
"Baccalaureate-prepared nurses are more likely to prevent complications and more likely to have outcomes where patients are not readmitted to a hospital," Hauenstein said.
The University of Delaware has increased its nursing student enrollment, she said. There were 193 students admitted last year, and 185 this year. Prior to that, the numbers were around 150, she said. Hauenstein said it also has a low attrition rate. In May, 160 baccalaureate nurses and 44 with more advanced degrees graduated.
Setting the bar high
Marianne Foard, the director of patient advocacy, service excellence, and professional recruitment for Bayhealth, which faces a 4.9 percent vacancy rate, said the nation needs to be more proactive to attract the brightest stars of the industry.
"What I believe happens is we sometimes attract individuals into the profession that may not be what we're looking for," said Foard. "Thus the reason to screen appropriately on the recruiting end. To make sure our schools and universities keep the bar high to get that individual through the best academia, so the product is good."
Misty May, chief nursing officer for Connections — which contracts out nurses to Delaware's Department of Corrections and also provides behavioral healthcare — said it's even more challenging to fill nontraditional nursing positions.
"They think of medical surgical nursing, and don't think about all the different specialties we have," said May.
As far as working in prisons, May said few nurses say, " 'Hey, I want to work in a prison where they're locked down and behind the walls and don't get to walk out and bring in personal items.' "
Most nursing schools focus on education for the hospital setting, and they don't spend enough time educating students on specialty nursing, she said. While many individuals are looking for nurse practitioner positions, there aren't enough RNs and licensed practical nurses.
"I don't think there is enough faculty," May said. "In order to expand their programs, of course, they have to have the experienced faculty to teach, but they're not compensating the experienced faculty … They're compensating them with general salaries that new nurses coming out of school are making, and I think that's one of the huge disparities they have."
The average salary of a nurse practitioner was around $97,000, according to the American Association of Nurse Practitioners in 2016, while the average for an assistant professor of nursing with a master's degree was around $77,000.
Bayhealth and Connections are not alone. Hospice reports a 10 percent vacancy rate. Christiana Care would not to give WHYY its vacancy rate, but it has more than 80 nursing positions on its career site.
Christiana said they believe a nursing "vacancy" does not equate to a "shortage," stating it has enough nurses to serve patients.
"At Christiana Care we don't have a problem recruiting nurses. We are able to fill positions," said Chief Nurse Executive Ric Cuming. "We are a big organization so we're going to have vacancies that come up, and that's just a very normal part of everyday business. But here at Christiana Care we're not experiencing a shortage of staff."
The various healthcare facilities interviewed by WHYY say while they do face vacancies, patients are taken care of, mostly because on-staff nurses work overtime to ensure all nursing shifts are covered—something Carroll can attest to.
"This is no surprise. No one should be saying, 'Gosh here we are again.' It's never really changed," Foard said.
"But what has changed is the culture that nurses works in, and we have changed the culture, our nurses are empowered, we are a magnate status hospital, we provide incentives to go back to school because we want the very best in our organization that serves the community and they deserve the best."
She said Bayhealth has also addressed the vacancy rate by creating a collegial student role, where students are paid to learn in the hospital setting, and by training nurses to take care of acute patients.
Debra Kent, director of hospice services for Delaware Hospice, said the work culture for a nurse also has changed at some facilities that are tying down nurses with clerical work that can discourage them from remaining in the career.
"I think there's a lot of things contributing to nursing vacancies. If nurses can't do nursing, they prefer not to be in that environment. We want to keep nurses at the bedside. We want to keep nurses with patients, and not tie them up with things that aren't nursing," she said.
"I've been a nurse for many, many years, and that's why I became a nurse — to take care of patients and families. So that's where their expertise is, that's what they're excellent at doing, and our patients and families depend on nurses to help them through a time they need a lot of support."
Nurses on the front line
It's vital to fill nursing positions at health care facilities, Hauenstein said.
"Nurses gather a huge amount of data about patients, and they're the first line of interpreting the significance of that data," she said. " 'Mrs. Jones hasn't felt well for more than a week, and here are the things she has tried and have been successful or not been successful, and I'm worried her feet are a little bluish, can you look at that?' "
Jo Ann Baker, instructional director of nursing for Delaware Technical Community College, said a facility could face serious problems if shortages are not addressed.
"If you don't have enough nurses to run a shift or floor, you have to close it, so that means there's not capacity for patients to go to facility. Then you have nurses who work overtime to help meet the needs of the organization. Sometimes its voluntary, sometimes it's not, and that also can cause work life balance issues," she said. "Then they bring in traveling nurses from across the country, and it takes them a bit of time to adapt to the environment."
Del Tech decided to increase its capacity to meet the demand for nurses, Baker said, but the school doesn't have enough infrastructure to accomplish that.
More than money, Foard said, an emphasis on nursing as a leading profession will attract new nurses to the field. She suggests nurses should lead by example, mentor others, promote the profession by achieving additional degrees and certification and have a voice at the table.
"I think we have failed at attracting some of the best and brightest into the profession because we have not highlighted the specific skill and talent and education a nurse truly needs to serve at an optimal outcome," she said. "As a director of recruitment, I come into contact with people, 'Yeah, I want to be a nurse,' and why? 'Well, because I'm going to make money.' Well that's the wrong reason to be a nurse."