Delaware highway project leads to 43-acre bee-supporting meadow
The 43-acre field near the rapidly-developing area of Middletown will now be turned into a pollinator field to support bees and other beneficial species.
Listen
1:39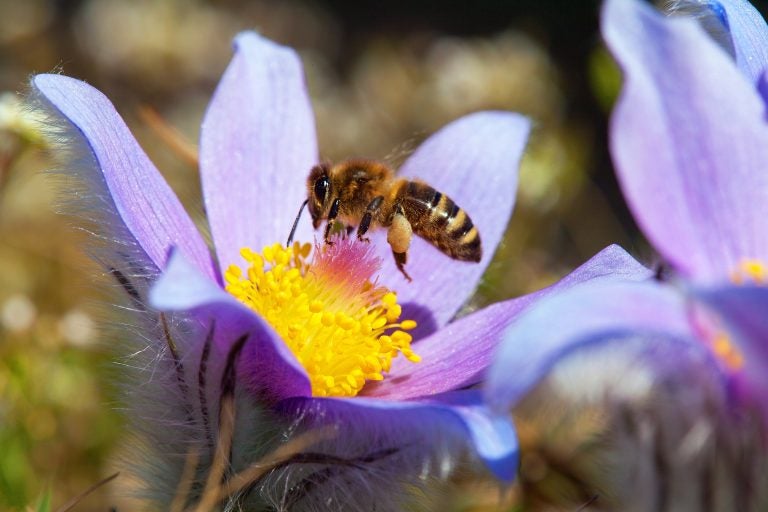 When Route 301 was built, the Delaware Department of Transportation was required to offset some of the land it paved over with property left in a natural state. It spurred planting 250,000 tree saplings along the new 14-mile highway in Southern New Castle County but also gave birth to a 43-acre wildflower meadow. The first-of-its-kind offset project seeks to fulfill DelDOT's environmental requirements while at the same time supporting bees, butterflies and other wildlife.
In the past, DelDOT supported bees and other pollinators by planting a small strip of wildflowers in a median or along a roadside.
"Now we're able to provide this site that birds can come, butterflies, bees, it's just a one stop shop for all these species that they don't have to drive up and down Rt. 1 and get hit," said Christie Bonniwell, a wetland scientist with DelDOT.
In March, crews from DelDOT teamed up with the state forest service to burn the field to prepare it for planting. "Fire does a really great job working with pollinators," said Kyle Hoyd, assistant forestry administrator. "Low-intensity fire can kill off a lot of the unwanted invasive species that were present here, and give them a leg up as far as when it comes to tilling and planting the things that they're going to plant here."
The fire helped beat back invasive species like greenbriar vine, which creates a network of roots and new plants that are difficult to control. The field also contained a lot of sweetgum trees that could easily grow to overshadow the wildflower field.
"When you burn those invasives and you burn some of this taller grass in here, it has a tendency to change the soil composition which is great for pollinators," Hoyd said. "It really adds that extra kick that a lot of sites need, and I think that's why prescribed fire is really looking to be a huge management tool in our state and others."
Hoyd said the forest service also used the burning of the field as a training tool for the state's wildland firefighters who are typically called to help fight blazes in western states. They'll be back at this meadow again in a few years to burn it down again and restart the whole process.
"They'll burn it again to keep out woody vegetation and invasive species," Bonniwell said. "Then it will just start growing again. So you don't want it to get to a succession where there's a lot of trees, you want to keep it as a meadow. So it will keep going through that burn cycle to keep all those trees out."
State workers will monitor the site for wildlife in the fall and winter. Bonniwell said similar fields could soon be planted to support bees and other pollinators. "Because DelDOT needs to have that environmental stewardship. We're not just out here to build roads, and bridges and things, like we actually care and want to help habitats and species like that so it's exciting," she said.
WHYY is your source for fact-based, in-depth journalism and information. As a nonprofit organization, we rely on financial support from readers like you. Please give today.