Delaware gathering supplies to aid Puerto Rico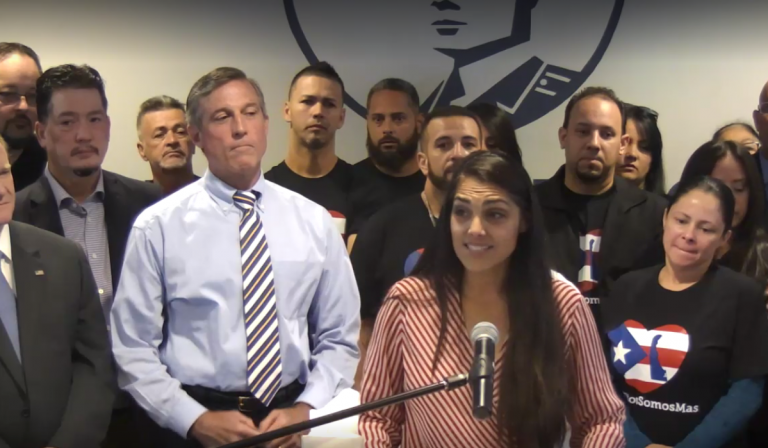 Delaware State Police will be collecting items to be sent to Puerto Rico, as the island continues to struggle with a lack of power, food and water following Hurricane Maria.
Governor John Carney gathered with leaders of Delaware's Hispanic community at a state police barracks in Glasgow. Together, they launched a statewide drive to gather relief supplies to send to Puerto Rico. Carney said Delawareans from Puerto Rico, or those with family there, need support.
"You have 800,000 children in the middle of a humanitarian crisis working with challenging logistics and not enough boots on the ground," said Maria Matos, leader of Wilmington's Latin American Community Center. "I guarantee you that Delaware's kindness to the people of Puerto Rico will never be forgotten."
Hispanic community liaison India Colon traveled from Delaware to Puerto Rico after the hurricane hit. She painted a bleak picture of her 10-day trip to visit 32 towns on the island.
"The conditions, even through day 10, in all 32 towns was devastation by sight, and with zero relief efforts. No power, no food, no water," Colon said. She saw a number of unreported dead bodies because they hadn't been identified.
"This was the reality of the American citizens of Puerto Rico."
Although Puerto Rico is bigger than Delaware, both are a little less than 100 miles long. Colon hoped that fact would help residents in the First State get an idea of the area that was damaged by Maria. "This could have been Delaware," Colon said. "Delaware has always been a leading state in many humanitarian relief efforts … we are small, but we are strong."
Delaware has already been helping Puerto Rico through the work of the Delaware National Guard. Crews flew two C-130s there to provide relief to both Puerto Rico and the U.S. Virgin Islands. They delivered a satellite communications system from Minnesota to Puerto Rico, along with other supplies including vehicles, generators, and medical equipment.
"We moved over 250,000 pounds of cargo and we were on the road for almost three weeks with several C-130s, crew members, maintainers and support personnel," said Maj. Gen. Carol Timmons, adjutant general of the Delaware National Guard.
Guard members are now maintaining their aircraft after that mission, but are ready to go back when called. "All guardsmen and women will always lean forward and step up anytime we are called. We have more personnel waiting to go when we're asked again," Timmons said.
In addition to the state police barracks, supplies can also be dropped off at the Port of Wilmington Monday through Saturday from 7 a.m. until noon through Saturday, October 21. Because of Port security, members of the public donating items must check in at Lane 4 of the Port's main gate.
The state is not accepting monetary donations, but will accept the following items:
• First aid supplies
• Stomach and diarrhea medications
• Hand sanitizer
• Insect repellent
• Toiletries and feminine-hygiene products
• Dish soap and laundry detergents
• Garbage bags
• Work gloves, tarps, ropes, safety glasses and goggles
• Pet food
The state will not accept the following items:
• Clothing and shoes
• Toys or stuffed animals
• Bottled water
• Food
Supplies can be dropped off at the following state police barracks:
• State Police Troop 1 – 603 Philadelphia Pike, Wilmington, 19809
• State Police Troop 2 – 100 Lagrange Avenue, Newark, 19702
• State Police Troop 3 – 3759 South State Street, Camden, 19934
• State Police Troop 4 – 23652 Shortly Road, Georgetown, 19947
• State Police Troop 5 – 9265 Public Safety Way, Bridgeville, 19933
• State Police Troop 6 – 3301 Kirkwood Highway, Wilmington, 19808
• State Police Troop 7 – 18006 Coastal Highway, Lewes, 19958
• State Police Troop 9 – 414 Main Street, Odessa, 19730
You can find complete details on the state's relief efforts for Puerto Rico at Delaware.gov/relief.
WHYY is your source for fact-based, in-depth journalism and information. As a nonprofit organization, we rely on financial support from readers like you. Please give today.